Why do we work in Lebanon?

Lebanon today is socially, politically and economically fragile, and neighbour to countries experiencing continued internal conflict. It hosts more than 1.5 million Syrian refugees and nearly 300,000 people who have fled Palestine.
The Syrian crisis is a big strain on Lebanon, and health services are struggling to cope with the influx of patients. Older refugees often come bottom of the list at overstretched clinics, and are seldom prioritised in UN and NGO healthcare. This demand on services makes it more difficult for older Lebanese people in host communities to access health services, and this is exacerbated by the country's privatised health system and rising poverty levels.
Since the Syria crisis began, the number of people living under the poverty line in Lebanon has risen by two-thirds, according to the World Bank. Borrowing money to pay for food, health expenses and rent is commonplace, leaving many older people in debt and vulnerable to exploitation, homelessness and poor health.
Improving older people's health in Lebanon
HelpAge International helps chronically ill older people in the refugee and host communities by providing access to health services help detect, prevent and treat conditions such as diabetes and hypertension.  We work hard to train health professionals on how they can best meet older people's need, as well as improving older people's own awareness of non-communicable diseases and how they can reduce the risk of developing these illnesses. Through a mobile medical centre and training home-based carers, we ensure older people in remote areas or with mobility issues can still access the services they need.
Protecting older people at risk
We provide guidance and on-the-job coaching to health and social care staff on how to communicate with older people, how to understand their vulnerabilities and how to implement age-appropriate measures to protect older people from harm in the community. We give older people access to activities designed to improve their psychological wellbeing, such as group counselling, peer-to-peer support, recreation and social events.
HelpAge's psychosocial support helps Amin forget his problems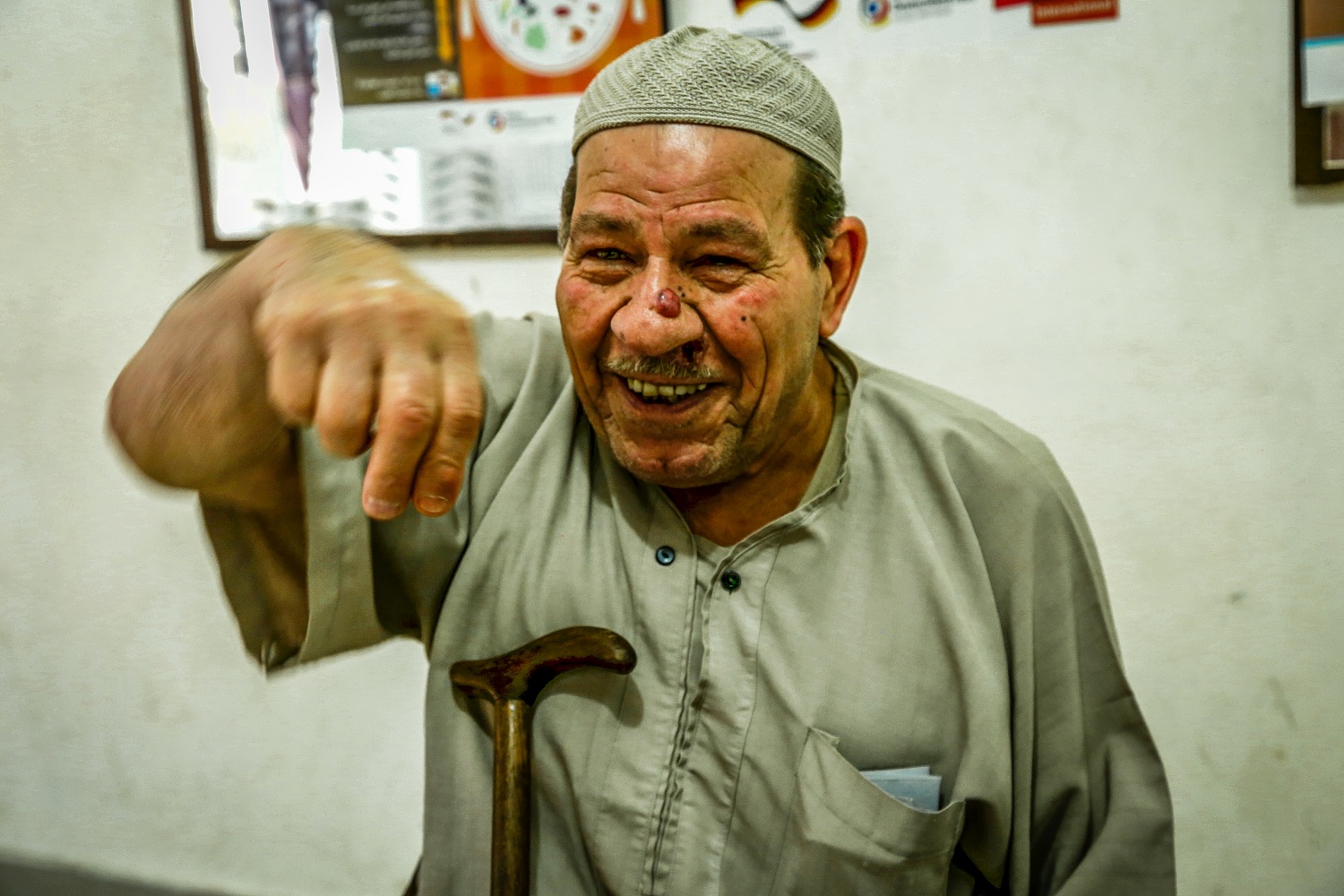 (c) HelpAge International
Amin is 62. He came to Lebanon as a refugee from the Syria civil war in 2013. At first, he thought he would be there for two to three months, but that has now turned into years. He lives with his wife, youngest son and two grandchildren, and his son works in a factory to look after the family.
He suffers from hypertension and needs to take drugs for his prostate, but he struggles to afford consultation fees and medicine.
"The medication I take for hypertension is not available anymore at the centre and, since I do not have money to buy it from outside, I am not taking it," Amin said, adding that a friend brings him the prostate medication from Syria because it is so expensive in Lebanon.
"The doctor said that I tremble a lot because of the hypertension and that I may get headaches from time to time."
Amin feels isolated in Lebanon, and this has taken a toll on his mental health. He attends HelpAge and Amel Association International's psychosocial support services to give him the opportunity to socialise and lift his mood.
"I meet with other Syrians and we play board games. Outside, it is hard to meet people from different backgrounds who have the same kind of pain and sadness," he said.
"I come here to try and forget all the problems we are facing. I just come here to feel better psychologically."
Our network members
Our donors
Aktion Deutschland Hilft
Germany's Federal Ministry of Economic Cooperation and Development (BMZ)
Lower Saxony Ministry of Environment
World Diabetes Foundation
---
Read more about the rights of older people in Lebanon, and the desperate circumstances they face due to lack of social protection.