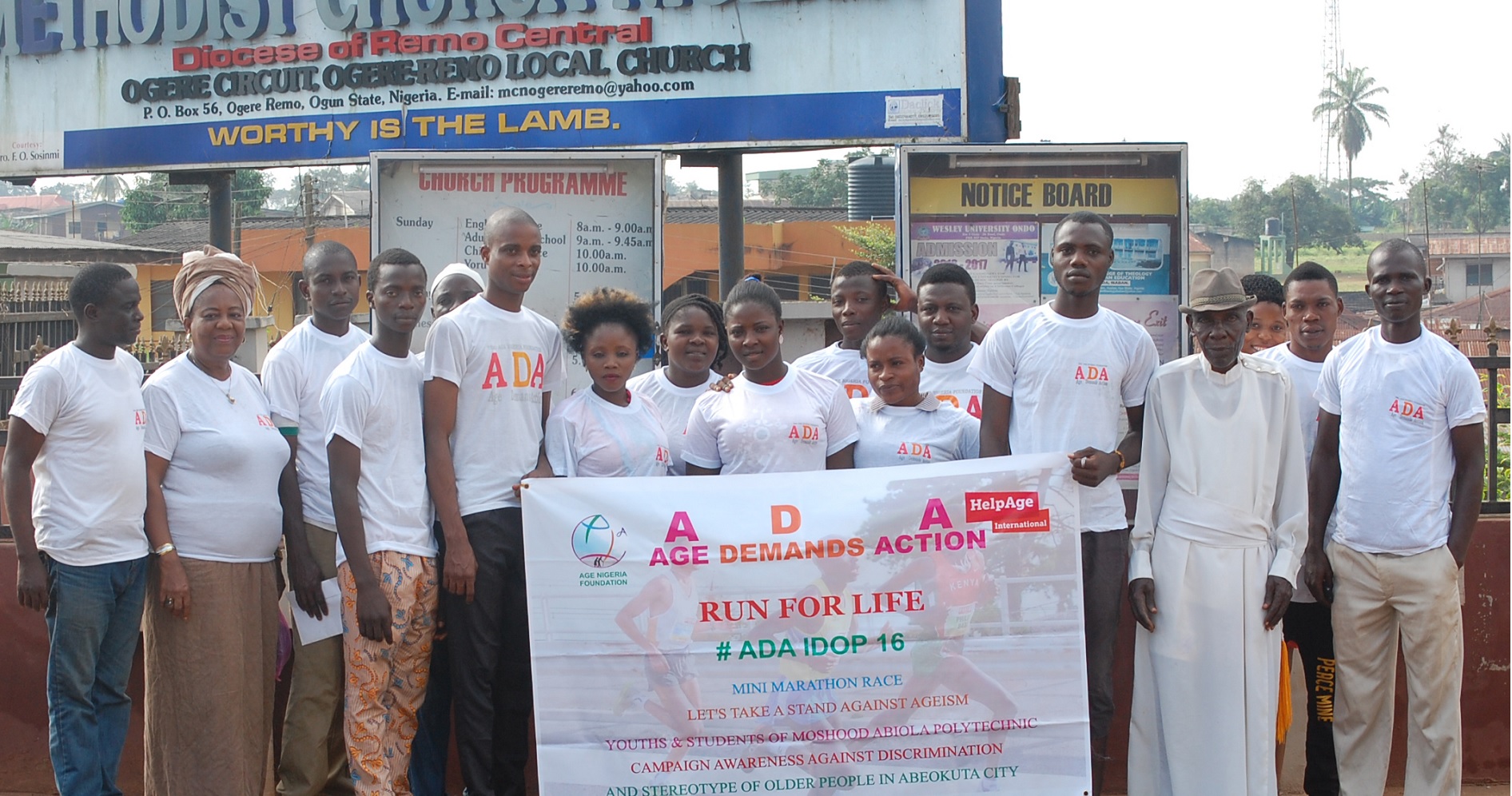 In my country Nigeria, older people are discriminated against on a daily basis. Many people want nothing to do with them. They are considered an economic burden that has no value in society.
In Calabar, Benin City and some other parts of Nigeria, older women are thought to be "witches" who bring misfortune to the family. Others are abused by family members and deprived of their right to a safe and happy life in older age. They suffer from social marginalisation, loneliness, and negligence, all of which violate the human rights of older people living in Nigeria.
Campaigns on human rights awareness
Over the past five years, l have provided free medical treatment, food and toiletries to over 50,000 vulnerable older people both in urban and rural areas. I feel connected to their plight and the challenges they face, and especially their ability to claim their human rights.
With the support of HelpAge International, we have organised seminars and awareness-raising campaigns on the rights of older people. We help older campaigners to engage with the Government at all levels and to call for age-friendly policies that directly benefit them.
In the cities of Lagos and Port Harcourt, we are engaging the Government to build infrastructure that helps older people. Meanwhile, where slum areas undergo demolition, rehabilitation and urban renewal, we are campaigning to ensure older people affected are properly relocated.
Campaigners have even ensured an agreement with public transport operators to stop incidences of older people having to queue for extensive amounts of time to buy tickets, which can be physically draining and dissuade them from travelling.
Taking a stand against ageism on International Day of Older Persons
Ageism is engrained in our culture, but we can end it and we must end it. We need to ensure older people are aware of this kind of persecution and know when they are being discriminated against because of their age. This behaviour is perpetuated by negative perceptions about older people held by Nigerian society. It prevents them from being recognised as rights holders.
At Age Nigeria Foundation, we are raising awareness around ageism, and it was our specific focus for our Age Demands Action campaign on 1 October 2016, International Day of Older Persons.
We held a summit to discuss ageism with other organisations, including the Ilare-Epe Development Association, the Centre for Creative Ageing and Research Ogere Remo, as well as Age Nigeria Foundation's volunteers and people living in the town of Ogere.We translated the World Health Organization's definition of ageism into the local language Yoruba, so that the residents could understand what it is and be clear about when they are victim of it.
Older people talked about local, positive proverbs that challenge ageism, including "agba ki wa loja ki ori omo tuntun won" which means "nothing goes wrong when there are elders in the markets".
Older men and women in attendance also agreed to continue with the consciousness-raising workshops that have empowered them to challenge ageist attitudes in their community. The Government officials present promised to support older people through improved healthcare and vocational training.
Intergenerational solidarity
Nigeria has a huge youth population. This youth bulge of today will become the age bulge of tomorrow, and for this reason we need to educate people of all ages on older people's human rights.
We have engaged younger people by hosting a running race with both younger and older participants to create awareness and stimulate interest among all age groups on ageing issues.
The younger male winner of the race Muyiwa Adeyemi said: "We need to take a deliberate step to stop the prejudicial stereotyping ofolder people and close the generational gap".
The older people involved at the summit were pleased to see this intergenerational solidarity as it is so rare in Nigeria.
At Age Nigeria Foundation, we believe that a better world for older people today will mean a better world for younger people too. Our new initiative, Help Unite Great Generations in Nigeria (HUGGING), is one step we are taking to bring generations together.
It will work with younger people to create awareness and give a voice to older people through a series of events, including drama workshops, music performances by popular artists, and television and radio programmes.
We hope this kind of public mobilisation will attract the Government's attention and encourage them to recognise the rights of older people. We aspire for the solidarity it promotes to result in greater respect for older people and recognition of their human rights. Without this, ageism will be left to thrive, and this cannot be tolerated.
Find out more about Age Demands Action.