I'm retired and live alone. Sometimes I feel lonely, but I participate in a group of older people organised by the Red Cross and it helps a lot. I worked at a factory for 50 years.
I was born in Siberia, in the city of Novokuznetsk, and came to Bishkek to work in metallurgy and metalworking. I did it all my life. In this profession there are very few women, but it did not stop me.
How did you get involved in campaigning for older people's rights?
I have been active all my life and I don't being social now I'm older. Since 2003, I have been participating in an older people's group where we help each other to find our place in life, which is especially important for those who are retired. These groups help older people feel needed.
Last year, on World Elder Abuse Awareness Day, I was as an actress in a theatre performance on violence against older people". I also participated in a delegation of older people to the Ministry of Social Development to promote the UN convention on older people's rights.
Have you ever experienced discrimination because of your age?
I have not experienced discrimination because of my age, but it is in our society. Most pensions are not enough for a decent life, only for basic needs. Younger people respect older people, but if an older person lives with other family members, there are cases where they are subjected to emotional, financial and even physical abuse. As an older person, it is very difficult to find a job. Employers simply do not hire older people.
What are your proudest moments as a campaigner?
In 2017, I went with a group of older people to a meeting with the Deputy Minister of Social Development to promote the UN convention on older people's rights, and to promote HelpAge International's report Entitled to the same rights. We drew the attention of the minister to the quotes of older people from Kyrgyzstan included in the report. And although on that day we did not get an official statement supporting the convention, it was a very important step on the way towards it.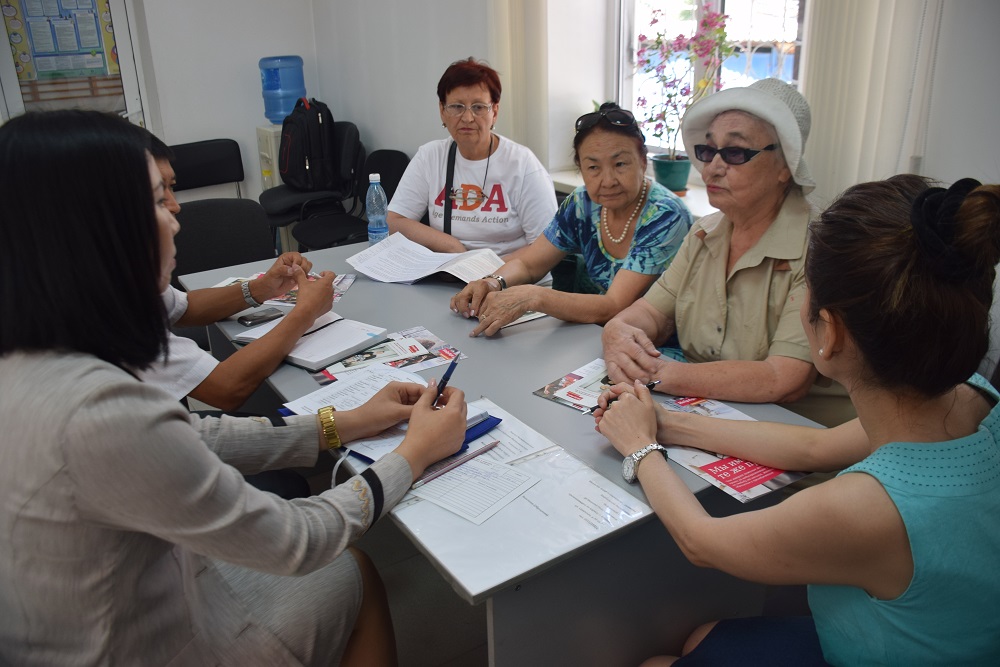 What effect has campaigning had on you as an older person?
Participating in Age Demands Action campaigns gives me a sense of confidence. I feel I know my rights and can talk about them and teach other people.
Do you have a message for other older people around the world?
I wish health to older people from all over the world. A person feels confident when they are able to serve themselves, go where they want and do what they want.
I think that we need to take a positive attitude to life, this is especially important in older age. As the famous 19th-century Russian poet Fyodor Tyutchev wrote:
When our decrepit energies turn traitor,
when, like former tenants,
we let our house to the young,
save us then, good spirit,
from faint-hearted reproaches,
from slander, from animosity
at our changing life,
from feelings of suppressed spite
at the world which is being renewed…
Read more
stories
from older campaigners.