(c) U Myo Thame/HelpAge International
Why we work in Myanmar?
Myanmar's population is ageing. Older people in Myanmar often have insufficient and unreliable incomes. Many have poor access to healthcare, and this is particularly problematic as the prevalence of non-communicable diseases, such as diabetes and cancer, grows. Older people are also particularly vulnerable when disasters strike, with Myanmar regularly experiencing earthquakes, droughts and cyclones.
Boosting access to services through self-help groups
We have developed more than 130 older people's self-help groups across Myanmar. They help build stronger communities where older women and men can better access pensions and healthcare, work together on development plans that prioritise what they need most, and are empowered to advocate for their rights from the local to the regional levels.
Advocating for pensions
We work with the Ministry of Social Welfare, Relief and Resettlement to better to define its policy on social protection, and to make informed decisions on how to implement its programmes. We supported the roll out of the Government s first state-funded national social pension scheme in June 2017, and continue to advocate for its expansion.
Food security is a big issue in Myanmar's dry zone in the country. We provide cash monthly to older people who have low and unreliable incomes. This helps them cope and stay fed when times are harder.
Improving healthcare in Myanmar
Non-communicable diseases are on the rise in Myanmar. We are developing evidence and knowledge across Myanmar to help ensure NCDs are integrated into national health policy discussions and prioritised in health services.
At the community level, we encourage older people to campaign for better connections between rural health centres and the health departments at township level. This will help older women and men access healthcare and treatment when they need it, as well as give them the opportunity to receive education about diseases, good nutrition practices, self-care and hygiene.
Read our photo blog about how we are saving lives through community NCD screenings.
Involving older people in disaster risk reduction
We make sure that older people participate in their village's disaster management plans, and can lead the community response to disasters. This means they can share their ideas, experiences, and have a voice in decision-making, as well as to learn how to reduce their risk in the event of a disaster. Older people participate in awareness raising, community drill exercises and collecting funds for risk reduction activities at village level.
Daw Sein Ei started a business through her older people's self-help group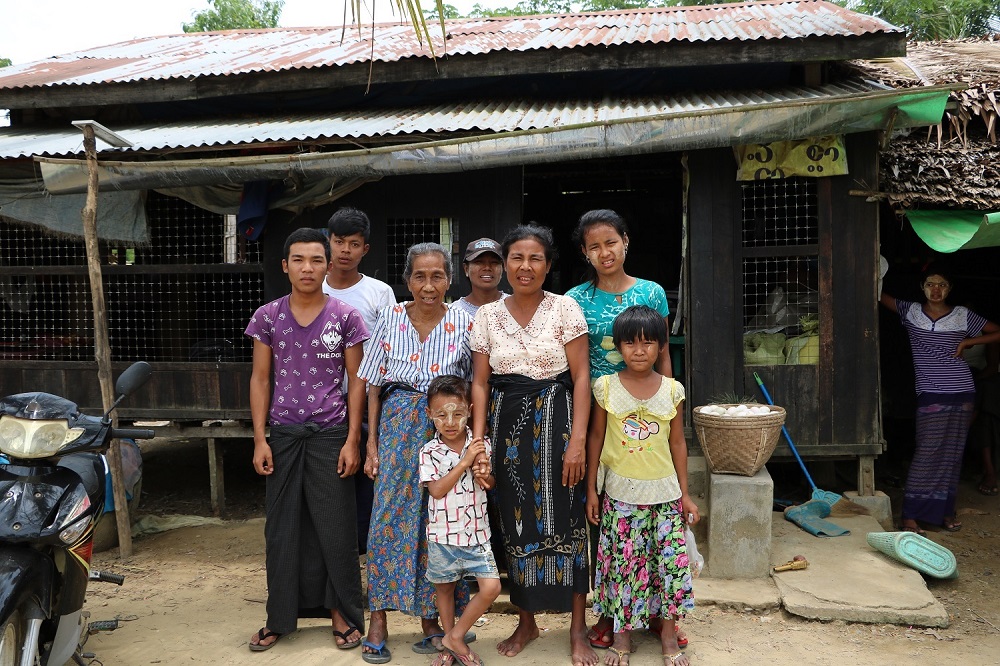 Daw Sein Ei is a 77-year-old widow. She lives with three of her nine children. Before Cyclone Nargis hit Myanmar in 2008, she was a paddy farmer. But the storm ruined her lands and for years after she was unable to work.
Daw Sein Ei is a member of her village's older people's self-help group. Through this, she receives a monthly pension support of 2,000 Myanmar kyats (US$1.30), as well as a loan of 125,000 kyats (US$95). She used this to start a business raising ducks to sell their eggs.
"I bought 100 ducks with the loan. Every day I collect the eggs and I sell them. I can collect 60 or 70 eggs each day, but sometimes only 30 or 40 eggs. Each one I sell for 90 or 100 kyats. I use about 3,000 kyat daily to feed myself, but I use the money to cover all the household expenses," said Daw Sein Ei.
"I can t save much money with this small business, but it really helps us get by day-to-day. I am really grateful to our group. It gave me the money I needed to start my new business. It helps me breathe easy."
Our donors
Age International
ECHO
European Union
HelpAge Korea
Jersey Overseas Aid
Korea International Cooperation Agency
Livelihoods and Food Security Trust Fund
Stanley Thomas Johnson Foundation
World Diabetes Foundation