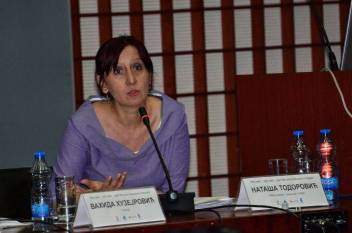 On 14 June, I took part in the "My world, your world, without elder abuse" event, which took place in Serbia to mark World Elder Abuse Awareness Day the next day.
The conference was organised by government ministries and the Red Cross of Serbia with the support of UNDP. Over 140 people were there, including representatives from the Red Cross, Centres for Social Welfare, retirement homes and civil society organisations.
His Excellency Mr Laurent L Stokvis, the ambassador to the Kingdom of Holland was also present, as were representatives from the World Health Organization (WHO). The goal of the conference was to identify key problems in the systems that protect older people from abuse and provide recommendations.
I co-chaired the conference which was opened by Brankica Jankovic, the State Secretary of the Ministry of Labour, Employment and Social Policy. She emphasised that fighting any kind of abuse – including elder abuse – can only happen through comprehensive, continuing and cross-sector cooperation of all the actors at local and national level.
Ashamed and afraid of being abused
According to WHO data, 2,300 older people die from the consequences of abuse in Europe each year. A huge problem is that older people seldom talk about being abused because they are ashamed or afraid. There is also no system to monitor family violence, even though 95% of elder abuse takes place within the family environment.
I presented the data and recommendations from the Red Cross of Serbia elder abuse survey. It was conducted in nine cities across Serbia and covered 314 people. According to the data, 61% of the respondents know an older person who has suffered some form of abuse. Earlier results from 2009 indicate that this figure has increased by 16%.
Those who took the survey also provided recommendations on what the local community could do to protect older people from abuse. These included developing new services for the victims of abuse, such as helplines and providing more information on abuse.
Branka Brkic, an adviser at the National Institute for Social Welfare also presented the results of an analysis of elder abuse. The analysis shows that older people who are victims of abuse are not recognised quickly enough and not adequately protected. This is due to reasons such as:
Lack of knowledge among social workers to recognise abuse and discrimination against older people.
Insufficient scope of social welfare services offered to older people.
Lack of preventative activities.
Gender, healthcare and elder abuse
Another issue that was highlighted was the lack of data on abused older women, as surveys do not collect information on women above the age of 49.
Longer life expectancy is one of the successes of modern medicine but it also creates the need for new care services and better means of protecting older people from abuse within the healthcare system.
In his speech, Mr Miodrag Miljkovic, State Secretary in the Ministry of Interior emphasised that approximately 45% of older victims never report abuse. Due to the increasing trend of family violence, the Ministry has developed a strategy which includes providing more local police officers to better react to the specific needs of communities in responding to elder abuse.
To end the event there was also a stage play entitled "Family Love" performed by the drama section of the Belgrade Gerontological Centre. The play dealt with people's perceptions of older people and the way they are treated by others.
Get involved!
Sign our petition calling for a UN convention on rights of older people.
Read more about Age Demands Action for Rights.