Until a month ago, I had never visited a refugee camp. I had seen photos and heard stories, but I did not know what to expect. I approached my trip to the camps for refugees from Burundi in Tanzania with curiosity and trepidation.
While I was looking forward to meeting my colleagues working on the emergency response and seeing first-hand how we are helping the refugees in need, I was also anxious to see how the people who have fled their homes have been affected.
Political turmoil has been tearing apart Burundi since April 2015. More than 265,000 Burundians have escaped their country and most of them are living in three overstretched camps over the border in Tanzania – Nyarugusu, Nduta and Mtendeli.
Visiting Nduta's rehab facility
"Mwakeye" says an older refugee named Ntamakulilo Andrea as he shuffles towards me with the help of a frame, hand outstretched to greet me as I arrive at the HelpAge rehab facility in Nduta. Mwakeye is a Lundi word for "good morning".
The centre is my first port of call and I'm greeted with beaming smiles that immediately make the long journey to get to the camp worthwhile. I couldn't believe the joy these people found in spite of their circumstances.
"Settling in a refugee camp, separated from family and often not knowing where they are or if they are even alive, is incredibly challenging and stressful," said Andrea.
He speaks with trauma in his voice, but you can hear in him a hope for the future.
"Yes, the conditions in the camp aren't great, but it's nothing compared to what we faced in Burundi and on our way coming here," he explains.
He is open about the traumatising incidents he and other refugees experienced, of witnessing their loved ones being attacked mercilessly, and they themselves being beaten and left for the dead.
Andrea has a chronic health condition and suffered pelvis bone and back injuries when a tree fell on his tent a couple of months ago. After receiving treatment at a hospital in the camp, he was discharged. But he still could not walk, stand or sit due to excruciating pain.
HelpAge social workers visited him regularly to monitor his condition as he recovered, encouraging him to attend rehabilitation session. His health improved significantly.
Working with the camps' most vulnerable people
Camp life is tough. Many refugees complain of poor living conditions and inadequate food supplies- they largely depend on the charity of others.
HelpAge is working with the most vulnerable refugees in the camps – older men and women, people with disabilities, those with chronic medical conditions and single mothers.
The camp provides 5kg of maize flour, which is used to make the traditional dish ugali, and 1.5kg of beans every two weeks, but this is insufficient. Refugees in the camp have to sell some of their food to the local communities to earn money to pay for medication, firewood and transportation, and buy other food to provide nutritional variety in their diet.
"The food we receive is unsuitable for people with conditions like mine. I ask my neighbours to sell it on my behalf so I can buy appropriate food and anything else I need," Andrea said.
HelpAge are lobbying UNHCR and the World Food Programme for a "top-up provision" for the most vulnerable and socially excluded groups to ensure they get their minimum daily food requirement.
Nowhere to go
"Camp life is like a prison," says a 53-year-old refugee who doesn't want to be named.
"We aren't allowed to leave the camp and come back as we like. There are police officers all over who control our movement. We're restricted from engaging in any form of employment outside the camp and we live on one meal a day."
Some refugees can't bear the conditions and leave the camps illegally to find employment on farms in the local communities. But many are caught by the police and severely punished.
A 33-year-old refugee who also doesn't want to be named says: "If only we could be allowed to work on farms or shops outside the camp, we could earn enough to buy supplementary food and clothes."
Moving on to Mtendeli
An hour's drive away from Nduta is the Mtendeli camp, where HelpAge has another makeshift rehab facility serving over 60 people.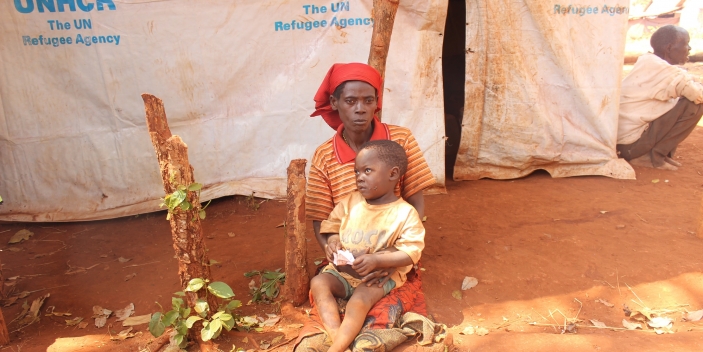 I meet the shy-looking but jovial Fredericka who happily tells me a story about her five-year-old son Nkhunzimana.
He became ill when he was very young and although he later recovered, the condition left him unable to walk or crawl. But a HelpAge worker spotted the boy in the camp and offered to help.
"He attended physiotherapy sessions and after barely a month, my boy was able to walk. I will forever be grateful to HelpAge for saving my boy from what I thought was a disability for life," she said.
Fractured limbs, stress and paralysis are among the most common issues being treated at the rehab centres, while we are also helping children who have challenges including cerebral palsy, hydrocephalus and Down's syndrome.
"We believe every person regardless of age, disability or other circumstances has equal value and deserves a healthy and dignified life," said Paul Okello, HelpAge's Emergency Programme Manager in Tanzania.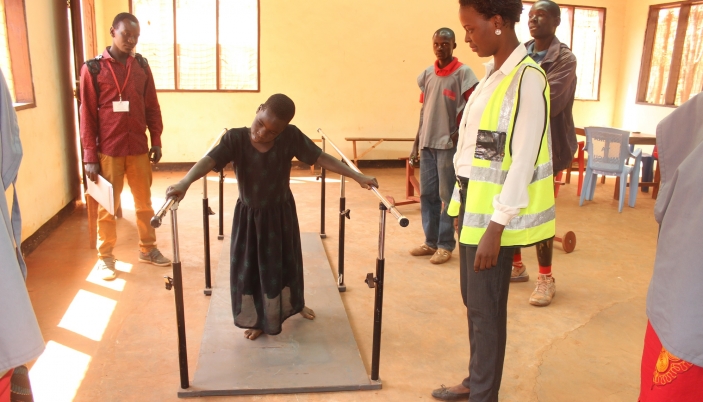 Aurelia Leonard, HelpAge Community Rehabilitation Centre Officer, added: "Our continual support is bringing hope to many older people and other vulnerable refugees."
She admitted there is still need for more funding to continue our work in the camp.
"Our limited resources mean we have to refer some of the more serious cases to other partners, such as MSF and Red Cross," said Okello.
"Many serious injuries require expensive, specialised surgery, which we cannot provide."
What does the future hold?
All the people I spoke to wish for the Tanzanian government to grant them citizenship so they can live normal lives again and don't have to return to Burundi.
Life back home across the border is unbearable and unpredictable. Burundi has a history of recurring political and ethnic conflicts, and many of the refugees in Tanzania now have fled the country two or three times before.
Camps are reaching breaking point. The latest one to open is Mtendeli and it is already home to 30,000 refugees. If people continue to flee from Burundi, the 50,000 capacity will be reached in a matter of months.
I feel so proud to be associated with HelpAge, an organisation which is keen to make a huge difference to the lives of the Burundian refugees. There's no better time than this for everyone around the world to help by giving a donation you can afford and be part of this noble cause.