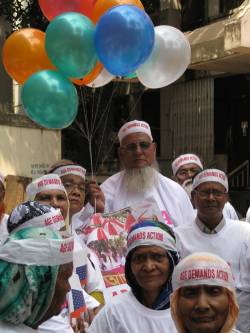 As a president of the National Federation of Older People's Associations in Bangladesh, I see that many older people do not know about their rights. When I meet older people in communities, I realise that we need to raise more awareness on what rights older people are entitled to.
I am worried about the issues older people face, their health can get worse and the government doesn't seem to see it as a major problem. In December, we drafted an ageing policy addressing this issue and submitted it to the government. We have received no reply.
We started our Age Demands Action on Health campaign last year in 2012 and I am hopeful that good results will soon be seen. To make the campaign a success, we need to be persistent and continue discussions on older people's health with the government.
Many older people cannot afford healthcare
On 3 April, our ADA on Health campaign went very well and we addressed concrete health issues that older people face. I spoke about the very small pension of 300 taka (US$4) per month which older people receive and said that it is not enough to survive on. Many people in rural areas are marginalised, especially farmers who have to spend more money purchasing crops then their pensions allow. As a result, they cannot afford any health treatment or medication.
When I spoke to the District Commissioner at our ADA meeting, I mentioned that we need higher pension, geriatric care for older people and also separate queues in health facilities and government offices.
The event received a lot of media attention, which hopefully will reach the Ministry of Health. If we continue campaigning on health issues, we can convince the government to take health rights for older people seriously. This campaign is one of many to come which will lead to success!
Marking World Health Day in Bangladesh
Following the campaign, I plan to share feedback with my union members. We usually meet once a month and this will be on our next agenda. They will convey our discussions to their committees who will in turn meet civil servants and deputy commissioners to follow up on the issues raised.
To mark World Health Day on hypertension, HelpAge International in Bangladesh also hosted a big campaign with their three Affiliates: RIC, Bangladesh Women's Health Coalition and Dhaka Ahsania Mission. The campaign started in the capital, Dhaka where over 70 participants learned about hypertension and older people's health needs.
In addition, mobile blood pressure checks were made available for older people. Balloons were released in celebration and I chaired the session on behalf of older people's associations. This was followed by a panel discussion of doctors and professors on older people's health.
Read more about Age Demands Action on Health around the world and new data on hypertension in older people.