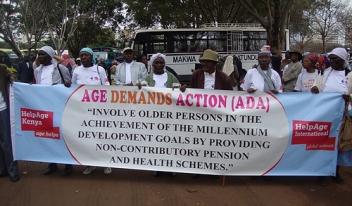 The Age Demands Action 2010 campaign in Kenya took place from 28 September – 1 October. It was a great week with so many highlights!
Vibrant and vocal
We had activists who were very vibrant and vocal in bringing out the issues older people face. They were also able to meet some key decision-makers in government.
This gave the activists a lot of hope. They were inspired and assured that their statements were heard and their efforts would bear fruit one day.
Josephine and Rhoda, two Age Demands Action activists, also watched video messages from HelpAge partners in Europe. They were really amazed to realise that the issues they faced touched older people in European countries, not only Africa.
The will to campaign
The partners in Europe were also very interested to see how Josephine and Rhoda live and work.
They said that after the Age Demands Action campaign they did not go back home to relax. It gave them the will to continue campaigning and creating awareness of older people's issues and rights.
Age Demands Action 2011
For Age Demands Action 2011, we would like to go something different, though it will depend on the funds.
Maybe this time we could have a caravan led by older people displaying things they make to earn an income, such as baskets, tie dye cloths and wood carvings.
Some kind of sports activity is also an idea. Next year we have general elections happening, so we want to be included in the forums where politicians will be talking. This way we can push older people's issues through.
Medical care for older people is a real challenge here and we hope the Minister concerned will give us an audience this time.
Read more about Age Demands Action and our activists.