2012 marked ten years since the adoption of the Madrid International Plan of Action on Ageing (MIPAA), a comprehensive action plan for governments and civil society, amongst other groups, for building a society for all ages.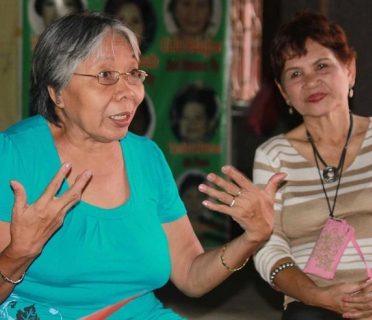 (c) Ina Voelcker/HelpAge International
MIPAA is the first global agreement which recognises older people as contributors to the development of their societies, and which commits governments to including ageing in all social and economic development policies, including poverty reduction programmes.
It also calls for governments to include older people in policies and programmes to reach the Millennium Development Goal of halving the proportion of people living in extreme poverty by 2015.
It was agreed upon by 159 governments but is not legally binding and its implementation is voluntary.
Improving older people's lives
The Madrid Plan makes recommendations on core issues which can improve older people's lives. These include:
Discrimination and decision making
Governments should promote the implementation of human rights conventions and other human rights instruments.
Work and pensions
Older people should be enabled to work for as long as they want to and can do so.
Health
Older people should have the same access to preventive and curative care and rehabilitation as other groups.
Supportive environments
Older people should have access to decent housing, receive support if they are care givers and be free from neglect, abuse and violence.
The MIPAA review
MIPAA has an innovative participatory review process every five years, in which older people's involvement is encouraged.
(c) Ina Voelcker/HelpAge International
In 2012, the international community observed the tenth anniversary of MIPAA. To mark this anniversary, the second MIPAA review was undertaken by governments carrying out national appraisals.
The Commission for Social Development also requested the United Nations regional commissions promote and facilitate the review and appraisal process at the regional level.
The UN, along with HelpAge, believes that older people's participation in the review is fundamental. Indeed, Rosemary Lane, from the Focal Point on Ageing at UNDESA said:
"Civil society organisations and older people themselves have a crucial part to play… The United Nations believes that feedback from the grassroots level is the only way for successful policies to be made – at the local, national and international level."
Our role in the process
To complement these appraisals, we are undertaking a programme of work:
Findings so far
The initial findings of the report show that there has been significant progress on policies on ageing, but the mechanisms and budgets necessary to implement them are not there. Government attention to the "bottom-up approach" is lacking.
There are also limited or no policy coverage in several core areas. For example, older people are not being included in programmes or measures relating to emergencies, migration, mental health, NCDs, HIV and AIDS, housing, water and sanitation, abuse and much more.