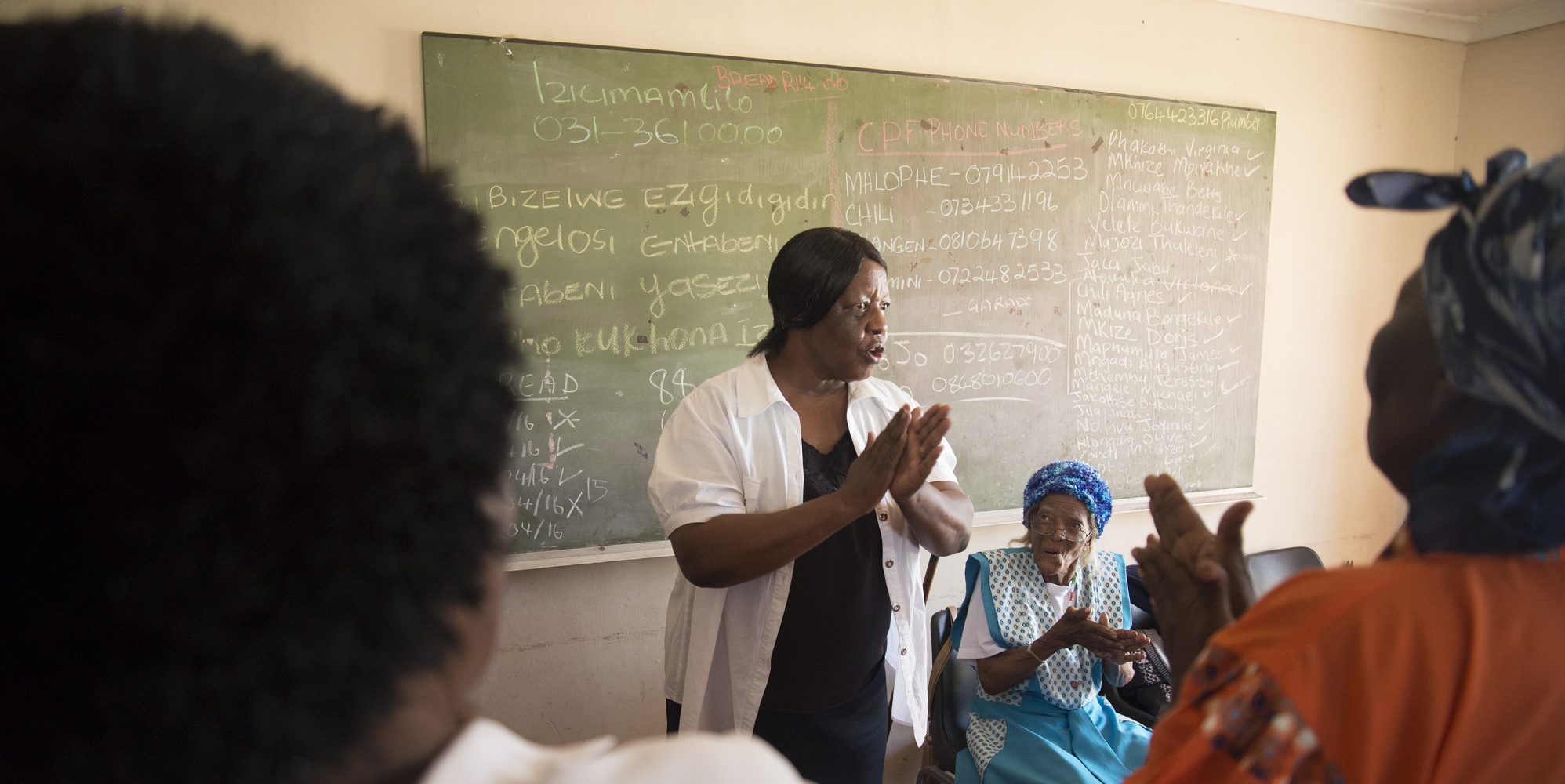 (c) Eva-Lotta Jansson/HelpAge International
Older citizen monitoring (OCM) involves older people at the grassroots level monitoring the implementation of policies and services that affect their lives, and using the evidence to advocate for change.
It empowers older people by supporting them to take the lead in collecting and documenting the challenges faced by older people in their local areas. It is an effective approach that helps the most disadvantaged older people hold their governments to account for the fulfilment of their human rights. In some countries, older citizen monitoring groups also play an important role in the official grievance redress mechanism of existing government schemes.
Citizen-led accountability makes an important contribution to the achievement of the Sustainable Development Goals, and the approach is increasingly supported by various donor countries' development ministries, as well as the World Bank through its Global Partnership for Social Accountability.
Older citizen monitoring: the process
Older people's associations are the bedrock of older citizen monitoring. Older citizen monitoring is usually one of several activities these organisations carry out, alongside disaster preparedness, health screenings, and social and cultural events within their community.
Local NGOs support older people's associations to set up older citizen monitoring, usually starting with raising awareness among older men and women on their rights, and the laws and policies that affect them.
Older people's association members then discuss what issues they want to collect information about. This often focuses on issues of income and health. In South Africa, for example, there have been concerns raised over older people being robbed at pension payment points and unexplained deductions from their pensions, while at health clinics they face long waits and receive poorly labelled medication.
(c) Neil Cooper/HelpAge International
"In one area they're talking to older people at the local clinic. They're finding that many are not getting their medication because it isn't available or their files are missing," said Roselyn Wosa, older citizens monitoring trainer at South Africa's Muthande Society for the Aged.
"Some are being given only two packets and told to buy the rest. Others find that their medicine isn't labelled correctly so they don't know the dosage."
Members select volunteers from within older people's association membership, or the wider community, to act as monitors to collect information in their local area. Local NGOs provide training on data collection and advocacy, and help the monitors decide on the frequency of data collection and quotas of surveys.
Once collected, the monitors analyse the data, and discuss the findings with their older people's associations before using the evidence in advocacy and dialogue with government decision-makers.
Data collection is only one part of a monitor's role. They also provide important updates to older men and women on changes to government services and provide advice for individuals having difficulties accessing schemes or services.
In Tanzania, for example, monitors check if older people need help accessing medical care, cash transfers or other support. And by spending time with older men and women who are not part of an older people's association and have no family or friends nearby, it can help to alleviate loneliness and isolation too.
Older citizen monitoring: the achievements
Older citizen monitoring has contributed to many successes around the world:
Bangladesh: OCM improved transparency in allocation of the social allowances at community level and contributed to an increase in the budget for the Old Age Allowance.

Bolivia: OCM improved public awareness of the older people's health insurance scheme and increased the number of older people registered to receive it.

Kyrgyzstan: OCM groups provided much-needed evidence for consultations on the government's new poverty reduction and social protection strategies by collecting data on seasonal vulnerabilities (including cold weather, agriculture, and labour migration).

Tanzania: local advocacy has led to funding being allocated for non-communicable disease drugs, geriatric health units, identity cards used to access free health services, consulting rooms dedicated to older people in clinics, and access to counselling.

Paki

stan: Following outbreaks of violence in Pakistan in 2013 and 2014, OCM data was used to lobby humanitarian organisations to be include older people's needs in their emergency response.
"It has helped to make sure the dosages are written on the medication and older people don't have to stand in a queue, they can go straight to the doctor's rooms," said Maxwell Khosa, one of the monitors with Muthande Society for the Aged in South Africa.
Roselyn Wosa at the Muthande Society for the Aged, added: "Through older citizen monitoring, older people's issues are becoming better known. They are no longer shy, they phone the Muthande office and tell us what's happening. It makes me feel good to know that older people are not going to keep quiet."
To find out more, download our report Older citizen monitoring: Achievements and learning (1.5mb).