HelpAge International is the only global organisation specifically dedicated to ensuring older people receive the humanitarian assistance they need and to which they have a right. We have 40  years' experience of working with and for older people in conflict and disaster situations.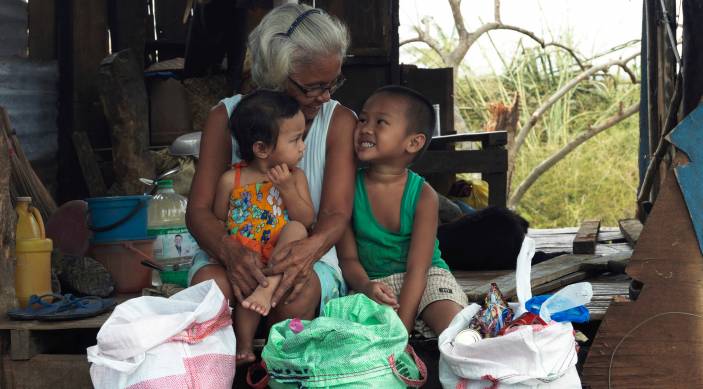 (c) Peter Caton/HelpAge International, response to Typhoon Haiyan in the Philippines.
We provide assistance to older people affected by conflicts and disasters, working with other humanitarian aid providers to help ensure they include older people in the assistance they provide.
We work in partnership with the HelpAge global network of organisations in more than 90 countries that share our values and commitment to older people. Most of the assistance we deliver in humanitarian crises is provided through our network members and partners.
In conflict and disaster situations, we respond with a range of activities:
We provide cash and essential relief to meet urgent basic needs including food, shelter and hygiene items. Wherever possible we enable the people we support to decide for themselves what they need by providing assistance in the form of cash transfers.
We help to ensure older people have the healthcare they need. This may involve supporting local health facilities and systems with drugs and equipment to treat the non-communicable diseases that affect so many older people, such as hypertension and diabetes, failing eyesight, and mobility difficulties. We provide training for staff in government and NGO-run health facilities, and we advise and support health providers with policy advice and support on healthcare for older people.
We help to ensure older people have the nutrition assistance they need and that general food distributions are accessible for older people. We conduct nutrition assessments using a dedicated methodology that we developed (the Rapid Assessment Methodology for Older People, or RAM-OP). If markets are functioning and food is available to buy, we will provide cash to older people so they can buy food. Where necessary, we may provide food directly to older people.
We support older people to sustain their livelihoods so they have an income on which to survive. We do this by providing work opportunities and access to micro-credit opportunities, as well as direct cash transfers.
We help to ensure protection of older people's lives, security and dignity by identifying the most vulnerable, facilitating their access to essential assistance and care, and advocating for their rights.
We support organisations and institutions that provide humanitarian assistance to enable the inclusion of older people in the assistance they provide. We provide technical advice, guidelines and training materials, as well as individual and organisational training.
Where possible and appropriate, we incorporate
emergency preparedness
and 
disaster risk reduction
 measures to build the resilience of people and communities to future disasters.
We bring the rights and needs of older people affected by humanitarian crises to public attention. Using data and evidence from our work and from research, we inform and advocate to other humanitarian actors, governments, donors, the media and public to ensure they are aware of the impact of conflict and disasters on older people and how they can and should be supported.
Our humanitarian work is funded from a range of different sources: