Around the world there is a lack of data on the health of older people in low and middle-income countries. With support from Pfizer, the health and care team at HelpAge International has developed a new tool that enables researchers, practitioners and policy makers to better understand older people's health and wellbeing within their communities, and improve the effectiveness of health programmes.
The Health Outcomes Tool is a monitoring, evaluation and learning tool used in health and care programmes targeted at older people on a community level. It helps researchers collect data on selected health and care indicators and use this information in real-time to assess how older people perceive their health and wellbeing, and measure how these perceptions change over time.
The tool focuses on:
how older people's health affects their day-to-day lives, what support they need and how much is actually provided
how older people feel about availability, quality and affordability of health services
how older people feel about their health, where the responsibility for their health lies and what they do to take care of themselves.
Our report Older people`s perceptions of health and wellbeing, presents the main findings from a nine-country analysis through the Health Outcome Tool and provides key recommendations for governments and service providers.
You can also find out more about our progress in this blog by our Global Health and Care Advisor, Rachel Albone.
Use the Health Outcomes Tool
You can download all the documentation you need to use the Health Outcomes Tool:
The Health Outcomes Tool dashboard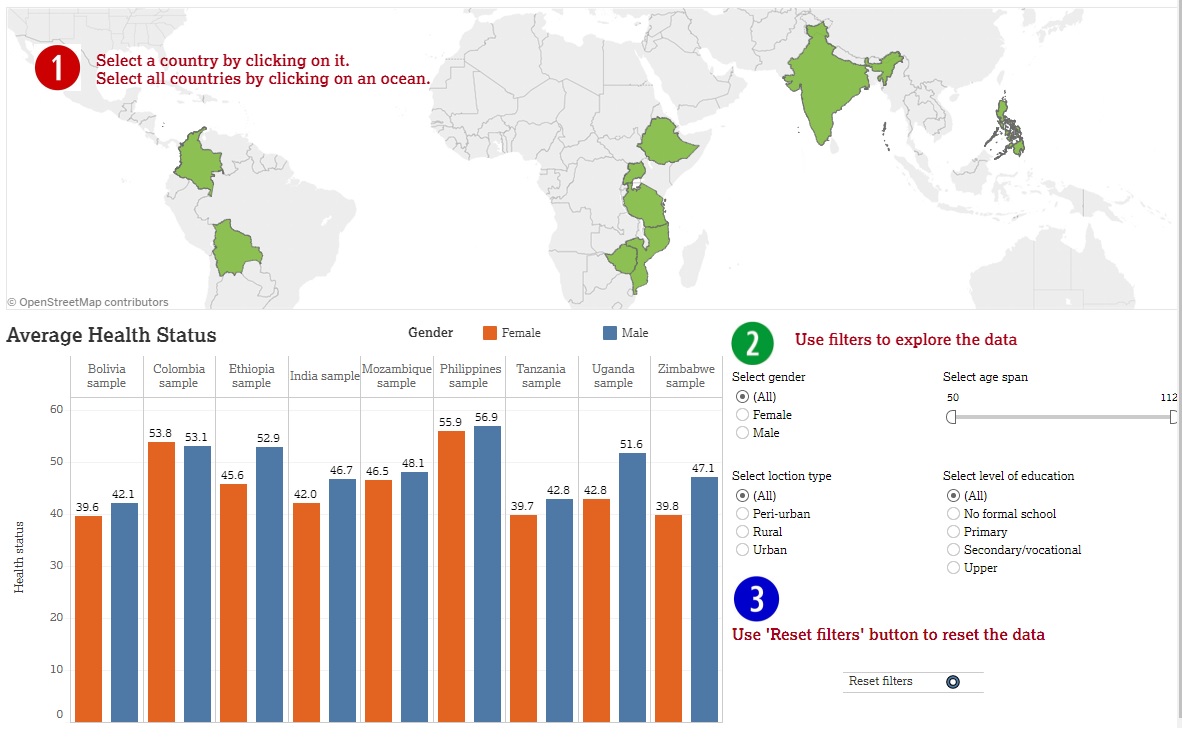 Explore the Health Outcomes Tool data through our dashboard
We have piloted the Health Outcomes Tool by collecting data in nine countries (Colombia, Bolivia, Ethiopia, Uganda, Tanzania, Mozambique, Zimbabwe, India and the Philippines) between September 2014 and March 2017. This data is presented in an interactive dashboard along with some of the main findings from the analysis.
You can explore the dashboard to drill into the data and learn more about what it tells us. You can try disaggregating the data and results by the socio-demographic factors you are interested in, and the dashboard will visually display the results of your analysis.
The dashboard can:
provide descriptions and a general health status of the sample population that has been interviewed
compare the main indicators' averages, such as health status, life satisfaction, ability to carry, and access, availability and affordability of healthcare services
compare how different indicators have an impact on each other.
The data collected from the Health Outcomes Tool provide valuable insight on what influences older people's health, wellbeing and ability to carry out day-to-day tasks. The data varies significantly by country and demographics, illustrating how different communities experience ageing differently. This variation underscores the need for community-level data to form the foundation for programme design that leads to meaningful change to older people's lives.
One important insight the Health Outcomes Tool data analysis reveals is that a person's ability to carry out daily activities has a strong correlation with their general health. This link is stronger than with any other indicator, including the availability, affordability or accessibility of healthcare services. This supports a holistic rather than solely medical approach for working to improve health in older age.
What are HelpAge's plans with the Health Outcomes Tool?
Our aim at HelpAge is to continue to use the Health Outcomes Tool to evaluate the work we implement around the world to improve the health of older people and ultimately make our programmes more effective.
We will also use the data to support our advocacy for policies that support healthy ageing. And we want you to get involved too. We have made the tool available for anyone to use free of charge to maximise its impact. If you do use it, please get in touch to let us know about your findings.
Please note that the dataset includes 3,077 observations from nine countries. This data was collected as a sample and not with the intention to be representative of the entire older population in each country.