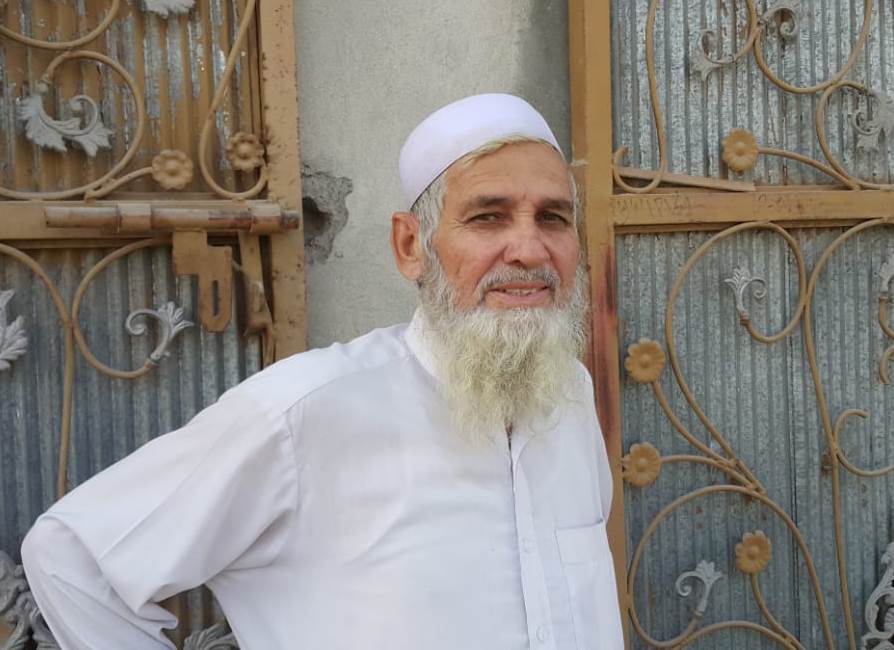 I live in a small village called Pushtun Garhi in Nowshera district in Khyber Pakhtunkhwa. It's a rural area and we grow cardamom, sugar cane, wheat and potatoes.
My wife and I have five sons: three of them are in the Middle East for work, and their wives and children live with us, along with our two unmarried sons. I had a heart attack 20 years ago, and since then I have not been working and my children support me.
How did you get involved in campaigning for older people's rights?
In 2010 we experienced a mega flood. All our rooms were filled with water. Our village was under water. We left our homes and spent a few nights on the roadside. When the water level went down, we came back to our home, but it was devastated. We lost most of our belongings.
Many humanitarian organisations started relief and recovery services, and HelpAge International was one of them. It formed older people's associations (OPAs) and I was elected president of the one in my village. I soon realised the majority of people in Pakistan are not entitled to pensions, and that when older people cannot work, they cannot even afford very basic necessities. The OPA and training helped us to start a systematic campaign to protect older people's rights.
Have you ever experienced discrimination because of your age?
I was crossing the road, and I saw two young boys fighting. I went to them and asked them to stop, I was shocked that one of them behaved very rudely. He shouted "who are you to interfere, mind your own business". I was really upset because usually you don't behave like this with older people.
Tell us about your proudest moments as a campaigner
We started campaigning to protect older people's rights in 2010. When we came to know that there is no law protecting the rights of older people in Pakistan, we marched on the streets, we went to the provincial parliament many times, we met with the social welfare minister.
We struggled for four years. We didn't lose hope. We tried again and again. Every time, after meeting officials, we were confident the law would be passed. But then we had to go again.
And then these efforts paid us off. We got it. I remember on International Day of Older Persons in 2014, government officials promised us that soon a new "Senior Citizen Act" will be approved, and a few weeks later it was enacted. This is first ever legislation for the protection of the rights of older people in Pakistan. When I heard about the act, it was one of my happiest and proudest moments.
The law was passed in 2014, but it has not been implemented in its true spirit. Now we are campaigning for its speedy implementation. We are again meeting different government officials, we talk to the media, do walks and raise awareness about the act across society.
What effect has campaigning had on you as an older person?
The most important thing I learned is that you have to be committed to the cause. All older people are happy they have achieved a milestone. We are motivated now and we know we can make the implementation happen.
How are things improving for older people in your country?
First, there was no law for rights of older people, now we have a law. The government has also announced separate counters at hospitals for older people and concessions for medicine. This is part of the implementation of the senior citizen act, and we believe it happened due to our campaigning.
But still there is a lot more to come, most of what was promised and is still to be introduced. The government needs resources to introduce a social pension for older people.
Do you have a message for other older people around the world?
Time is a knife which cuts the present and divides it into past and future. In life accidents, incidents and unknown happenings may come, but a human being should be fair with the time and with the people of Allah.
And finally, what would your perfect world look like?
I want to see a world where all older people are living a happy life.
With thanks to HelpAge office in
Pakistan
.
Read more
stories
from older campaigners.