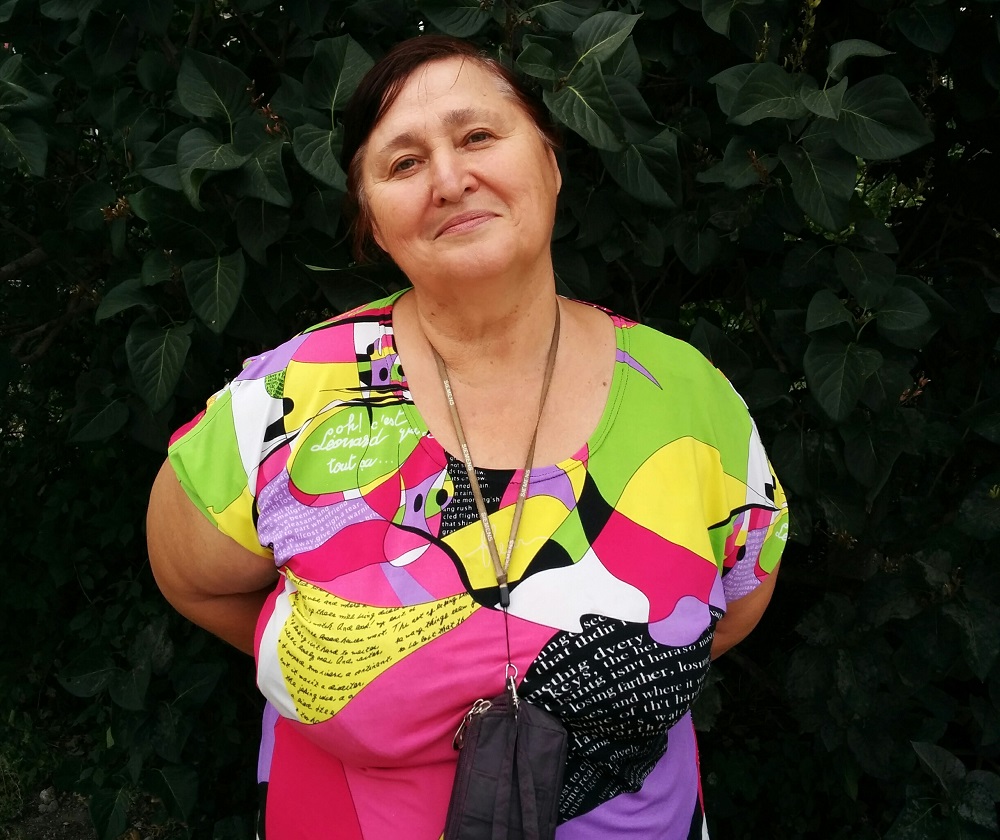 I used to live in Luhansk until the armed conflict started. I was forced to move to another village with many other internally displaced people, mostly older people. I live with my husband. I get an income from a pension and from payments for internally displaced people. Although I'm retired, I continue working in our community. Before the conflict, I was a director of a school in Luhansk.
How did you get involved in campaigning for older people's rights?
I began to actively advocate for older people's rights at the beginning of the conflict. I realised that older people need protection when I saw the loneliness of those residing in this community. In 2015, members of the community were faced with legal issues in payments for utility services. Utility prices were significantly higher than for private households, and our residents could not receive food or cash assistance from the government or NGOs.
We organised a group of older community members who were ready to advocate for their rights. We addressed local authorities and met with representatives of the department of social protection, the Pension Fund, and human rights organisations. The situation of many older people improved after they were provided with humanitarian assistance by international and local organisations and charitable foundations.
Have you ever experienced discrimination because of your age?
I experienced age discrimination while crossing a local checkpoint. Many of our community members have experienced negative attitudes and had decisions made on their behalf by others. For example, pensions and social payments to older people with internally-displaced-person status are often terminated by the department of social protection employees for no clear reason.
Tell me about your proudest moments as a campaigner.
Fires are a real hazard in our region during summer and autumn. We've established fire-fighting teams consisting of members of our community, who can react swiftly in the case of a fire.
Our activities in advocating for older people's rights have provided us with opportunities to get practical skills and knowledge in law and social policy. Most importantly, we now understand that we need to consolidate and work cooperatively, so we can resolve the most acute issues we face. Our lives have improved. We feel stronger and not as lonely as we did before.
How are things improving for older people where you are?
Compared to a few years ago, the situation of older people in our community has slightly improved. First, we now receive social entitlements and pensions. Secondly, we have developed a good relationship with the heads of social services and local authorities. And I can say we've had opportunities to inform these authorities about the issues and challenges faced by older people.
We still face many issues, namely: lack of authentic and timely information, bad road conditions, health care for internally displaced people, and receiving official disability certificates for internally displaced people. To my mind, we should consider older people's opinions as they have wide life experience. But unfortunately, we are not always treated with respect and our urgent issues and needs are not always taken into consideration.
Do you have a message for other older people around the world?
I would say to older people around the world – unite and don't give up! Happiness is but a state of mind!
And finally, what would your perfect world look like?
Our generation had suffered a lot of grief and loss over the past four years. The war came almost in every home and targeted every family. That's why my perfect world is a world without war!
With thanks to HelpAge's Ukraine country office.
Read more stories from older campaigners.