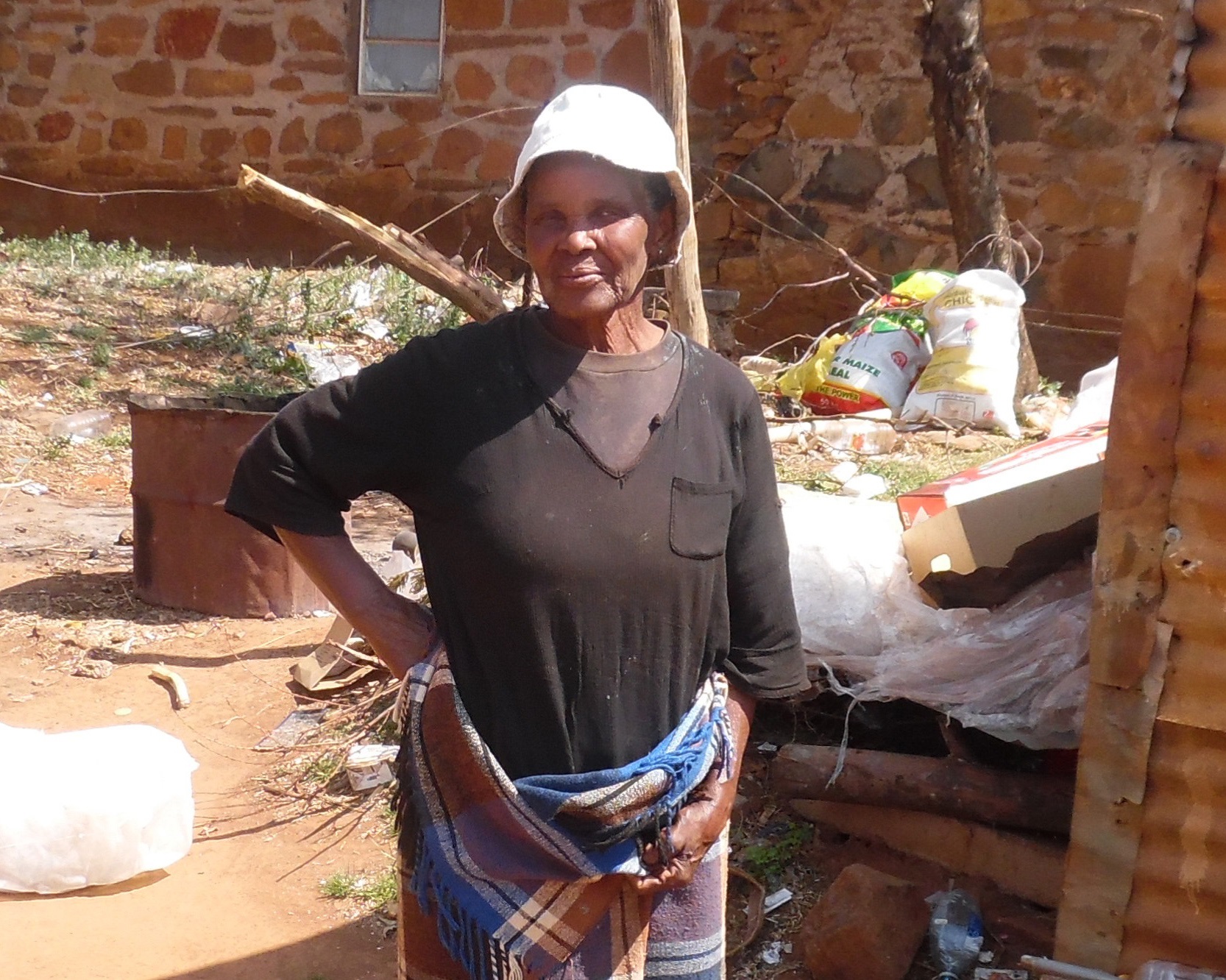 I live in the rural foothills of Pitseng. I live with my eight grandchildren, who are all boys. I earn a living by fetching water for people who need it and collect cardboard from local shops to sell. Every day I wake up at 3am to collect water, which is two hours walk away. Often I go there two or three times a day. When I come back, I cook and sweep the house – and then assist my grandchildren with their schoolwork.
How did you get involved in campaigning for older people's rights?
I was personally invited to the celebration of the International Day of Older Persons twice. It was my first time to hear that there is a day marked for older people and was keen to know what is happening on that day. I was so inspired to learn about the rights of older people.
I realised the situation of older people has to be improved when I knew a grandmother who was raped and killed. The police were involved and that is when I realised I have to stand up for the rights of older people.
Have you experienced discrimination because of your age?
Yes, my neighbours want to take a part of the land I own. They are taking advantage of me because I am older. This is painful for me. I believe if my husband was still alive I would not be facing this kind of challenge.
Older women are discriminated against more than men. We women do not have power. We are underestimated and regarded as children.
Tell us about your proudest moments as a campaigner.
I often attend pitsos (public gatherings), where I feel like my voice is heard. I raise important issues facing older people that I've learned from participating in campaigns.
I used to be home doing nothing and felt sick most of the time. Now that I attend campaigns advocating for older people, I feel empowered and energetic. In one event the prime minister and the minister for social development were present and we were able to share our grievances.
What are you campaigning for right now, and how are you doing it?
Things are changing bit by bit. I see slight changes in some of the services providers where older people get priority to be served first – like in clinics, banks and home affairs. This was not happening before.
I will be very glad if the age of older people eligible to receive a pension here in Lesotho is reduced from 70 to 65. A lot of my neighbours are not getting a pension and they struggle a lot. I have shared this wish with Help Lesotho. This organisation is also the chair to Lesotho Age Network – a network of organisations working on ageing issues.
What effect has campaigning had on you as an older person?
I feel empowered. I try hard to keep myself busy for the betterment of myself and others. I used to feel lonely, bitter and shy. I now have the love. I am also confident and knowledgeable about my rights and I can educate others about our rights. My self-esteem is very high.
If I receive poor service, I demand to see the manager and complain. They always listen to me as I am humble. After that, all older people will be served well.
Everyone is envying me looking at my age and how active I am.
Do you have a message for other older people around the world?
Thanks to institutions that are advocating for and protecting older people's rights, our lives are changing for the better. We no longer wish to die, but we ask for more years to live.
What would your perfect world look like?
A perfect world will be when we no longer hear about elder abuse. For those that are abusing, let them come before the rule of law and suffer the consequences.
With thanks to HelpAge global network member Help Lesotho.
Read more stories from older campaigners.