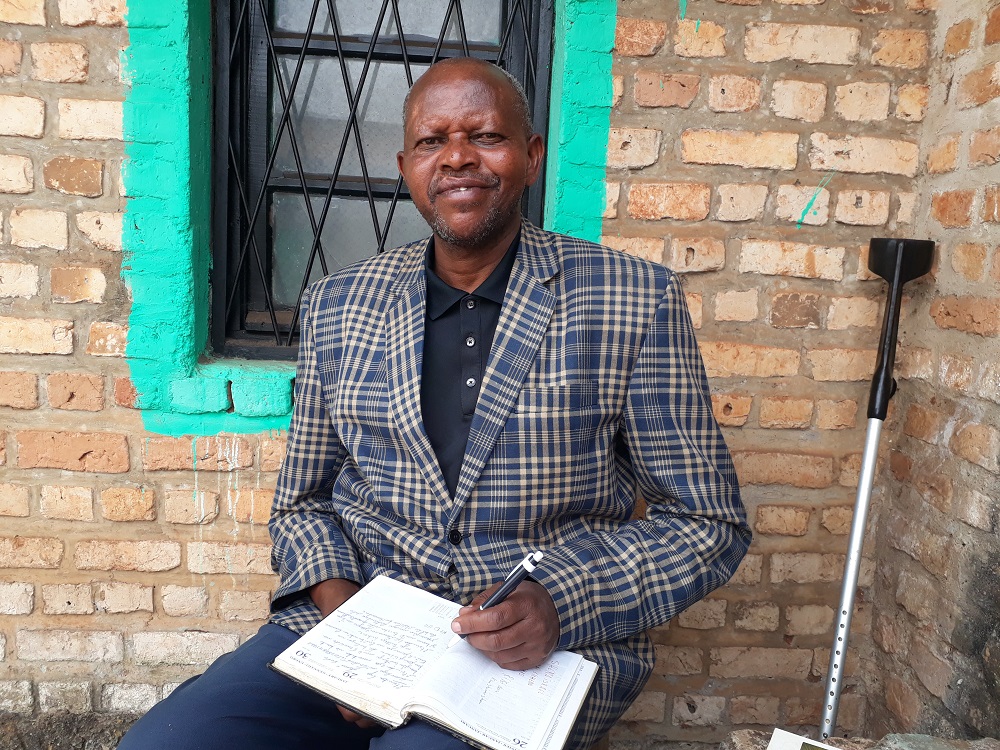 I live with my wife and my three children in Huye, south-east Rwanda. I used to be a trader, but now spend my time farming and keeping animals for the organisation Nsindagiza.
How did you get involved in campaigning for older people's rights?
In Rwanda, older people are not considered like other groups. That's why I started campaigning for older people's rights. Nsindagiza inspired me to start an older people's support group here in Sovu where I live.
The government has initiated some programmes that provide cash for the most vulnerable people, but not all vulnerable older people can access the money. There should be a systematic pension for all older people, regardless of their situation.
Have you ever experienced discrimination because of your age?
In our daily life, older people do not experience discrimination, but need specific care in places such as health facilities, and given priority on public transport. This is not always the case. I wonder when this will change. I wish that it could be legislated in Rwandan laws.
What are you campaigning for right now, and how are you doing it?
We are fighting for older people's right to wellbeing. Some people are benefiting from direct support from the government, but others do not because economic household categorisation was not fairly done.
To ensure decision-makers listen, we have formed the older people's support groups and work hard in developing income-generating activities for older people and strengthening social cohesion through conflict management and encouraging interaction between people.
What effect has campaigning had on you as an older person?
I talk to other older people, make their acquaintance. They provide help within our community and I am seeing change in our households. Campaigning has made local authorities and the government sensitive to older people's needs and rights.
Our neighbors are observing us fighting for older people's rights, and are inspired to advocate for their rights now too.
How are things improving for older people in your country?
We are observing improvement, but there is work to be done. Older people are suffering from chronic diseases like diabetes, blood high pressure and cancer, but they don't get adequate medical services.
What needs to be done to improve the situation further?
The government should support older people to get help from community health workers on their health issues, and to accompany them to heath facilities. And while there are laws discouraging violence against older people, there is no related punishment for those who violate them. This must change, and an international convention on the rights of older people, as well as a national policy on ageing, will help older people to exercise their human rights.
Do you have a message for other older people around the world?
Older people have the responsibility to fight for their rights. An older person is like a prophet who must be heard by all.
And finally, what would your perfect world look like?
My perfect world is a place with zero tolerance for violence against older people and where this kind of violence has severe consequences. It is a world that protects the values of older people and where older people can age with dignity and are a model to the rest of the community. I want a world where the strongest support the weakest.
With thanks to HelpAge global network member Nsindagiza.
Read more stories from older campaigners.