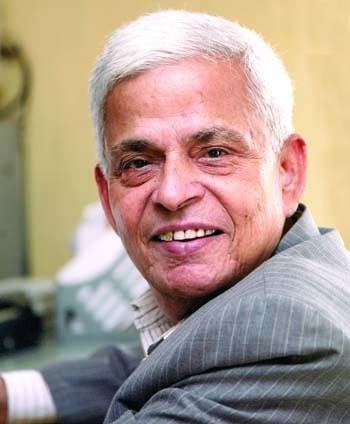 I am living with my wife in Sanepa in Kathmandu. I am retired now but had an exciting career in government. I got into politics and became deputy prime minister and finance minister. Now, I am the chairperson of Man Mohan Memorial Foundation.
How did you get involved in campaigning for older people's rights?
Well, I was first involved in politics when I was a teen – at the age of 16. From then I slowly and gradually started to get involved in campaigning. When I was finance minister in 1995, I started a programme to provide a monthly allowance for people aged 75 and above amounting to 100 rupees (US$1). Now, the allowance is 2,000 rupees (US$20) to everyone who is 70 and above age. Since then, I have been campaigning for the rights of older people and on the different issues they face.
Have you ever experienced discrimination because of your age?
Maybe because of my engagement in politics, I personally never had to face any discrimination. But I have a bitter experience of seeing discrimination where political parties do not give a seat for those aged 70 and above. Similarly, I have also encountered discrimination even in my own family and relatives circle, and in the community.
What is your proudest moment as a campaigner?
The thing I cherish is that the programme I started is being continued – and it is being continued in a good way. Now, the way of looking towards older people has changed tremendously. The way that individual people, family, society and a whole nation used to think about them has changed. They think of older people as valuable assets and love and respect them. I am happy that what I started before is being spread throughout the nation and has generated genuine interest in our cause. However, there are more things to do and we all have to work for it.
What are you campaigning for right now, and how are you doing it?
We are presenting our demands to the Nepal Government and political parties, focusing on the rights of older people to work, to a healthy, independent and safe life, and to be included in society. We are also making demands for an increment in the monthly allowance and changes to the healthcare system and social welfare policies. Being chair of Man Mohan Memorial Foundation, I have started a new campaign for daycare older age homes in each and every ward to provide older people with social engagement and refreshment.
What effect has campaigning had on you as an older person?
I can proudly say I have gained much experience and knowledge, especially because I am interacting with older people from different parts of Nepal. It brings insight into how older people think and how their days are passing by.
How are things improving for older people in your country?
I think older people are more loved and respected. They are heard more these days and the media has started to report on topics that concern older people. They publish day-to-day problems and issues.
What needs to be done to improve the situation further?
There are many areas and issues of older people that need to be improved. The most important thing for older people is to pass the long-term care act. Healthcare needs special attention. Government should strictly implement the provision clearly set out in the constitution, acts and policies. Similarly, a UN convention on older people is a must to strengthen older people's rights.
Do you have a message for other older people around the world?
Don't feel worthless just because of your age. Be confident in your ability to contribute more and more like any other citizen.
And finally, what would your perfect world look like?
Nothing and no one is perfect in this world. So, there is no doubt that the world will never be perfect. We need to deal with it each and every day, and struggle to make it as good as possible.
With thanks to the Nepal Participatory Action Network