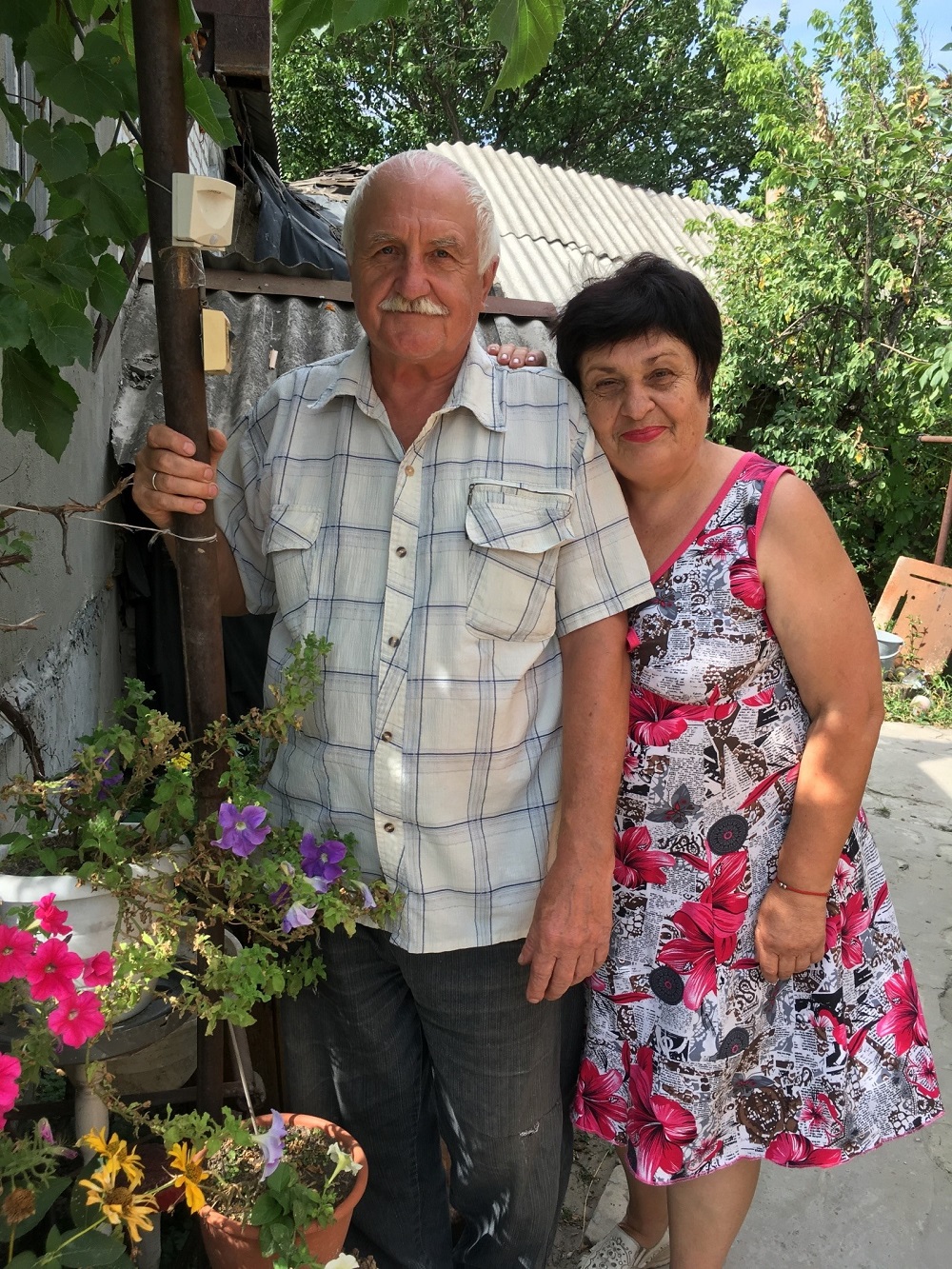 I live in the town of Stanitsa-Luganskaya in eastern Ukraine. I was born and raised here. Before the conflict, there were about 17,000 inhabitants, but now there are about 7,000 locals and a lot of internally displaced people.
I live with my wife and younger son. I used to be in the army, and I retired with the rank of colonel. I served in Strategic Missile Troops for 30 years, and launched rockets at the Baikonur Cosmodrome in Kazakhstan. I was always active during my working years and I am trying to be the same after retirement. I was chairman of the Council of Veterans for 23 years.
How did you get involved in campaigning for older people's rights in this particular humanitarian context?
When the conflict began, the Council of Veterans began to receive requests for help in finding work and housing from a lot of internally displaced persons. Many houses were destroyed. Us veterans joined and helped other older people, negotiated with local authorities and international organisations that then came to help. Almost every month I organise meetings with local authorities to raise awareness because society is not much interested in the problems of older people and their needs.
I remember a case that at the same time made me angry and later became my pride. At the very beginning of the conflict, in 2015, older people gathered on 9 May to honour the memory of the people who died in the Second World War. It is is very important for older people in Ukraine. This is part of their history and culture. Some veterans are still alive. At this time there was strong shelling. I asked the local authorities to agree to a day's ceasefire, but no one wanted to do it.
I got on a bike and rode to the security checkpoint. It was dangerous, but there was no one to do it besides me. I negotiated with the military on both sides and on that day there was no shelling. The holiday took place.
Have you ever experienced discrimination because of your age?
Yes, I experienced discrimination. On the bus, older people are forced to get off if they haven't got a pension certificate because local authorities haven't provided compensation for travel expenses.
I saw older people people with disabilities crossing the contact line. On the Ukraine side, there are wheelchairs where people are transported free of charge, but on the other side, it is necessary to crawl on their hands or pay money for transportation. This is how the dignity, morale and physical health of older people is being degraded.
What are you campaigning for right now, and how are you doing it?
Recently, I wrote several appeals on healthcare for older people. In our city there is a shortage of medical specialists. In order to see a doctor, you need to go to other cities. Older people cannot do this since it is expensive or not possible due to poor health. I constantly talk about these problems with representatives of international humanitarian organisations, such as HelpAge International, and local authorities.
What effect has campaigning had on you as an older person?
Most older people and people with disabilities who live here are very poor. Prices are rising all the time, and pensions are not enough to pay for medicine and bills. People survive mainly on the earnings from vegetable gardens or leasing rooms in their homes to internally displaced people, and this is only possible for those who have spare rooms.
Humanitarian organisations provide some food, money, medicine and materials to reconstruct housing, but it is already clear that there is less and less assistance. A lot of legal issues arise too, and it is good these organisations are there to provide free legal assistance. And HelpAge's community safe space provides somewhere that we can get together, discuss our problems and decide how we can protect our rights. We get new knowledge, are consulted on various issues, and we become more united. If we remain silent, our lives will not change for the better.
What needs to be done to improve the situation?
The government has to pass specific laws to support older people and veterans' societies. Recent legislation has changed the terms of funding, so that everything is shifted onto local government, but it is not very interested in supporting our activities. Everywhere new barriers constantly arise. I'd like the UN and other humanitarian organisations to not forget about us. We need support.
Do you have a message for other older people around the world?
I convey all the best wishes, but I envy pensioners from Finland, Poland, and from other countries with high levels of welfare and pension provision. I hope that one day we will have such a good life in our country!
And finally, what would your perfect world look like?
A perfect world would be one where there is respect for each other regardless of age and status. I'd like everybody to have health and love, for all the laws to be fulfilled and for peace to come!
With thanks to HelpAge office in Ukraine.
Read more stories from older campaigners.