People have flocked to the city of Dnipro from all over eastern Ukraine, fleeing the war with Russia. Many are older people, who find themselves displaced in a strange city yet still responsible for the care of their loved ones. Here are their stories.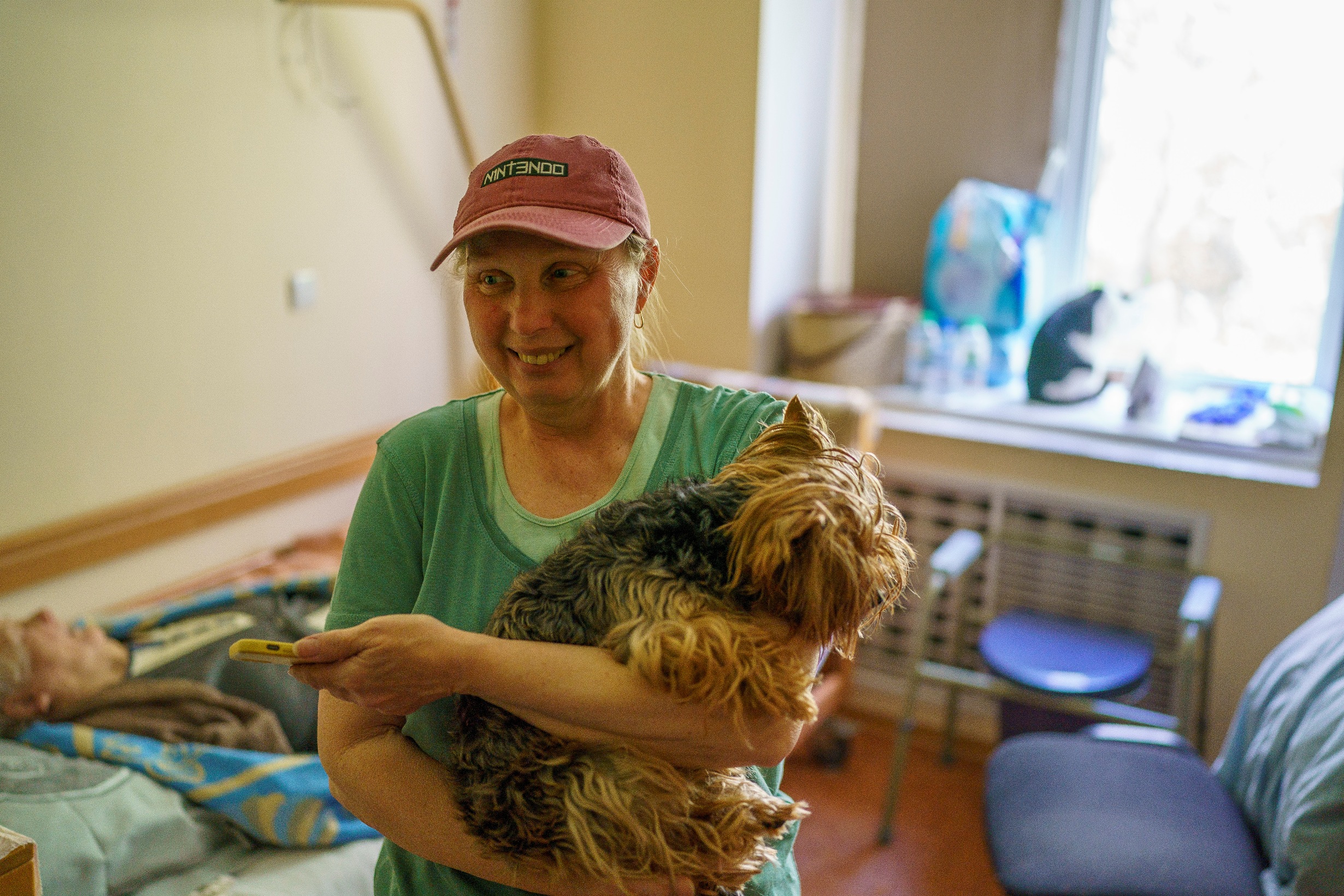 Ana, 62
Ana arrived in Dnipro from Severodonetsk. She is caring for her mother, who turned 92 on February 24, the day the full-scale war broke out. Ana s daughter and 14-year-old grandson are also with her in a shelter for Internally Displaced People (IDP).
My house was destroyed in April. We were in a shelter nearby at the time and stayed mostly underground for around two months.
There was no electricity, no running water. We were often eating dry bread and had to start a fire outside three times a day. Just before we left, the season changed and it started to rain, so it was difficult to light it.
My mother, Rima, is in sound mind, but she has difficulties walking, especially up and down from the basement. It was very challenging and spending such a long time down there took a toll on her.
The family fled with their pets.
We have seven cats and a dog. We also rescued a hamster that was left behind by its owners when they fled, and an axolotl that we found abandoned in the basement of our house. We couldn t just leave them.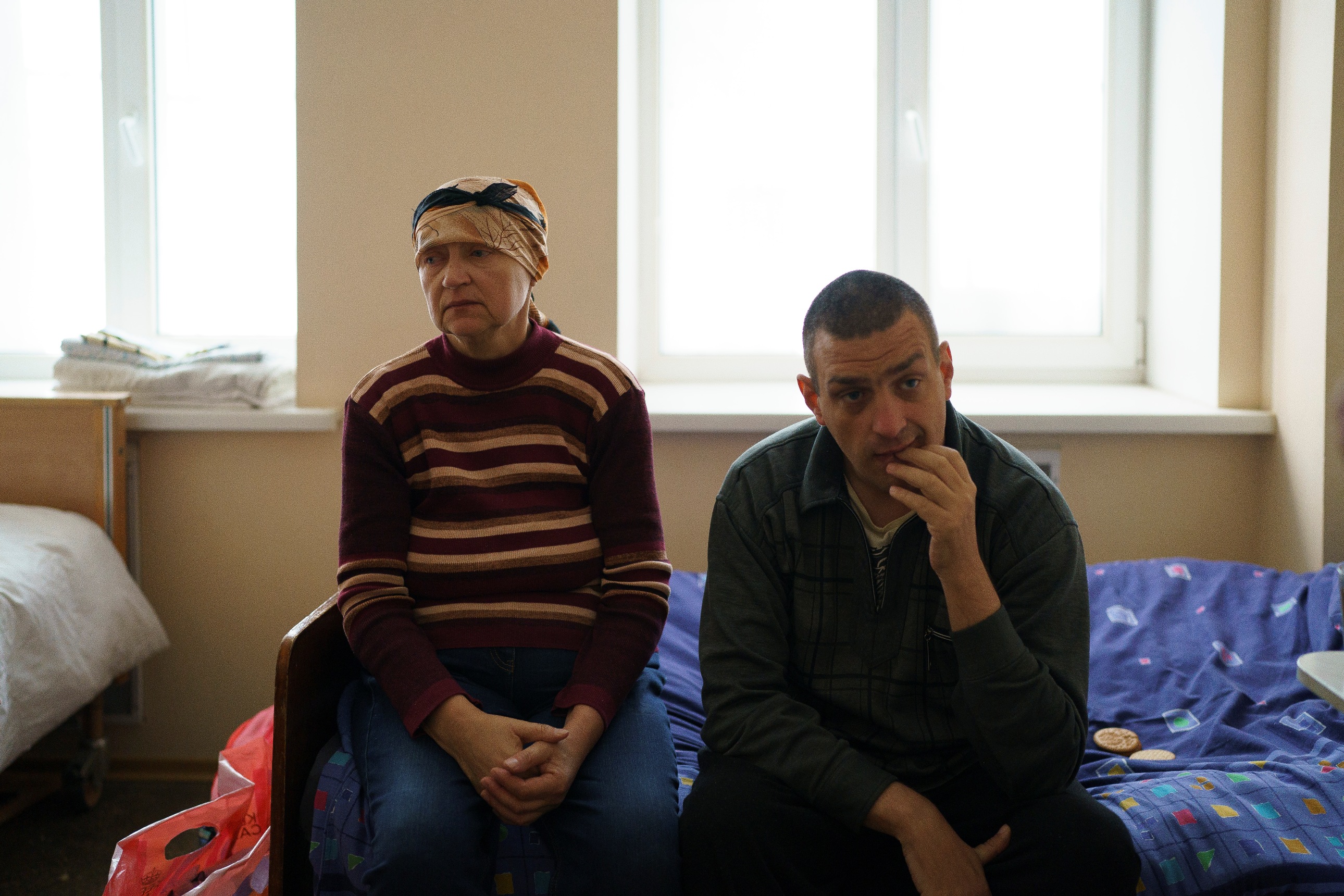 Iryna, 60
Iryna has travelled to Dnipro from Kramatorsk with her 81-year-old mother and her 41-year-old son, who has disabilities.
Since the invasion, I ve been very nervous, especially for my son Anatoly, who is 41. He has been disabled since he suffered a brain injury when he was three years old. My mother is 81 and paralysed.
Things might have felt a little bit easier if I didn t also have cancer, but life just feels like a dead end. In January, I was pushing my mum along and felt pain in my armpit the doctor diagnosed me with Stage 2 breast cancer. I am also diabetic.
Iryna had two chemotherapy sessions, but when the war started the chemo department was evacuated from her hospital. Volunteers in Dnipro are helping her with treatment.
My biggest dream now is to get surgery so I can be healthy enough to take care of my son and mother. That's the only thing I need.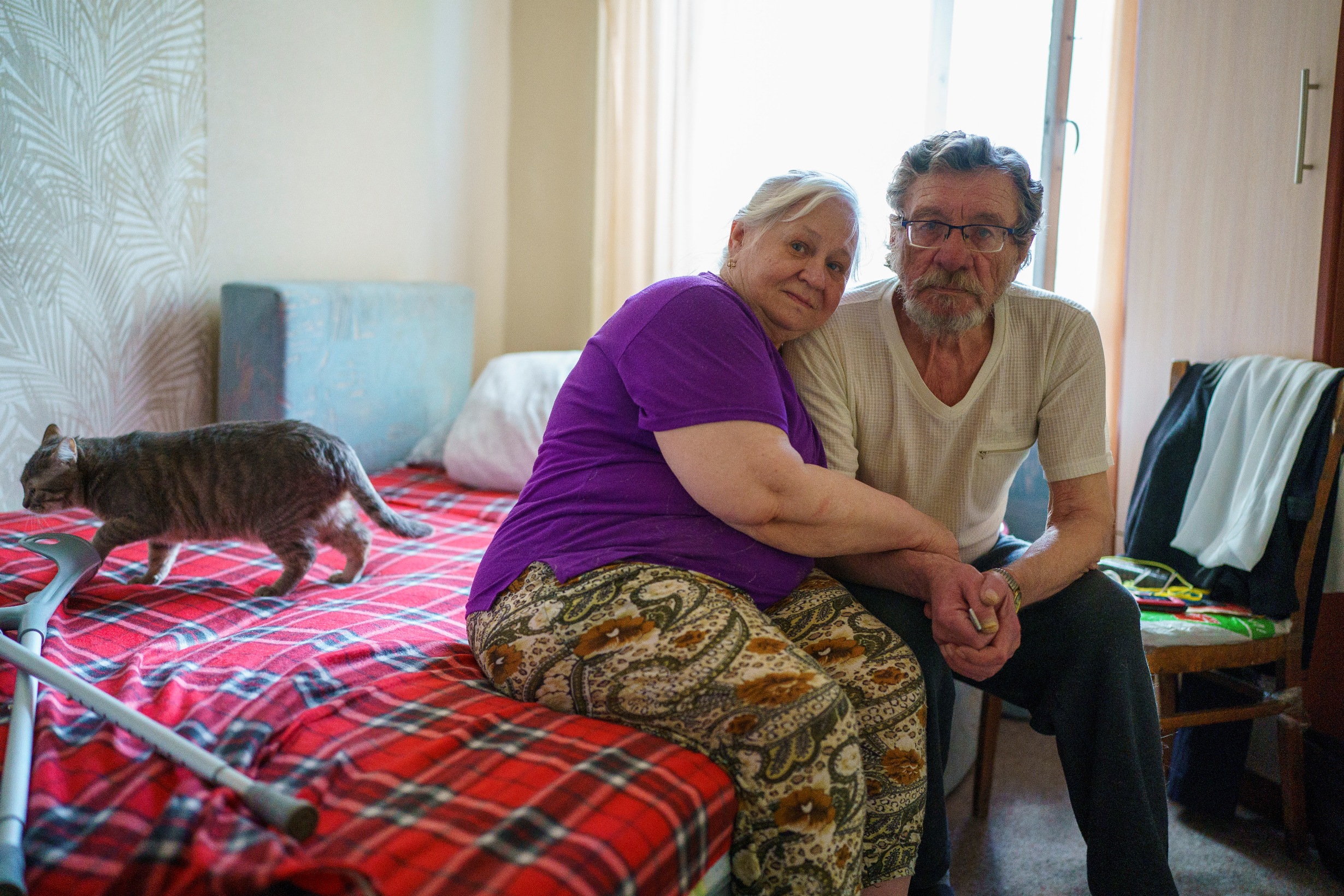 Raisa, 71, and Alexander, 71
Raisa and Alexander have been together for 52 years. They lived in Severodonetsk and arrived in Dnipro in May.
After the war began, we had no electricity, water or gas. We lived off humanitarian aid and had to cook outside on an open fire. We lived in constant fear of being shelled.
We spent all the time in the corridor of our apartment because the basement is down a set of stairs and I have a back problem. Younger people could run down and hide whenever there was shelling, but I was not ready for those runs. We could have stayed in the basement all the time, but it was cold and damp down there. I couldn't take it.
When we left, we brought our two cats and just the clothes we were wearing.
We are retired, and we thought it was time to enjoy our lives together. The children and even grandchildren are grown now. We had a washing machine, a nice heating system, a TV. Everything is gone.
Lyubov, 77
Lyubov lived alone in Lisichansk following the death of her husband. After the city was shelled, her grandson took her to Dnipro, where she lives in an IDP shelter.
I only had a winter coat and boots, no summer clothes. I went to the second-hand store here and bought some clothes and I am trying to alter them with an old sewing machine I found in the shelter. I am currently making a nightgown.
I took the machine apart and oiled it, but I can t make it work properly. It s even older than me it s the one that drives me rather than the other way around.
I was born with the ability to make clothes. Since I was a child, I have done it and I have made clothes for everyone in my family. If I couldn t make my own clothes, it would be much more difficult for me to survive off my pension. At 71 years old, I even learned embroidery.
Valentina, 68
Valentina lives in a temporary shelter in Dnipro, where she was evacuated by her son after constant shelling of her hometown Lisichansk.
After the war started, they were shelling and we were lying on the floor, afraid to even leave the area. We had no electricity and water. We spent most of the time in an underground cupboard. I had a stroke in 2018 so it was hard for me to get up and down.
The last night I was there was horrific. We were so glad that we made it through that in the morning we just got in the car and left. Our hands and legs were shaking.
My husband died ten years ago, but I have three grandchildren and five great-grandchildren I m a rich woman.
My other children are still in Lisichansk and my soul hurts for them, they didn t know we were leaving, and we didn t have space. Now they live in their basement and there is little phone connection.
At home, I grew beetroot, strawberries, carrots, and cucumbers. I would make pickles. I didn t have a big garden, but I had something to do. I want to go back home very much.
Stories by Liz Cookman / HelpAge International
---
HelpAge in Ukraine
We have been working in Ukraine since 2014. Today, we are running emergency programmes for older people who are internally displaced and in care homes in Lviv, Dnipro and surrounding areas. We are also supporting refugees in Moldova and Poland. Our network of volunteers many of them older people themselves – continues to support those who have stayed in their homes in Eastern Ukraine, delivering food and essential supplies.
The needs of older people are often overlooked during crises. We will continue to document and amplify the experiences of older Ukrainians caught up in this war to ensure they are never forgotten.
Find out how older people are coping with this crisis and how we are supporting them.