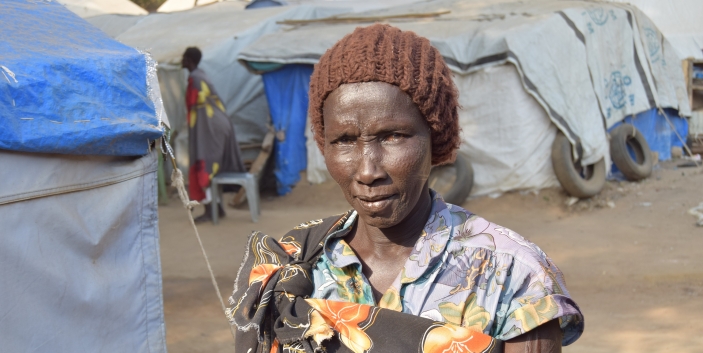 (c) Samir Bol/HelpAge International
HelpAge International is very concerned about the situation of older people after new outbreaks of violence and internal displacement in South Sudan.
Fresh fighting broke out in the capital Juba on 8 July, as the country marked its fifth independence day. The violence left as many as 42,000 people internally displaced in different parts of the city (350kb – PDF), with a number attempting to cross over to neighbouring Uganda. Of these, some 12,800 remain displaced in and around Juba.
The majority of people affected are said to be women, children and older people. Although information on the exact number of older people impacted is hard to come by, according to UNDESA data 5.1% of South Sudan's 12.1 million population is aged 60 and over.
Critical levels of malnutrition
Many of the shops and markets in Juba remain closed and prices of the few goods available have risen steeply. This is having a significant impact on the diets of those displaced and critical levels of malnutrition are reported in the displacement camps.
Older men and women are particularly at risk of malnutrition because many need palatable and easily digestible food that is rich in nutrients and can be adapted for those who have difficulty chewing. In food crises and displacement situations, general food rations often ignore these needs, while it may also be a struggle to get to distribution points or to transport rations home.
Cholera poses greater risk of death for older people
A number of cases of cholera have also been reported in Juba, with the further threat of waterborne diseases high due to the high number of displaced people living in very poor conditions and a shortage of safe drinking water.
Older men and women are particularly vulnerable in cholera outbreaks. Research shows that older people take longer to get to treatment centres when symptoms arise, suffer more severe levels of dehydration and face longer recovery times. All these factors pose a greater risk of death.
Older people bear the brunt of conflict
"Older people often bear the brunt of conflict and are particularly vulnerable in situations of violence and displacement because of their frailty and reduced mobility," said Dr Prafulla Mishra, HelpAge International's East, West and Central Africa Regional Director.
"We are working with our partners to monitor the situation on the ground and are preparing to provide much-needed support to older people, including those living in protection of civilian camps," added Dr Mishra.
Renewed violence hampers humanitarian efforts
This renewed violence, though currently averted by a fragile ceasefire, is seriously hampering humanitarian efforts to provide assistance.
Concerns about the safety of humanitarian staff have been raised as restriction of movement has affected not only South Sudanese nationals, but also humanitarian actors.
Rama Hansraj, HelpAge's South Sudan Country Director, has urged for the free movement of people at this time, as many seek their lost relatives and want to secure their property and belongings.
Find out more about our response to the ongoing crisis in South Sudan.