The border crossing between Moldova and Ukraine at Palanca is unassuming. The flags of Moldova and Ukraine fly in the wind – with the European Union s between them – and there is a small duty-free zone. A few hundred feet beyond this point is a small barrier. Since 24 February – and according to international humanitarian law – once a Ukrainian passes beyond that barrier into Moldova, they become a refugee.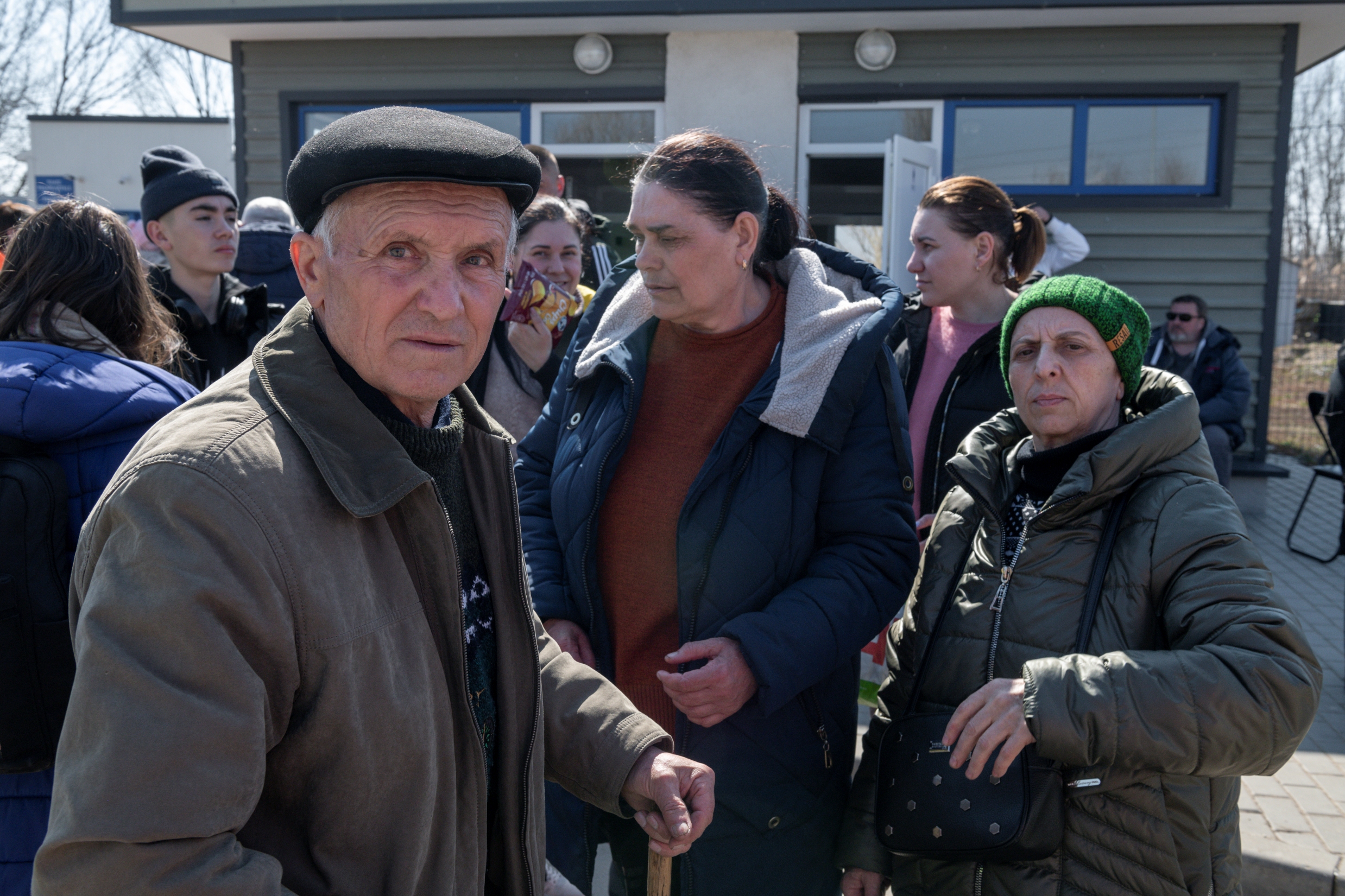 When I stood at the border, watching refugees enter Moldova and return to Ukraine, I was close enough to Ukrainian soil that my phone switched at random between Moldovan and Ukrainian networks. However, I was on the side of the border that, for so many people, represented the chance to live without fear of shelling, starvation and bullets. For so many, it would be the difference between life and death.
Just over a month into the war, the number of refugees arriving at Palanca has slowed. Ukrainians cross the border into Moldova and board a minibus which takes them to a camp about a mile away, where they can receive medical attention, have a hot meal, and board buses to Chisinau, Bucharest, and further afield. There are tents for those who arrive too late in the day to begin their onward journeys. At its busiest periods, the camp saw thousands of people arrive every day. Now, it receives between 200 and 600 new arrivals daily.
Near the border, I notice one older woman in a flowered headscarf and blue cardigan, standing quietly beside a suitcase and a few plastic bags. Her name is Anna, and she is 85 years old; like all Ukrainians of a certain age, she endured so many tragedies of the 20th century just by virtue of living in the target of Hitler and Stalin s terror. Now, after surviving Nazi occupation and Soviet totalitarianism, her hometown of Kherson has been viciously attacked and occupied once again, just like it was in the 1940s. After a month of war and bombardment, she decided to leave her home and travelled all by herself for three days, carrying that suitcase and those plastic bags, to find safety in Moldova.
My HelpAge colleagues and I followed Anna s minibus to the refugee camp, where we saw her again, sitting alone in the shade, her face set in an exhausted, resigned expression. Anna s family members were driving to Moldova from Italy, where they now live, and where she would move to be with them. Anna does not speak Italian, and I wonder if she will ever feel at home in Italy. I wonder still if she will ever be able to return to Ukraine again.
HelpAge s Rapid Needs Assessment, conducted in eastern Ukraine in early March, determined that nearly 99% of older people in the region did not want to be evacuated from their homes, and according to REACH Moldova s monitoring update of 23 March, just seven percent of Ukrainians arriving in Moldova were 65 or older. Older people make up a third of all people in need of assistance in Ukraine, making the humanitarian crisis the oldest in the world.
HelpAge and its partners are doing vital work on both sides of the border to support the needs of older Ukrainians. Its work on the ground in Moldova, supporting refugees with food distributions, hygiene kits, and medical assistance, is vital to making sure that those who have made the agonizing journey across borders have what they need to build the futures they were so cruelly denied at home.
By Sarah Pilchick, Humanitarian Communications Manager, HelpAge International
---
Find out what we're doing to help older people in Ukraine.