This project looks at the impact of the global
food, fuel and finance crisis
in 10 different countries, and what this means for older people who are often overlooked, despite their very specific needs.
We now turn the spotlight on the situation of older people in the Philippines, the sixth country in this series.

The effect of several crises is taking a toll on the Philippines
The Philippines is not new to struggling through one crisis after another. However, the relentless shocks brought about by climate change-related disasters, combined with recent economic blows including the COVID-19 pandemic and Russia-Ukraine war, have plunged the country into inflation, debt, and crisis.
The COVID-19 pandemic has been brutal to the country – In April 2020, there were 12.9 million unemployed people, with almost 19 million families facing income losses without savings in the third quarter of 2020, and 15.5 million families going hungry.
The service and tourism industries have been battered due to the lockdown and quarantine restrictions, making it even harder for Filipinos to earn enough to make ends meet.
And climate change is battering the country – since 2020, the country has been hit by 54 tropical cyclones, severely draining Filipinos already depleted resources.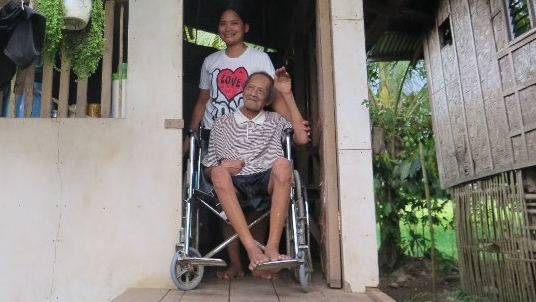 Older Filipinos struggling to deal with the fallout from these recent events
The food, fuel and finance crisis is taking its toll on older people in the Philippines.
Adverse effect on health due to restricted access to food and medicine
According to a survey conducted by HelpAge International and its partner Coalition of Services of the Elderly (COSE), 57 per cent of older people have difficulty accessing food, and 52 per cent of older people have difficulty accessing medicines.
Older people also highlighted that they did not have resources to buy enough food nor food of high quality and nutritional value.
Even myself who receives pension can hardly support my daily needs now with the recent crisis. The budget becomes so limited that the food on the table can no longer provide the minimum nutritional needs of an older person. survey respondent.
Furthermore, older Filipinos are compromising on the quality and quantity of their food. Rising fuel and transport costs means they are also forgoing their health check-ups and risking their health.
Many of us opt to not go in these (health) programmes anymore. We endure expensive rides and long queues only to know upon arriving in the venue that the medicines the local government promised was already out of stock, since no priority was given to older persons. With many medicines listed in my prescription, only 1 or 2 will be provided by these programmes for free. Older people s energy and resources are just put to waste.
survey respondent.
Unstable incomes
Most older people in the Philippines are engaged in the informal economy (fishing, farming, selling etc.) where incomes are unstable and, in many cases, highly dependent on environmental factors.
Limited social protection for older people
Since 2011 the Philippines has introduced a social pension (SocPen) program for older people. However, data and official reports suggest that most older people, especially the poor are excluded from this program. The implementation of this program is also rife with allegations of corruption, undue favours and patronage.
Strategies for addressing the critical state faced by older people
The government must take urgent action to alleviate the plight of older Filipinos.
Amend the implementation guidelines of the SocPen program and make it more transparent and standardized.
Improve social protection targeting and coverage.
Enhance employment and livelihood opportunities.
Prioritise the establishment of community healthcare centres especially in remote areas so that healthcare services can be access by all older people across the Philippines.
Actively engage older people in policy making so as to promote their participation and voice.