Over one month after the earthquake struck in southern Türkiye and northwest Syria, vital aid is still not getting through to northwest Syria compounding a situation that was already in crisis, said HelpAge International today on the 12th anniversary of the gruelling conflict.
A combination of insufficient funding and challenges around access are preventing vital aid supplies from reaching northwest Syria leaving thousands of people without shelter and life-saving support, more than one month after the earthquake struck.
The Syria Earthquake Flash Appeal has received less than half (43%) of the funds needed and only a third of the funds pledged are available to spend. HelpAge partners in the region say they are struggling to get life-saving aid through quickly enough and at the scale that is required.
"Funding and access to aid for northwest Syria is a long-standing issue that has been woefully neglected by the international community for far too long," says Tom Colley, HelpAge's Response Manager for the Türkiye/Syria earthquake. "But the devastation caused by the earthquake has really brought these issues to the fore. More funding is urgently needed to address the acute needs facing the people of northwest Syria, especially the most at-risk, including older people and those with disabilities."
"Full, unimpeded, and unconditional humanitarian access is required for an effective humanitarian response. People in northwest Syria were already living on the edge following more than a decade of debilitating war and this earthquake must be a wakeup call for the international community to address not only the urgent needs related to the earthquake, but also the long-standing damage and neglect caused by more than a decade of war. A failure to do so is nothing worse than shameful."
Lack of shelter
The UN's refugee agency,
UNHCR
, states that more than five million people may have been left homeless by the earthquake in Syria. This is particularly dangerous for older people who are more at risk when exposed to the elements. Many of them had already been displaced several times and were living in tents or buildings damaged by war.
The overcrowding and poor sanitary conditions have increased the number of people suffering from cholera from nearly 46,000 before the earthquake to over 52,000. This disease can be deadly for many for older people with weakened immune systems.
HelpAge partner, the
Syrian Expatriate Medical Association
(SEMA) has provided tents for 200 families so far but says that requests from the local councils and assessments from two field offices inside Syria show that this is nowhere near enough.
Mohammad Ahmad Al-Hamo (63) is currently living in a tent in southern Idlib in northwest Syria with ten other families. He said:
"We're struggling to live like this. Families are living on top of each other. Life is so hard, and no one has any purpose in life. We can't move around; it's like we are in prison. We ask for help, but no one hears us."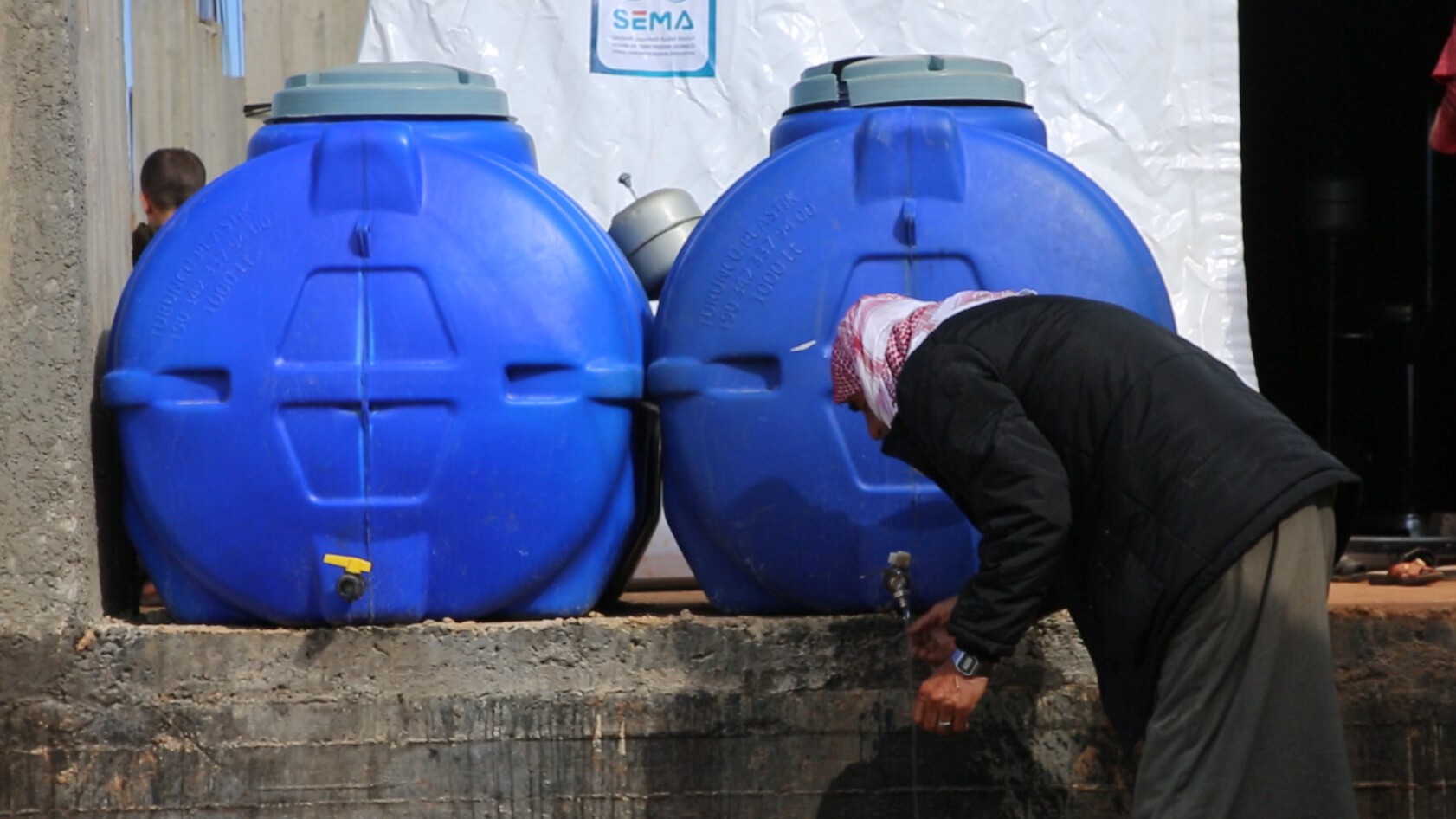 Dr Basem Shaher, SEMA's grants coordinator said:
"It is almost impossible to buy tents in Turkey and bring them into Syria because of their lack of availability in the market, the restricted rules to export shelter materials and the high cost. There are also transportation fees to be considered. It's a daily struggle as we are facing shortages of almost everything we need. We are carrying out so many operations and urgently need local and general anesthetics and painkillers, as well as antibiotics."
No access to treatment for chronic diseases
A recent
survey
found that older people and people with chronic diseases were the most at-risk group in affected locations in Syria and 81% of older people reported gaps in specific services.
SEMA is struggling to access medication and supplies needed for chronic diseases, such as glucose metres, blood pressure monitors, dialysis equipment, as well as incontinence pads.
The report also states that older people are particularly vulnerable to safety and security risks and exclusion from services as their access is hampered due to mental or physical disabilities.
"Older people are always marginalised in emergency responses but when access to aid is limited, as it currently is in Syria, the needs become even more acute. Years of conflict, displacement, and horrendous living conditions are only exacerbating the situation in Syria. And now many have no access to the life-saving treatment they need,"
Tom Colley added.
Mustafa Alokoud, Executive Director of HelpAge's Syrian partner
Hope Revival
concurs that older people are marginalised in humanitarian responses. He said:
"Until we obtained support from HelpAge International, only 3% of the funding we received could be allocated to older people. It is vital to have dedicated funding to develop programmes and activities that are specifically tailored for older people. We cannot allow them to go unseen."
Heavy toll on mental health of older people
Unsurprisingly, the current situation in Syria is taking a severe toll on the mental health of older people.
Mustafa Alokoud added:
"Older people are experiencing extreme psychological distress as a result of what they witnessed and lived through in the past 12 years. And this earthquake has exacerbated these difficulties. They are struggling to cope with this distress and there are very few trained professionals in northwest Syria who are equipped to help them."
Tom Colley concludes:
"I hope this earthquake shines a light on the humanitarian situation in northwest Syria and the international community will do everything it can to ensure that people living in this area get the help they need now and in the future. And that the specific needs of older people are respected in the humanitarian response."