Older women are an integral part of our communities and of wider society. Yet as women age, they often report feeling invisible, and can face widespread discrimination based on both their age and gender.
Older women are often ignored and excluded from global gender policies, as they are not considered active, contributing members of society. Governments do not sufficiently consider or value their rights and their contributions to sustainable development.
"Older women are not recognised… as human beings. They are treated like second-hand [class] citizens. Nobody is bothered about them. You go [to a healthcare facility] and definitely you will be given an aspirin, not anything concerning your treatment [or] your sickness."
Older woman, 62, urban area, Uganda
HelpAge is headed to New York to raise the voice of older women within the international movement for gender equality at the 67th session of the
UN Commission on the Status of Women
(CSW), which takes place from 6-17 March.
This is the principal global intergovernmental body dedicated to the promotion of gender equality and the empowerment of women.
---
Parallel event: Catalysing intergenerational action to eliminate ageism & advance gender equality
We are holding a parallel event during the CSW with expert-led conversations on the situation, perspectives and rights of older women often overlooked in discussions concerning women's empowerment and gender equality.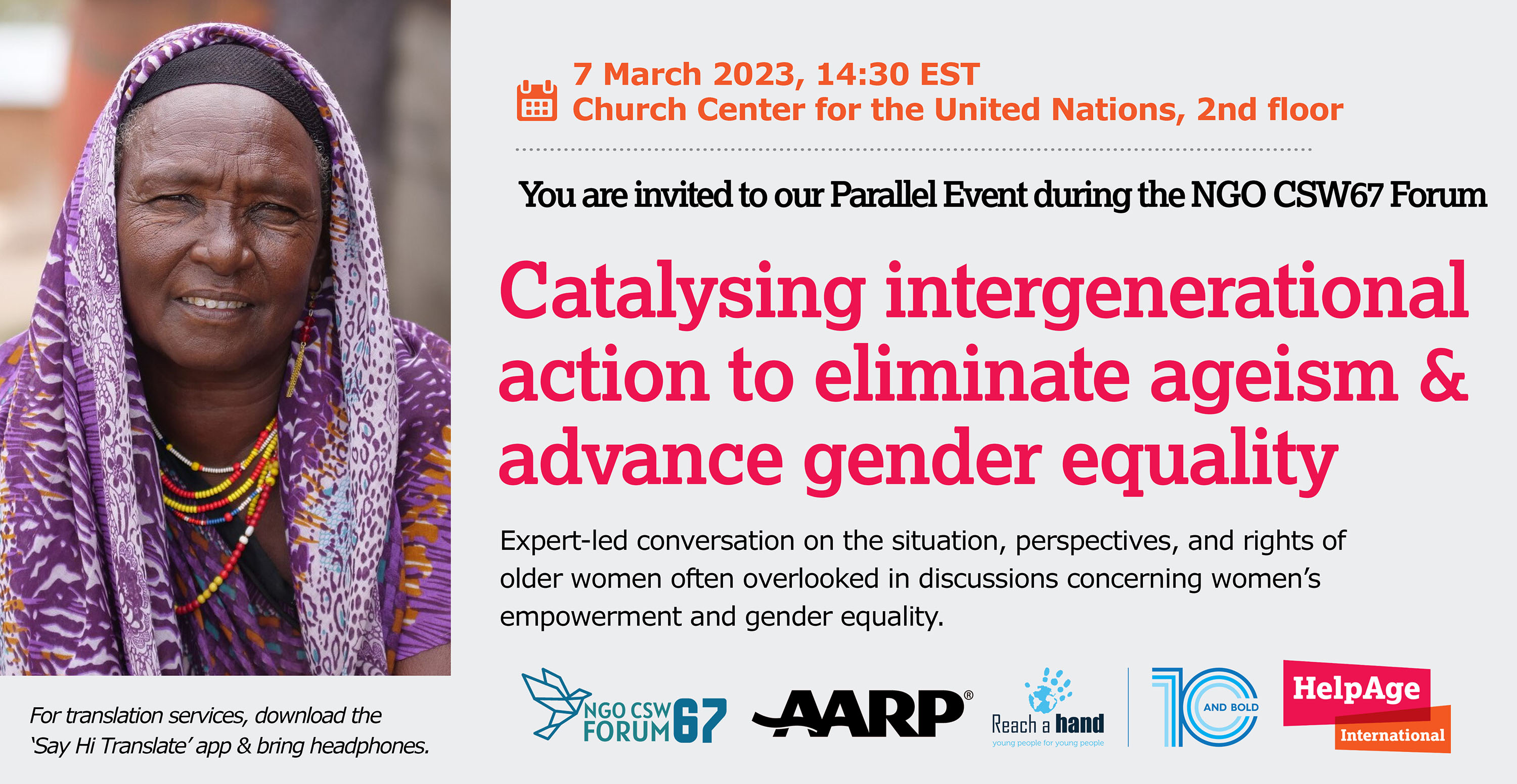 ---
Report on older women's lived experiences of gendered ageism
At the parallel event, HelpAge is launching a report on older women's lived experiences of gendered ageism. The report sheds light on older women in Kenya, Rwanda and Uganda who give concrete examples of discrimination they have faced in all aspects of their lives – in health services, in work and income security, as a driver of violence and abuse and beyond.
"Sometimes when I go to the hospitals, they can't even see that I am [an] older woman who needs to be cared for, but I am used to that, I just take it as it is, I know that we are not respected because we [are] considered as just consumers without being productive."
Older woman, 75, rural area, Rwanda
Bringing generations together for change
Flavia is an inspiring woman passionate about mentoring younger girls like Bridget in Uganda on their rights to access and information on sexual and reproductive health. Living with HIV herself, she believes she has a lot to contribute to society and has dedicated herself to helping the younger generation prepare for the future.
United for older women's rights
In Kenya, older people can be subjected to harmful practices such as witchcraft accusations. Violence and killings disproportionately affect older women, particularly poor, old widows living in rural areas.
Helen is a human rights activist fighting against this harmful practice in Kisii County in Kenya. She champions for the rights of older people accused of practicing witchcraft. This is her inspiring story.
HelpAge is committed to ensuring more inclusion of older women in all aspects of life, and making sure that their experiences are listened to. Our engagement at the UN CSW is just the first step.