As we mark one year since Russia's full-scale invasion of Ukraine, we look back on the impact this war has had on older people across the country.
No one would have imagined this war to have lasted this long. But we are now a year on, and intense fighting still persists in Ukraine.
Unique challenges faced in the world's 'oldest' humanitarian crisis
Ukraine has the largest percentage of older people affected by conflict in a single country in the world. One quarter of the country's population is over the age of 60, while in eastern Ukraine one in three of those needing assistance since the Russian invasion in 2014, have been over 60. This makes it the world's oldest humanitarian crisis.
Older people now make up a disproportionate number of the civilians who have remained in areas of active hostilities, facing a greater risk of being killed or injured.
Those away from the dangers of the frontline also face distinct challenges. They may have found themselves staying in ill-equipped temporary shelters, unable to access their medication or assistive products.
Many older Ukrainians are also financially precarious as they rely on the small state pension to survive.
Light in the Darkness
Made in Ukraine, filmed by and featuring only Ukrainians, this film captures the spirit, resilience and love forged in a country at war. For many thousands caught up in this terror, older people have been a light in the darkness.
"I've lost the life I knew":
Older people's experiences of the Ukraine war
Our
new research
on the rights of older people in the humanitarian response in
Ukraine has thrown up some alarming findings. It reveals how older people have
fared worse financially and in access to basic services, compared to those who
are younger. It also documents the disproportionate hardship for people over
seventy compared to people in their sixties, as well as the increased risks that
older women experience.
Some disturbing statistics came up in the report:
Older people were much more likely to cut food costs or borrow money to buy food (35% men and 42% women), than people under 60 (23% men and 37% women).
Among older women, 61% say that they do not have enough money to cover their basic needs, compared to 46% of men.
8.25% of people over 70 reported that food was very difficult to access, or mostly difficult to access, compared to 2.35% of people 60 to 69.

The report provides recommendations for NGOs to better serve older people in their humanitarian responses.
HelpAge in Ukraine
We have been working in Ukraine since 2014. Today, we are running emergency programmes for older people who are internally displaced in Lviv, Dnipro and surrounding areas. We are also supporting refugees in Moldova and Poland. Our network of volunteers – many of them older people themselves – continues to support those who have stayed in their homes in eastern Ukraine, delivering food, essential supplies and psychosocial support.
Since the start of the conflict in February 2022, HelpAge has worked with 41 local organisations within Ukraine to support more than 77,000 people by providing food kits, homebased care, community safe spaces, cash assistance and more.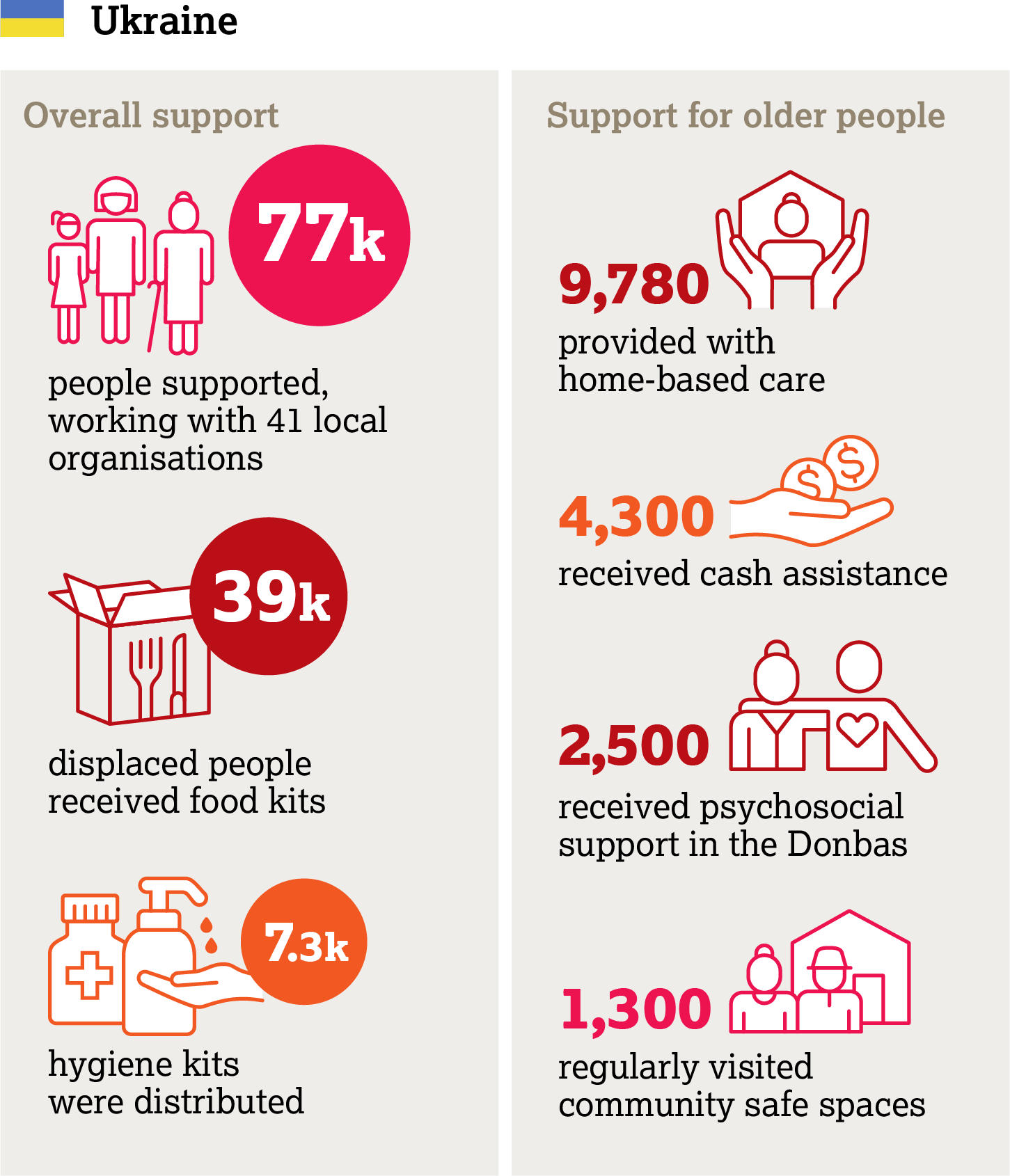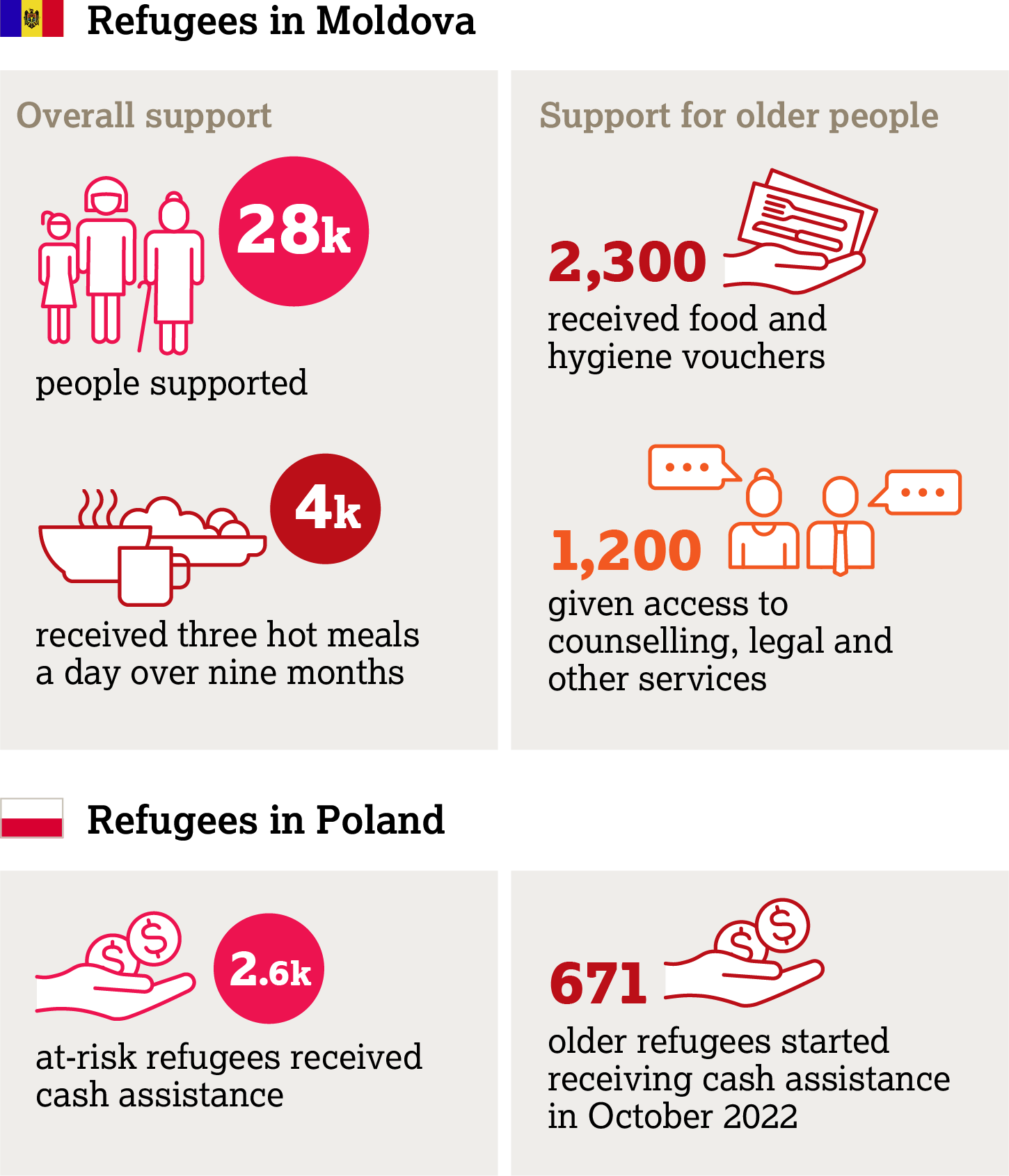 We are also supporting refugees in Moldova and Poland. In Moldova, we have supported more than 28,000 refugees by providing hot meals, food and non-food items, hygiene packs, psychosocial support, assistive devices and so on.
The needs of older people are often overlooked during crises. We will continue to document and amplify the experiences of older Ukrainians caught up in this war and promote their engagement and participation in the response, to ensure they are never forgotten.
A big thank you to our staff, partners and volunteers, who have worked tirelessly right since the start of this conflict, despite many of them being displaced themselves, putting their needs aside and giving it all to help the affected population. We have nothing but deep respect and admiration for the way they stepped up to respond to this crisis.