In many countries it is considered acceptable to deny older people their rights just because of their age. This is ageism and we want to expose it.
For International Day of Older Persons (1 October), we are teaming up with our
Age Demands Action
partners across the world to ensure as many people as possible know what ageism is and when it is happening to them, and how it has a negative impact on our rights and opportunities in older age.
Older activists will be organising a variety of events in their communities to get people talking, to challenge ageism and to influence decision-makers. These include marches, workshops, meetings with key individuals and plays that explore the theme of ageism. Follow this
Twitter list
to get live updates.
What is ageism?
Ageism is discrimination. It is direct or indirect actions where someone is excluded, considered different, restricted, ignored or treated as if they don't exist because of their age. It is one of the most widespread and accepted forms of discrimination.
It is associated with:

being disrespected
being treated unfairly
people making untrue assumptions about you
feeling invisible.
Ageism can negatively affect a person's confidence, financial situation, health and quality of life. It can leave people feeling isolated and invisible. It happens when older people cannot find work or force them into retirement, when they are denied treatment or deprioritised in favour of others in health centres, when they are rejected credit at banks, and when they are told they are "too old" to wear certain clothes, to take part in sports or community activities, or to learn new skills.
Daw Khin Aye, an older woman in Myanmar said during a consciousness-raising workshop: "I used to be a farmer. I owned 25 acres in my village. I planted rice across all the land. As my husband and I have no children, we lived together with our nephew and nieces. One day, they told me that we are old, that we should not work on the farm and we should give away all the land we own. After my nieces and nephew took all our property, we left our village to stay at the [care home]. Now, I have no property. Nothing. I am full of regret about my life."
Join us to #ExposeAgeism.
We would love it if you could support us to break the silence and #ExposeAgeism. Explore our resources and share them on Twitter, Facebook and LinkedIn to help us spread the word!
For example, download one of the below photos and post it on social media with this text: "Ageism is one of the most widespread and accepted forms of discrimination. It can affect your confidence, financial situation, health and quality of life. It can leave you feeling isolated and invisible. It's time to#ExposeAgeism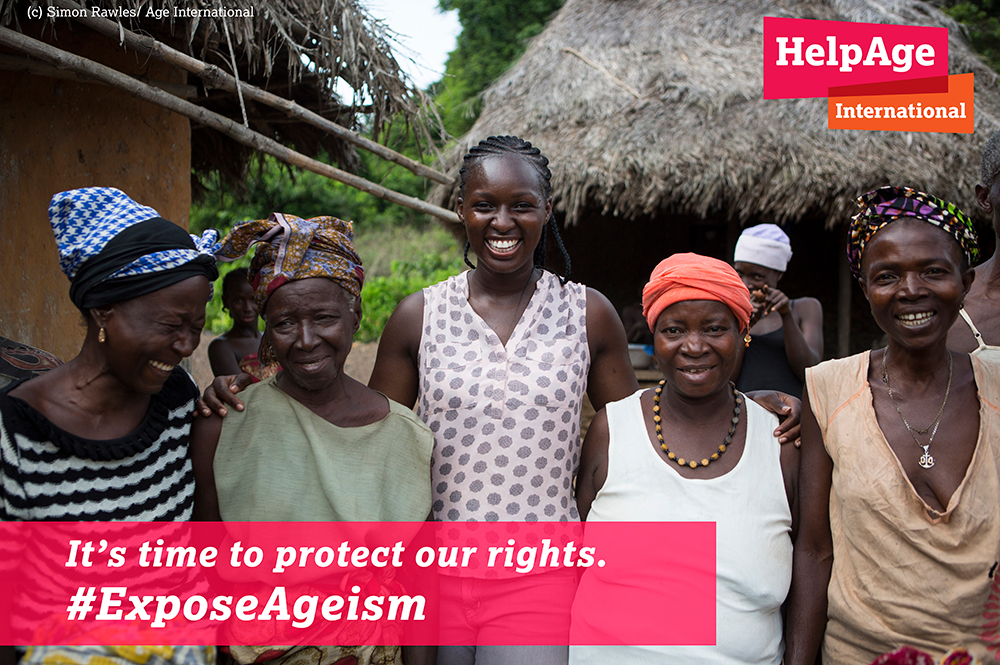 ---
Change your social media cover photo

---