Older people are being failed in emergency humanitarian responses around the world, overlooked in needs assessments and response plans. This was clearly illustrated in our recent
report 'If Not Now When?'
which assessed the performance of humanitarian agencies in responding to older people's rights and needs.
Yemen – a county which the UN has described as "the worst humanitarian crisis in the world" – is one of the countries featured in the report, drawing on analysis of needs assessments carried out in 11 countries around the world across a 13 month period.
With alarming levels of malnutrition and decimated health services, life is difficult for almost everyone in Yemen, but particularly for older people and children.
Older people are not a priority for aid agencies working in the country and there are very few organisations that specialise in working with older people.
Bandar Zaher, Food Security Manager for Life Makers Meeting Place Organization (LMMPO), a partner organisation working with HelpAge International, described the situation:
"It's often really difficult for older people to know where and when aid distributions are taking place. They are often the last to hear. They don't get out as much as younger adults and they maybe don't have relatives who can read and write. If they are able to get out, they are busy just trying to survive."
This is very concerning given the immense challenges facing older people as outlined by a rapid needs assessment carried out by HelpAge partners.
More than two thirds of the older people interviewed across the country said they depended on family and friends to meet their needs and many provided care and support for at least three children.
Despite the level of need, older people are struggling to access aid. Just over half the older people interviewed said they cannot reach aid services or distributions alone.
In addition, over half of the people interviewed have a disability so even if they know about a distribution, they may not be able to access it.
Most older people interviewed suffer from a chronic disease so the near collapse of the health services is having a devastating impact, significantly exacerbated by the outbreak of COVID-19.
Bander Zaher added: "Due to the ongoing conflict, many people have lost their source of income or it has significantly decreased, and they can hardly afford to eat, so health care becomes a second priority after food.
"Many of the health services have stopped. In many cities there were up to 10 hospitals and health centres before the war, now sometimes there is only one. It is very difficult for older people to travel long distances to reach health centres."
He added: "The WHO and other organisations are supporting the health system in Yemen, but there are massive gaps. Doctors have left as they aren't getting any salaries. And there are no funds to buy the medicines and equipment that is needed."
A staff member from the local authorities in Sana'a told Bander that some humanitarian organisations are giving cash to older people suffering from chronic diseases, but it only covered certain diseases like kidney failure or heart disease. Those living with other conditions are falling through the net.
Since the outbreak of COVID-19, many older people are avoiding going to hospital for treatment out of fear of contracting the disease, given the increased risk they face. HelpAge partners in Yemen explained how they had heard a lot of stories of older people who became very ill because they missed vital hospital treatment.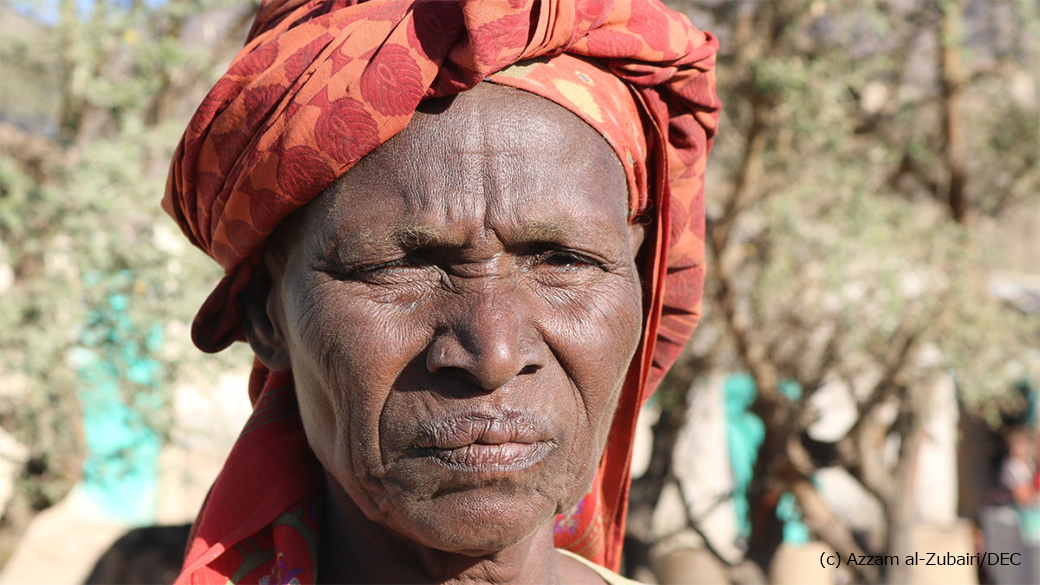 Bander Zader is particularly concerned about older people living in displacement camps. He explained:
"Thousands of older people in displaced people's camps around the country are living in deplorable conditions. They have lost everything, and they are completely dependent on aid, which in many cases is just not there. Many of the camps are outside of the cities so it is difficult for older people to walk anywhere to help themselves.
"I recently visited Khazan Al Fawzi camp in Al Qanawes district in Hudaidah governorate
and the situation there was tragic. Older people were lying on the floor with nothing; no access to food or water and some of them told me they are just waiting to die."
HelpAge is calling for older people in Yemen to be included in humanitarian assessments and response plans and for aid agencies to consult with them when they are designing their programmes.
Sameena Gul, HelpAge's Regional Head of Programmes for Eurasia and the Middle East said: "Older people must not be forgotten in Yemen. Their voices must be heard so that their specific needs can be met. They have a positive contribution to make to aid efforts in the country and they must be allowed to live their lives with dignity."