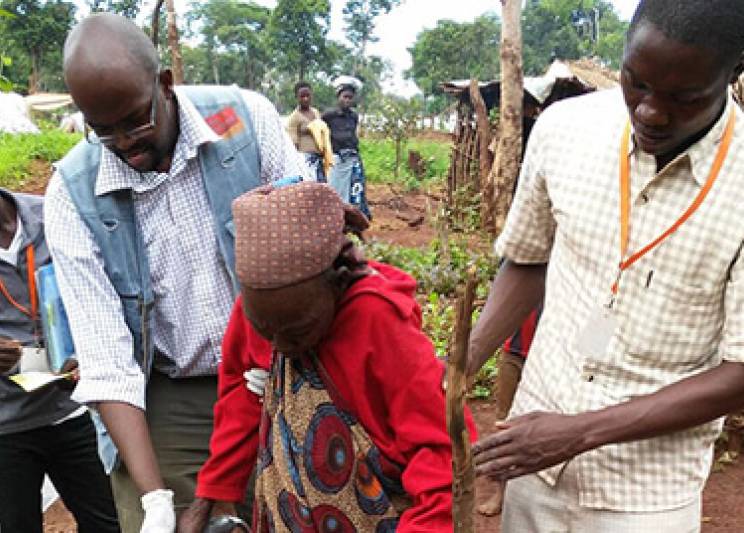 Fredrick Kianda, who works with disabled people in refugee camps in northwest Tanzania, was one of three finalists for the Bond Humanitarian Award 2019. The annual Bond awards ceremony, which recognises outstanding achievement in international aid, was held in London on Monday 18 March.
Fredrick joined HelpAge International in 2015 as part of the emergency and recovery programme office in Kibondo District. As community-based rehabilitation coordinator, he works with people with specific needs, mainly refugees from Burundi living in the Nduta and Mtendeli camps.
He ensures that older people and people with disabilities are identified and supported to access appropriate aid and services. He educates carers of older people and children with disability on basic care, management and basics of rehabilitation. He also trains other humanitarian agency and government staff in age and disability inclusion.
Speaking from Kibondo, Fredrick Kianda, said "It's an honour to be nominated for Bond's humanitarian award. For the past 10 years I have been working in remote and isolated settings – including refugee camps in East Africa. Over the years my motivation has been to work for and with persons with specific needs especially the neglected generations of the older people and people with disabilities."
"Working together with people who live in poverty and under constant risk of discrimination, who can regain their independence and rebuild lives in such challenging living conditions, has always inspired to do more to bring my skills into practice. It also gives me great joy to see community and family members play an active part of the rehabilitation process."
Diana Hiscock, Humanitarian Inclusion Adviser at HelpAge International, said: "This is absolutely brilliant news and welcome recognition of Fredrick's contribution to our humanitarian work in Tanzania in recent years. We applaud his dedication and achievements in a very challenging environment and the amazing work he doing to make sure older people and people with disabilities are included in all the community activities."
Country Director of HelpAge International in Tanzania Mr. Smart Daniel said: "I am very proud of Fredrick and the entire HelpAge team in Kibondo for their excellent work in supporting people with specific needs. We continue to extend our gratitude to the government of Tanzania, our donors UNHCR, ECHO and AA-Germany whom have made our work in supporting refugees gain a mark in the Bond humanitarian awards.
HelpAge International was also shortlisted for the Advocacy Campaign Award for their campaign, Age Demands Action. The campaign was developed for the UN International Day of Older Persons in 2018 to celebrate the struggles and achievements of older human rights campaigners.
-Ends-
Contact:
Lauren Midgley
lauren.midgley@helpage.org
+44 (0) 7376 086060
Theresia Christian
Theresia.christian@helpage.org
+255743057318 / +255622042688
About HelpAge International
HelpAge International is a global network of organisations promoting the right of all older people to lead dignified, healthy and secure lives. Our mission is to promote the wellbeing and inclusion of older women and men, and to reduce poverty and discrimination in later life.