By Rosaleen Cunningham and Caroline Dobbing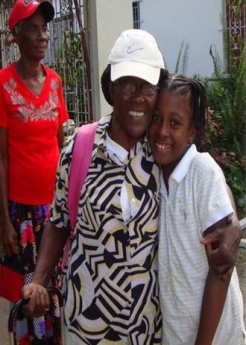 A HelpAge International project in Jamaica has been successful in reducing the negative impact of migration in multi-generational households.
The innovative project involved parents, grandparents and caregivers in three inner-city Kingston communities where 75% of families have been affected by migration. In total 1,500 multi-generational households and 7,500 people took part.
Caregivers who participated in the project received training in parenting skills. As a result, they said they could cope better with their caring responsibilities. The training also increased life prospects for the children in their care.
Strengthening families and communities
"These are important development issues," says Jeff James, Caribbean Regional Representative for HelpAge International. "When families are more resilient and able to face challenges, communities become stronger and more supportive."
Grandparents and parents alike said that the project had improved their daily lives. They were enthusiastic and committed to the project. Many said it had increased their ability to handle conflict and anger. They also noticed a decrease in domestic violence and better communication between generations.
Impact of migration on older Jamaicans
More than 225,000 people legally migrated from Jamaica between 1996 and 2007, according to the Planning Institute of Jamaica.
As part of the project, HelpAge also carried out a survey to find out more about the effects of this migration. Around 1,200 residents in three inner-city communities in Kingston took part.
The survey revealed that most people who had migrated made little or no provision for their children's education or welfare before moving.
The results showed that after migration, 56% of children were cared for by older siblings. The remaining 44% were looked after by other family members, including grandparents.
Old age poverty and migration
Remittances from overseas are one of the leading sources of foreign currency inflows into Jamaica, making up 17% of Jamaica's gross national income. 54% of Jamaican households have received cash from family members working overseas.
However, the participants in this project reported that a large proportion of that money is spent on food and school expenses. This leaves little for those who are caring for children – including grandparents – to survive on.
Indeed, poverty in old age is a reality for many Jamaicans, with almost 40% of those over 60 living below the poverty line.
Jeff James points out: "As this percentage increases and migration continues, a greater proportion of older people and younger children will be living in multi-generational households. Unfortunately, many of them will experience high rates of poverty and vulnerability."
Recommendations to reduce the impact of migration
To further reduce the harmful effects of migration, HelpAge has made a number of recommendations to the Jamaican government, which include:
implementing educational programmes and counselling in schools for children of migrants
organising preparation sessions for parents who plan to migrate to address its impact on their children and other family members
facilitating skills training workshops to increase employment opportunities so people have an alternative to moving abroad for work
establishing a register of migrant parents to enable better monitoring of children left behind.
Project details
Other project activities included:
counselling for families
a career guidance programme with schools in the project communities
community information fairs to provide basic health checks and information on government social assistance programmes
making a short feature documentary on the impact of migration on families of Jamaican origin
training in small business development and the use of remittances.
The project's specific focus on households affected by migration will inform HelpAge's on-going work in Jamaica on secure incomes, health and social care, emergencies, climate change and disaster risk reduction.