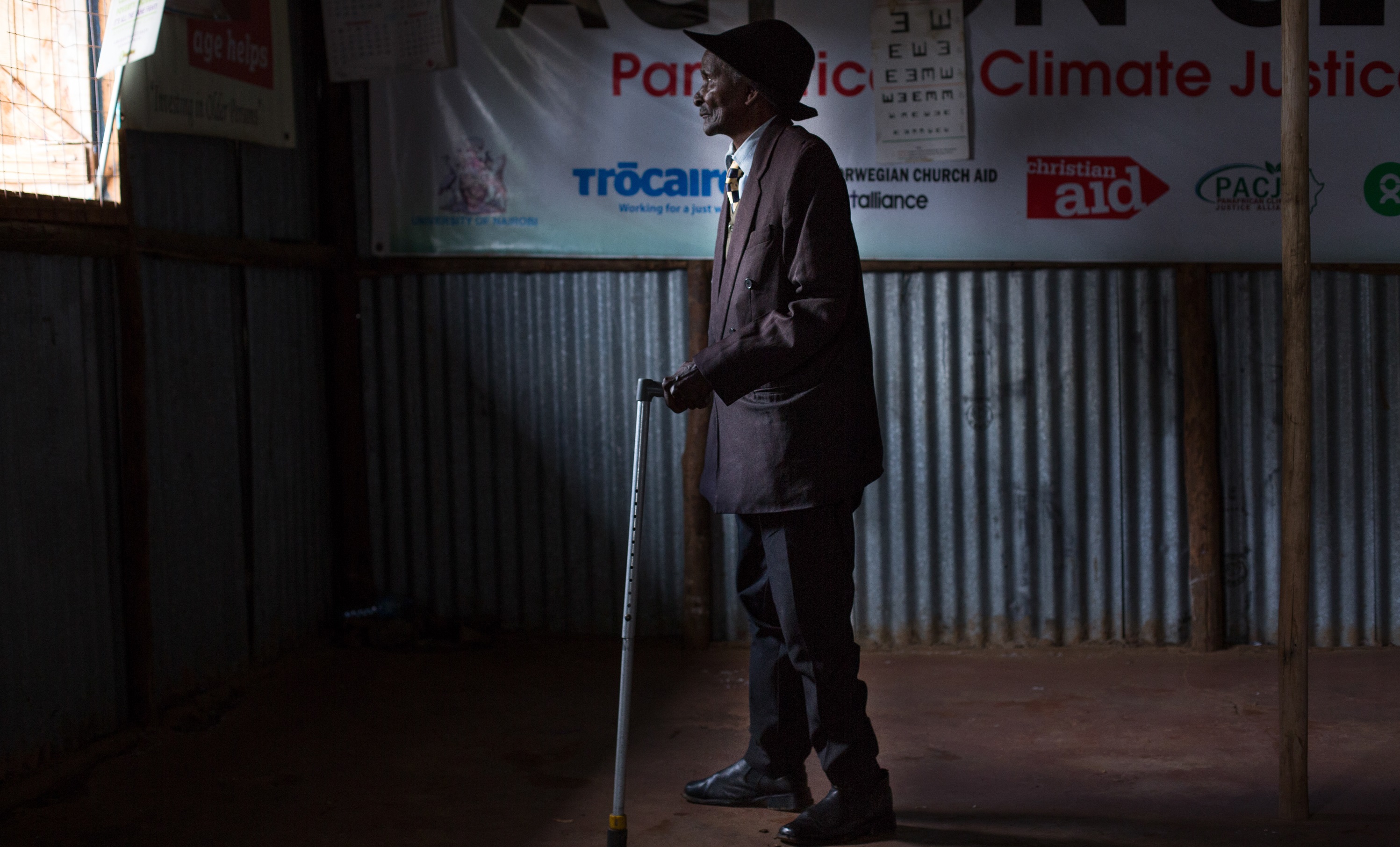 (c) Mohamed Altoum/HelpAge International
Today, on International Day of Older Persons, campaigners in 45 countries around the world are joining the United Nation's call to "take a stand against ageism".
HelpAge International's Age Demands Action activists are marching, meeting with decision makers and hosting cultural events to raise awareness about ageism and challenge negative attitudes towards older people in their communities.
What is ageism?
Ageism is the stereotyping and discrimination of individuals based upon their age, but its impacts are diverse. It can lead to the denial of services, being overlooked for employment or being marginalised in communities. It is a humiliating form of discrimination that is still socially acceptable.
"I experienced ageism when I was searching for a job. They told me that I was too old and my health would mean I would not be a productive employee," said Jean Louis, an older man from Haiti.
"They preferred to make their conclusion based on the fact that I am an older person instead of considering my ability to do the job."
What is happening on International Day for Older Persons?
Age Demands Action campaigners are busy worldwide. In Haiti, older people will be gathering stories of ageism to present to their government to encourage them to put a stop to ageist policies and practices. In the occupied Palestinian territories, campaigners are visiting government institutions, local communities and NGOs to explain how ageism affects older men and women. In Bangladesh, a drama competition will highlight real-life examples of ageism.
Our campaigns team is encouraging communities to come together to explore issues surrounding ageism at consciousness-raising and role-play workshops. Consciousness-raising is a tool to unpack social perceptions and prejudices, allowing participants to draw on personal experiences of ageism with others. Role-play workshops, meanwhile, allow participants to play out various ageist scenarios and discuss how age discrimination in different situations impacts their lives.
(c) Malik Alymkulov/HelpAge International
How big a problem is ageism?
Ageism is widespread, according to the World Health Organization (WHO). Analysis of data from the World Values Survey found that 60% of 83,000 respondents across 57 countries believe older people are not respected.
Such negative attitudes towards ageing have serious implications on the physical and mental health of older people.
Ageism can make older men and women feel like a burden and that their lives are of less value due to their age. This can lead to social isolation and depression.
Ageism can contribute to internalised negative attitudes people hold about their own ageing, and those who have these perceptions live on average 7.5 years less than individuals with positive attitudes.
"This analysis confirms that ageism is extremely common. Yet most people are completely unaware of the subconscious stereotypes they hold about older people," said John Beard, WHO Director of Ageing and Life Course.
"Like sexism and racism, changing social norms is possible. It is time to stop defining people by their age. It will result in more prosperous, equitable and healthier societies."
Ban Ki-moon speaks out against ageism
UN Secretary General Ban Ki-moon has spoken out strongly against ageism in his statement for International Day of Older Persons 2016.
"I condemn ageism in all its forms and call for measures to address this violation of human rights as we strive to improve societies for people of all ages. This demands changing the way older persons are portrayed and perceived, from being seen as a burden to being appreciated for the many positive contributions they make to our human family," he said.
"I also call for greater legal guarantees of equality for older persons to prevent ageism from resulting in discriminatory policies, laws and treatment. I urge policymakers to compile better data and statistics on older persons' health, economic status and general wellbeing in order to better address their concerns. And I hope we will all reflect on our prejudicial attitudes and consider how, as individuals, we can counter ageism."
We need a United Nations convention on older people
To fight ageism, older people's rights need to be protected. Existing mechanisms are insufficient to adequately ensure this, according to the UN Independent Expert Rosa Kornfeld-Matte.
An internationally-binding UN convention for older people is crucial to protect them from the unique human rights challenges they face.
"Ageism is a driving force behind the denial of older people's rights. While other forms of discrimination are prohibited by law, age discrimination is often not, including under international human rights law," said Justin Derbyshire, Chief Executive Officer at HelpAge International.
"We want governments to accept that a new UN convention on the rights of older people is critical to changing ageist attitudes and protecting the rights of older people. To ensure they understand the importance of such a treaty, we must bring older people's experiences of ageism to their attention."
What can you do to take a stand against ageism?
Ageism is an issue relevant to everyone. It is important that we all take a stand against ageism so that perceptions and assumptions made about people are not based on someone's age.