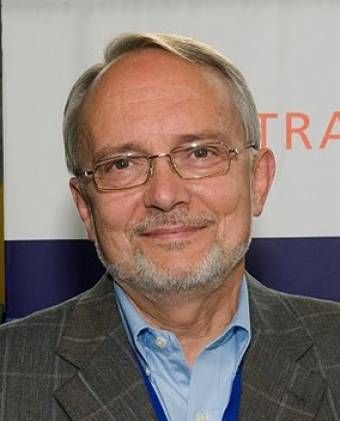 Read the Q&A with Dr Alexandre Sidorenko, eminent international policy expert on ageing and HelpAge board member.
Why is ageing a developmental issue?
We are living in a rapidly ageing world – by 2050, one in every six inhabitants of the earth will be over 65. Currently the figure is around one in 11.
That change will feel quite dramatic in countries with an already large proportion of older people. In Italy, for example, one in three people will be over 65 by 2050. Imagine the passeggiata..!
My country, Ukraine, has a similar demographic to the United Kingdom and we are expected to have over a quarter of our people aged 65 or over by 2050.
This "demographic transition" affects all structures and functions of society.
In order to ensure our continued development, we must learn to overcome and prevent the potential obstacles of an ageing world, and, more importantly, to recognise and seize the opportunities that arise.
You speak often of the opportunities of a maturing world. Can you explain more?
We are all living longer, healthier lives. That leap in lifespan offers many and vast individual and societal opportunities. A healthier older population could work longer, for example, helping to compensate for the deficit in the younger workforce.
We often think of ageing as the end stage of life. It need not be so. We are all facing longer adulthoods and with that longevity comes the opportunity to learn new skills, gain new knowledge, enjoy new experiences and engage fully in another productive, satisfying stage in life.
We must convince society that population ageing brings with it new opportunities that have never existed before – as our world has never been here before, never reached this stage of demographic transition.
Why do you think ageing is routinely sidelined and underfunded?
I have a very thick book, produced by the World Bank in 1994. The title tells you everything you need to know: "Averting the old age crisis". When this book is spoken of, no one uses the first word – it's simply called "the old age crisis".
Ageing has become toxic. One former US senator was heard saying, in essence, that "ageing is the greatest threat to societal development and democracy".
Explaining the lack of funds for ageing twenty years ago, the then Under-Secretary General whispered to me "Between you and me, ageing is just not sexy."
What top three things would have the greatest impact on action on ageing?
One, we must understand the challenges and opportunities of longevity, and really focus on raising awareness of the many opportunities that come with a maturing world.
Two, we must see greater political will. I believe the most impact will be seen if that will be demonstrated and actioned at national levels – that's where the greatest change can happen.
And three, having the know-how to implement the changes needed to harness the potential of a maturing world.
Does that know-how exist? I wonder if some of the reluctance to act is because governments don't feel they have the 'guidebooks' or 'models' to implement policy changes.
It is true. We have numerous studies and recommendations but awareness of available solutions is very low. I am not sure we, as a community, have the 'what to do, when to do it and how to do it' manuals that would help governments to act faster.
HelpAge is perfectly positioned to be that governmental support though given our country-level partners and experience.
You have worked in ageing for many years and were central in the appraisal of MIPAA which has shown woefully little progress. Yet you remain optimistic?!
I am reservedly optimistic.
The lack of action and progress doesn't defeat you?
I am not at all defeated. I am a medical doctor by background. I know what defeat is – it is the end of the end. This is not it. Not yet.
Has the war made you think any differently about national and international responses to older people?
It's too early to come to conclusions. War is a horrible and ugly teacher but her lessons must be learned, however tragic and sad. The war has already shown that the flowery promises of international solidarity are shamelessly sacrificed to financial and political interests. I distaste slogans but this one I must proclaim: Down with politics!
Instead, let us celebrate civil society for we have seen how civil society, how ordinary people sacrifice their well-being and comfort for the sake of saving the children and older people of my country. Ordinary people and their actions are the most wonderful of lessons and we must all remember them.
By Sally Clarke, Communications Consultant, HelpAge International
---
---
Read the blog by Alexandre Sidorenko: Celebration, observation or recognition of failure? 20 years on from the Madrid International Plan of Action on Ageing.