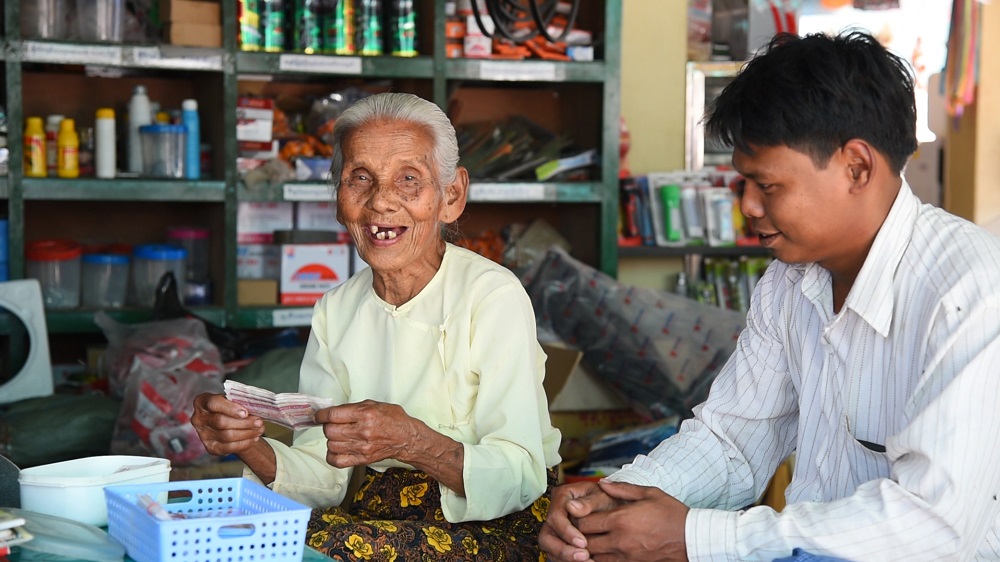 When delivering pensions to Myanmar's remote villages, you might assume the only option is for an official to hand over the cash to each older man and woman in person. Surely these older people do not have access to the technology or bank accounts needed to send cash electronically, right?
Well, that's not the reality. Using even very rudimentary mobile phones, money can be sent and stored through network providers in Myanmar. This has the potential to cut out the inefficient, labour-intensive and costly method of in-person delivery, and could significantly reduce the risk of money being lost or delayed.
With funding from the Livelihoods and Security Fund, in March 2018 we began a pilot programme in one township in Myanmar to see if using mobile payments would be a feasible and effective method of delivery.
How do electronic cash transfers work?
It began with HelpAge International setting up e-wallet accounts with telecoms companies in Myanmar and depositing the money to be distributed. We organised local government administrators to collect the data of more than 1,100 people aged 85-89 in 205 communities in Myingyan. We then consolidated and double-checked the information before uploading to the providers, who then distributed the cash once approved.
Ahead of the first payment we provided older people with SIM cards that allow them to get an SMS message when they have received the monthly 10,000 kyats (US$6.50) payment. They then have 14 days to withdraw the cash from over-the-counter pay agents in their communities, which are small convenience stores contracted by the telecoms companies.
What did we discover?
To cut a long story short: yes, a nationwide electronic pension delivery system could be implemented in Myanmar. And we believe progress can be made in the near future.
There were many positives to glean from the pilot. Although many older people do not have mobile phones, they are able to use the SIM we provided in the phone of a friend, relative or even a local government official to get the notification. Then they can access the money easily at a pay point, typically through a proxy, who collects the money on their behalf from the agent. During manual pension deliveries, older people or proxies would have to wait around for long periods for the administrators to arrive with the cash. Electronic transfers are much more flexible as they allow the money to be picked up at a time most convenient for them.
Although we cannot be 100% sure there were no cases of proxies siphoning money from the recipient, we heard of no evidence from older people when getting feedback from communities and carrying out random checks. And we heard of no cases of fraud or issues between agents and those picking up the cash either.
But the pilot was not without its challenges. We are aware there is a reliance on trust when using an over-the-counter system that requires a middle-person to collect the money. The agents must trust that the proxy is genuine, and the older recipients of the cash must trust their proxy to give them the money they are owed in full. What's more, if an older person is immobile and doesn't have someone they can rely on to collect the money for them, they would not be able to access it.
Given the proxies were so diverse in their relationships with the recipients, from family and friends to local administrators and clerks, it shows communities are stepping up to support older people to access the money. This respect shown to older people sheds some light on the social context of the villages where the pilot operated in that there is a sense of duty in caring for older residents.
An insufficient supply of permanent pay agents was where the money can be collected was also a problem, with just 28 for the 205 communities. For some proxies, this travelling to another village, which adds to the cost of collecting the money.
"We travelled to Tu Yuan Bo by motorbike, which is about five or six miles from our village and took about 20 minutes to get there. It's not that burdensome for us. However, it would be better if we can collect the payment at our village so that we don't need to spend much time and money to visit other villages," said one proxy.
This is not an issue in urban areas and will become less of a problem as the technology spreads across the country, but until that time, manual payments are more effective in the remote, rural communities. To overcome this challenge during the pilot, we arranged with the telecoms operators to set up collection points on selected days in villages where there are no pay agents within a reasonable distance, but this is not feasible in the long-term due to the high costs involved.
What is next for Myanmar's electronic cash transfers?
We believe our pilot shows the Myanmar Government's social pension delivery can be easier and more efficient. A complete transition to electronic payments should be a medium to long-term goal as technology improves and becomes more readily available across the country.
In the meantime, the Government should focus on expanding and strengthening its pension system. Through improving processes to verify identities, manage information and provide complaint mechanisms to recipients, when an electronic payment system is introduced more widely, it will be more robust and effective.
The Myanmar Government has committed to having 40% of its social pensions delivered electronically by 2023, and we are ready and on hand to provide training and guidance to implement this. Ultimately, it will improve social protection in Myanmar and give older people the choice they want.
Find out more about our work in Myanmar and pensions worldwide.