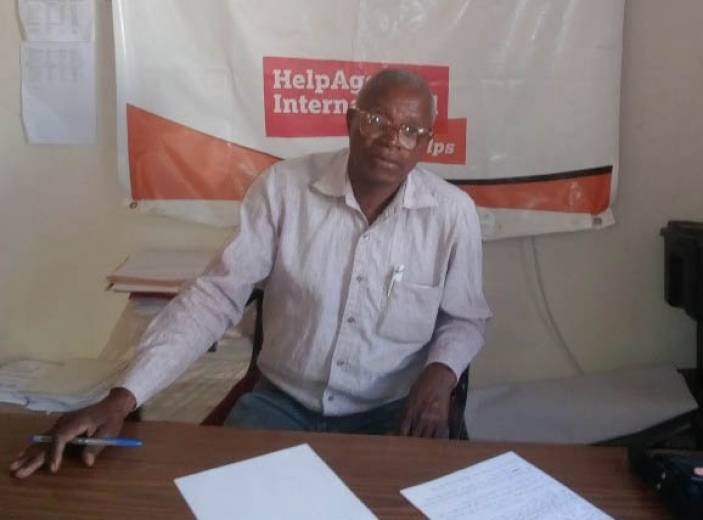 HelpAge International speaks to Manuel Basilio, spokesperson of HelpAge network member the National Older People Forum (FTI).
During the Mozambican civil war (1977 to 1992) one million people died and millions of others were left in poverty. War survivor Manuel Basilio tells us: "My family lost 42 heads of cattle. Farming was not an option as no one dared to go to the fields for fear of bullets and bombs."
Since the war the proportion of people living in poverty continues to be 45 per cent on average. "Although guns went silent in 1992, rivalry simmered and people's disillusionment with the leaders, largely viewed as having failed to transform the economy grew."
As a result, many older people live in poverty today, says Manuel: "They are struggling to put food on the table. When they get sick, they can hardly afford medication let alone find a healthcare facility that is stocked with the medicines they need."
"The lack of access to health services and the discriminatory practices and negative attitudes of service providers is a major problem that older people face in the country. As such, most older people are discouraged from visiting hospitals. Similarly access to social protection benefits is also limited and the criteria being used in choosing the beneficiaries leaves out many deserving older people."
The situation for older women is even more aggravated, Manual explains: "Older women are more likely to be denied their rights to basic needs, health, land, opportunities for survival and representation given the fact that they tend to live alone without relatives to support them. Their problems are aggravated by gender inequality, and reinforced by religious and traditional value systems, illiteracy and lack of information."
A strong advocate for older people's rights
Since 2005 Manuel has been a strong advocate for older people's rights and has played a key role in helping influence laws that protect older people. "As a human rights defender, I always act to confront such rights abuses on behalf of older people."
As the spokesperson for HelpAge network member the National Older People Forum (FTI) and president of the Association for the Protection of Older People in Tete (APITE), Manuel and his peers have raised awareness of issues of major concern for older people such as access to quality and affordable health and care, and social pension.
APITE and FTI organise meetings with policy-makers and other important stakeholders, forming useful platforms to address key issues. They provide advocacy training for older people so they can engage in these platforms with the necessary evidence and information.
Involving the media in their advocacy efforts helps them raise awareness of the issues affecting older people. Through solid partnerships, older people can voice out their concerns to wide audiences in a short time. With the support of the media and through Age Demands Action campaign events the APITE have reached many people nationwide and have created the support needed to influence decision-makers.
Thanks to all these efforts and HelpAge's support through training and technical advice, the Government of Mozambique has passed important laws on the promotion and protection of the rights of older people. In recent years we have seen the country's social protection law expanded for older people through a new strategy that proposes to provide regular grants to 90 per cent of older people aged 60 and above by 2024. These developments have great potential to reduce old-age poverty and improve older people's access to health and care.
Mr. Manuel Basilio, the President of APITE and also serves as the spokesperson on meetings with government.
Contact information
Email: henry.neondo@helpage.org / manuelbasilio35@yahoo.com