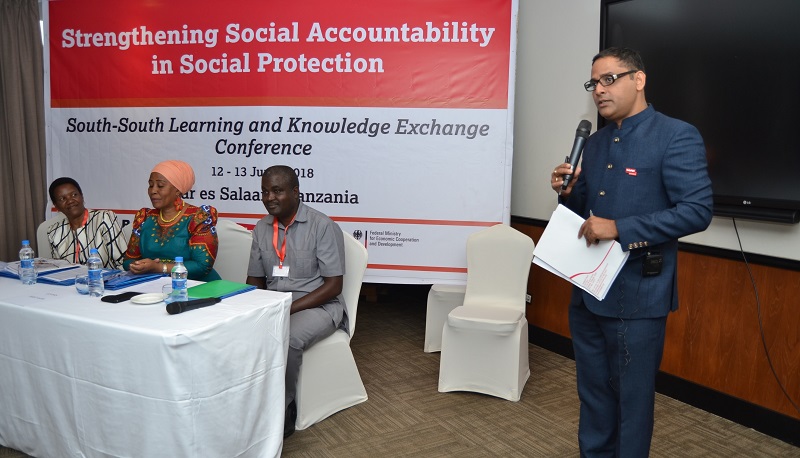 South African grandmothers cross a crocodile-infested river to collect their pensions. In Uganda, family members push frail and sick older people in carts for several kilometres so they can collect their pension. These cases may sound far-fetched, but they are a reality many older people face.
Last week, more than 70 representatives of civil society and faith-based organisations, government ministries working on social protection, and development partners, attended the South-South Learning and Knowledge Exchange Conference in Tanzania's capital Dar es Salaam. It aimed to strengthen the ways recipients and communities can speak up about implementation issues, as well as participate in the design of inclusive social protection schemes.
The case for strengthening recipients' voice in social protection schemes
Social protection, in the form of regular cash payments, provides basic income security to society's poor and vulnerable, including older people. It is widely recognised as critical for inclusive and sustainable development, and poverty reduction. It has been growing in popularity in recent years, and many countries are increasing the numbers of people receiving cash payments as part of developing comprehensive social protection systems.
The potential impacts are often weakened, however, by limited coverage or poor implementation. Long and arduous journeys to paypoints, as in the examples above, and payment delays that run into several months are common. This can be critical for families that rely on this regular income to pay for vital food and medicine.
In other cases, social protection recipients have fallen victim to dishonest staff or family members stealing their cash. Others are coerced into paying bribes, forced to make purchases in shops before pay agents will hand over their cash, have money deducted for no reason, or have to deal with local prices being inflated on paydays.
In many cases, recipients are unaware they are a victim of poor implementation or financial exploitation, or they may not speak up because they are afraid they will be removed from the scheme. In other circumstances they simply do not know who to talk to about the problem, or how to ensure their concerns are heard by government officials who have the power and willingness to take action.
Beyond implementation challenges, the effectiveness of social protection schemes is often weakened by top-down design processes that do not listen to the concerns and priorities of communities. This can result in the introduction of inappropriate schemes that exclude certain groups. Exchanging experiences of innovative ways to bring together communities and policy-makers was therefore a key objective of the conference.
Sharing experiences and ideas
The conference in Tanzania was the first time experts and practitioners involved in country-level initiatives to strengthen the voice of social protection recipients had come together to exchange experiences and ideas.
Following the official conference opening by Hon Maudline Castico, Minister for Labour, Empowerment, Elders, Women and Children in Zanzibar, participants began a series of panel discussions, case studies and group work to share experiences on a variety of topics.
We heard about tools and best practices in civil society-led initiatives, such as community scorecards and older citizen monitoring, which directly involve communities in evidence-gathering and discussions with local officials. We heard how national advocacy campaigns, such as Age Demands Action, are important for bringing local evidence and voices in to national level debates. Government representatives from Kenya and Zanzibar spoke about the importance of developing a responsive complaint and redress mechanism to support accountability in social protection delivery.
Breakout sessions focused on key topics in strengthening the voice of recipients in social protection. One explored the topic of government responsiveness, noting that robust evidence and political goodwill are important for securing change. While the breakout session on financing social protection shared experiences of local communities monitoring government spending. It also highlighted the importance of advocacy taking place from the local to the international levels to influence and bring about lasting change.
Is enough being done to strengthen recipients' voice in social protection?
Looking ahead, participants agreed that collaboration between civil society and governments is an essential ingredient for strengthening recipients' participation in social protection schemes. These relationships need to be about developing partnerships with governments, rather than only placing demands.
At the same time, governments need to allow more space for civil society organisations to participate in policy design, including financial and budgetary processes, and operations. Lack of public awareness about social protection and social security rights was seen to be a major obstacle to strengthening recipients' voice in social protection. Many participants recommended that the media should be more involved in raising public awareness about social protection, including the different ways in which recipients and communities can share their concerns or become involved in policy debate.
And what of the situation in Uganda? Civil society advocacy has led to the introduction of a system in Uganda where a family member or friend can collect the pension on behalf of an older relative.
And as for the grandmothers crossing crocodile-infested rivers to collect their pension? Let's hope that a bridge has been built. But it clearly shows just how important social protection is, and the dangers recipients are willing to take to collect their pension. Clearly these are risks they should not be forced to take.
The South-South Learning and Knowledge Exchange Conference on strengthening social accountability in the delivery of social protection was hosted by HelpAge International, in collaboration with Bread for the World and Church of Sweden. It was attended by participants from 12 countries in Africa and Asia. A conference report and materials will be available on Pension Watch in July.
HelpAge International supports older citizen monitors around the world to monitor the delivery of social protection schemes in their countries, and to advocate with local officials for improvements in implementation, and bring about national level change in social protection policy design and operations. Follow the links for more information on older citizen monitoring and social accountability in social protection.