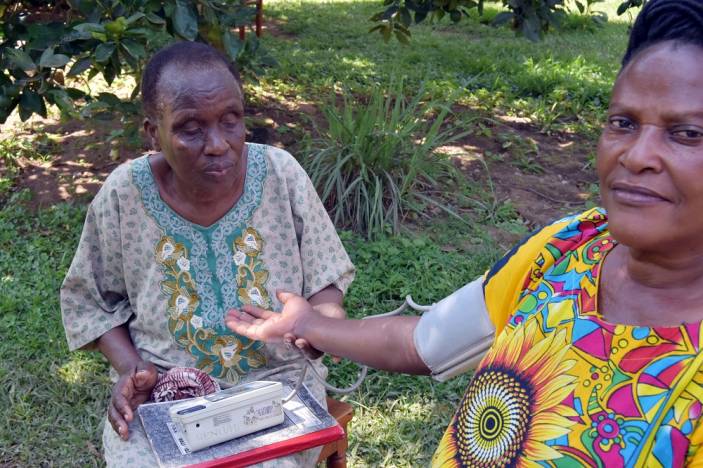 Jajja Cessy Ddungu, 75, is a retired nurse. She is an outgoing, good spirited woman and an example of what retired professionals should emulate.
Born and bred in Bugonga village in the outskirts of Entebbe town, Jajja Ddungu is a widow, mother and Jajja (which means grandmother in Luganda, Uganda's most popular language).
She has extended her purpose for living by volunteering with the Health Nest Uganda (HENU), an indigenous non-profit making organization based in Entebbe and a network member of the HelpAge International.
"As a nurse, I went about doing my designated chores as assigned by my seniors in various public hospitals when I served the government for 38 years," she said. She graduated with a diploma in nursing in 1966.
"I interacted with the older people before when I served as a nurse. I would see them as stubborn and I would dismiss them as people suffering from old age disease", she said. But this has since changed since interacting with the HENU.
Initially, she thought the opportunity was merely to help her fight off boredom now that she was settling down in retirement. But in her own words, "things took a turn for the better and very interesting for her and has now coined her own personal motto: "Retired but not tired".
Training
According to Arther Namara, Executive Director, Health Nest Uganda, the organization has since 2010 been using easy tools that helps volunteers like Ddungu to identify needed cases. Using such a tool, it becomes easier for volunteers to identify sight, movement and self-care needs. Namara says on regular basis, they train volunteers on how to use this tool before releasing them to serve the community.
On finishing the five modules training course, Jajja Ddungu got a sphygmomanometer (blood pressure meter or gauge) from HENU that has come to define who she is in the Bugonga village.
Homes visits replace rounds in the wards
"When I started out, older people in this village lived in bad health. Most common diseases that older people presented were blood pressure, visual impairment due to the fact few knew the need to wash their faces. Then there is diabetes and other Non-Communicable diseases (NCDs). People were very sickly, yet they did not know that their health was bad," says Ddungu.
Jajja Ddungu has evolved her own routines that fit in well with her hobby of rearing chicken as well.On the second Wednesday of every two weeks, she would wake up early in the morning to make rounds around homes of the older people with the blood pressure meter, note book and patient referral forms in her bag.
According to her, home visits have replaced the rounds she used to make in the inpatient wards while working in healthcare facilities.
Referrals
One at a home, Jajja Ddungu will record the sanitation and hygiene standards of the homestead, record the blood pressure of the older person and record the readings in a form that she shares with the HENU office. HENU has partnered up with the Entebbe hospital to automatically admit referred cases by volunteers like Jajja Ddungu.
Impact
To some families, Jajja Ddungu has become the first port of call whenever their older grandparents get sick. People have come to appreciate what she does.
Sarah Nabatanzi, 82 is happy that the village nurse came on time to save her life one day. "I was suddenly taken ill and could not breath well. I got immobilised and could not talk. Jajja Ddungu came to visit as usual to find me so unwell. She put her gadget on me and shortly asked my son to take me to hospital where I got admitted and got referred to Mulago national referral hospital where I stayed for two months. I am now fine and have resumed running my water business," confesses Nabatanzi.