Myanmar's annual rainy season brought devastating floods to villages in Hpa-An and Bago this year. People were stranded in their homes or forced to flee them. Schools were closed. Harvests were wiped out. Livestock killed.
Many people fell ill due to the damp conditions, but impassable flooded roads made it very difficult to access clinics and medicine. Whole families came down with seasonal flu, but many had to endure fevers with limited medical relief. For older women and men, who often have existing medical conditions, the onset of such illnesses can be especially dangerous without access to potentially life-saving help.
I joined our second round of aid distributions in villages close to the city of Hpa-An in south-east Myanmar to hear the stories of older people affected.
The water had since subsided, and the searing sun had re-emerged from behind the monsoon season's now dissipated grey clouds, baking the terracotta soil back into its normal hard ruts. Only a few muddy bogs reminded us that the whole area had been deep under water just a few weeks before. But the stories we heard painted a vivid picture of the struggles people had faced.
Sixty-seven-year-old Daw Htwe Yee told me how she was cut off from any help, adding: "During the flood, I could not fall asleep at night. My house was shaking because of the strong wind and the sound of thunder. I was so scared. I live alone with my husband who suffered a stroke five years ago. My children live far away. Since the streets were submerged, I couldn't go anywhere else."
May Myaing, a 70-year-old farmer, explained how she and her family risked going into debt due to the floods: "All those crops were submerged and died during flood. We had to regrow all of them. Growing rice crops and hiring workers is expensive, but we can't even find workers to grow rice. Re-growing crops costs 800,000 kyats [US$500]. We didn't have that amount of money, so we borrowed from others."
How did HelpAge International respond?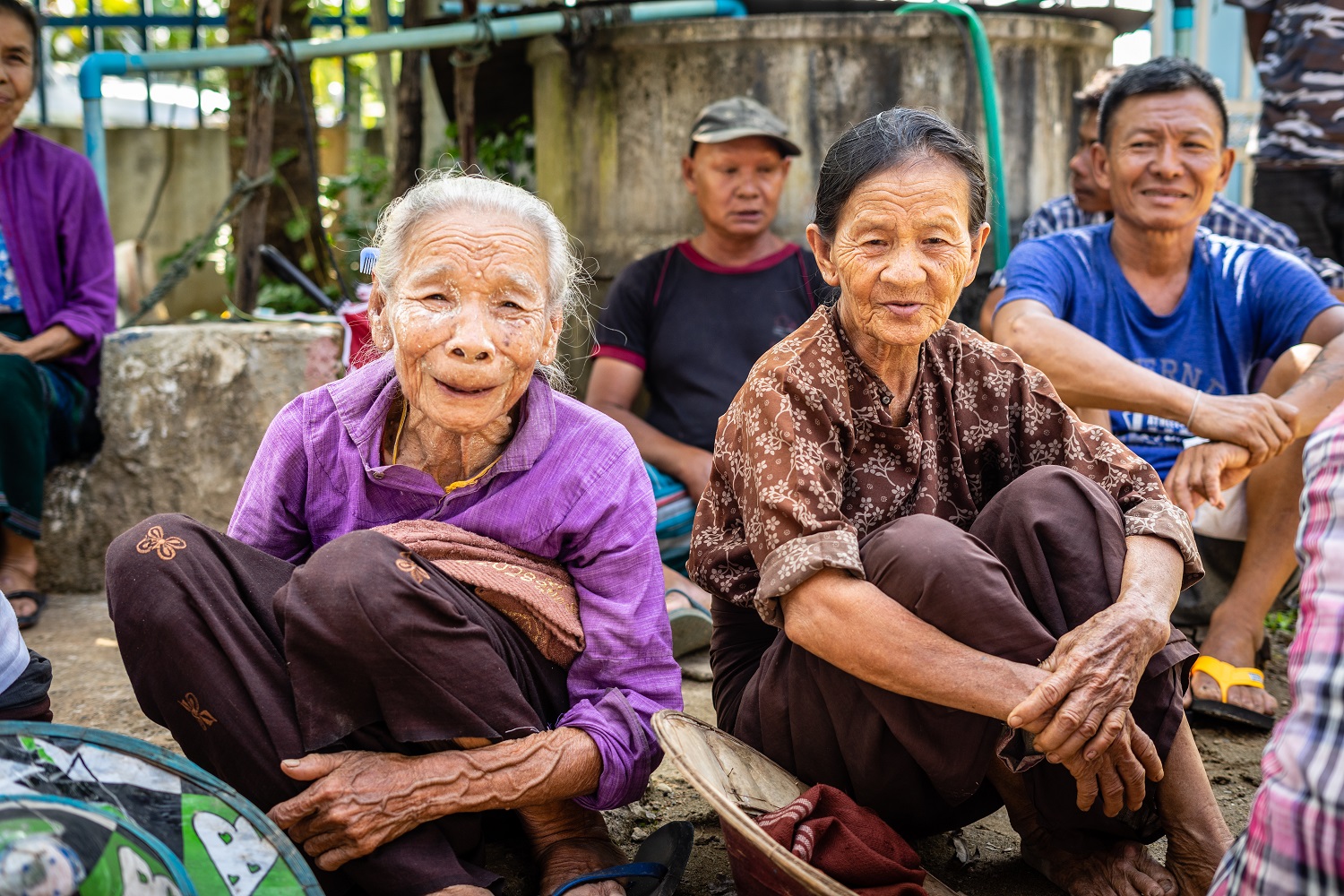 With support from the Start Fund, HelpAge was able to provide aid relief to nearly 22,000 people to help them through this difficult time. We gave out food, including beans, rice, oil and salt, and vital hygiene supplies, such as soap, detergent and sanitary pads, to help those who couldn't reach markets and whose cupboard stores were running low. For people whose homes were damaged or destroyed in the storms, we provided tarpaulin and nylon rope to ensure they had temporary shelter, and a way to fix holes and leaks.
Older people are often excluded at aid distribution points. They may be physically unable to reach the sites and if they can, it might be a struggle to carry supplies home. What's more, older people are often overlooked when humanitarian agencies are considering what aid to give out, leaving them with food that is unsuitable or items they do not require.
When HelpAge responded, an assessment was carried out in the aftermath revealed what older people needed most. I saw how we ensured older people were given priority where aid was distributed. I saw how kind-spirited and enthusiastic volunteers helped carry heavy goods back to older people's homes. It was reassuring to know that actions like these can make our work as inclusive as possible.
"[The aid was] all very useful for us. The food lasted a month. I have never received such kind help in my life," Daw Htwe Yee told me. "If we hadn't received any aid, we would have struggled."
Visiting medical clinics can be expensive and difficult for older people at the best of times, but this is greatly exacerbated when floods overwhelm roads and wash away bridges. Our mobile health teams, which included medical specialists and doctors, visited villages in Hpa-An and Bago to provide check-ups, treatment and medication. They also gave health advice to nearly 800 people.
"Giving healthcare services through mobile clinics is important for people from remote areas. When I asked them, some people said transportation charges are too expensive for them to go to the clinic. It may cost 20,000 kyats [US$13] from their village to Hpa-An. I am pleased to give healthcare to them," said Dr Pyi Thit Naing, who worked on the HelpAge mobile health team.
Daw Mu Hla Aung, 75 said: "In this rainy season, transportation is a little difficult and it is not easy to go to the clinic for us. In recent weeks, I felt ill and in pain, but I did not go the clinic. Now, I feel comfortable because I can see the doctor and he gave me medicine."
Myanmar is hit by heavy rains every year and floods are always expected. But the impact of the global climate crisis means these annual deluges are becoming much more extreme.
Disasters such as floods have a disproportionate impact on older people who often have physical disabilities that can make it difficult for them to reach safety. They may have medical conditions that are exacerbated or become difficult to manage when they cannot reach health services. And the psychological toll can be much greater on older people, impacting their ability to cope.
These specific challenges should not be ignored. Together the organisations preparing for and responding to emergencies must consider the needs of older people to ensure they are never left behind.
All photos by Ben Small besides the bottom one, which was taken by Myint Kay Thi, Communications Officer, HelpAge International Myanmar. Additional reporting and translation by Myint Kay Thi and Nang Su Hnin Htwe, Communications Coordinator, HelpAge International Myanmar.