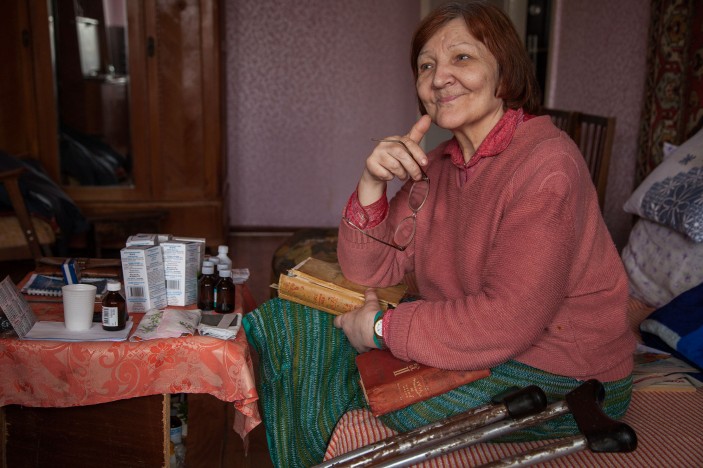 Joey Ramone once told Entertainment Weekly that "all punk is is attitude". My knowledge of the 1970s music scene might be hazy, and whether you can reduce an entire genre to one word is not for me to say, but I can't help thinking he might have hit upon a wide-reaching philosophical truth.
Attitude can influence our perception of events and even has the power to shape our behaviour – even in immensely challenging circumstances. Working as we do with older people, people with disabilities, and indeed older people with disabilities, understanding this link between attitudes and behaviour is pivotal in getting our job done.
A bomb, broken windows and a three-storey climb
When a bomb struck the garden of an older couple in Ukraine, the windows to their home of 30 years were shattered. With winter approaching and no money to fix the windows, the house was now too cold to stay in.
The only option offered to them was housing in a third floor apartment – three flights of stairs to climb for a couple who both had mobility problems. The husband struggled to climb three steps from the garden to his house. The wife had, as she termed it, "a collapsed spinal column" and would likely soon be paralysed.
In looking for ways to solve the problem, social and healthcare workers turned to the wife's health condition. It was her physical limitation that was seen as the main hurdle to overcome. And yet with an untreatable spinal complaint and medication unavailable, this problem seemed insurmountable.
No one considered the trauma of the event – this was brushed aside despite the two of them living in fear and isolation since the incident. With no ready solution for how to get a roof over their heads, the couple now risked losing their independence and quality of life.
Understanding barriers to overcome barriers
One volunteer, led by HelpAge International, spoke to the couple and came to the realisation that the solution was not medical, but environmental. The two of them had to climb to the third floor to reach the local council offices just to register their request for financial support to repair their windows. They were not physically able to do this, just like they were not physically able to reach the third floor apartment they were offered.
So this volunteer took over this task. She challenged the bureaucratic system that insisted the couple apply in person. She registered the couple for an emergency repairs grant to have their windows fixed. She found a carpenter to help improve access to their home and arranged for fuel to be delivered to keep them warm.
War-torn Ukraine is of course a challenging environment, and support structures are not as robust as they might be otherwise. But actually the couple's problem was far less complicated than many assumed.
Changing attitudes is imperative
We talk a lot here at HelpAge about barriers. There are barriers to being included in many aspects of society for older people with disabilities. These might be down to attitudes, imposed by society or implicit in their surroundings.
Barriers to inclusion exist in many, perhaps most, countries. But in emergencies, those barriers are intensified – they prevent support or aid from reaching some of those who may need it most. And yet in this example, the simplest one to change, our attitudes, helped to break down those barriers.
In listening to this couple, the volunteer understood they felt they had the right to regain their independence. And really, all there was preventing this was a few broken windows.

With support of UNHCR and USAID, HelpAge International provides cash and non-food items to especially vulnerable older people affected by the conflict in eastern Ukraine. We also support those with mobility issues to regain some independence in their daily lives through the provision of equipment and training, and we run community safe spaces offering activities and access to other services. Homebound older people with health concerns receive regular visits from our community volunteers, who assist with daily tasks and can refer any cases of concern to receive further support. HelpAge is also working with other humanitarian actors in the country to support and monitor the inclusion of older people and people with disabilities in the overall response through an age and disability inclusion working group.
HelpAge is also working to improve assistance for older people and people with disabilities through the Age and Disability Capacity Programme (ADCAP), a three-year initiative to strengthen the capacity of humanitarian agencies to deliver age and disability inclusive emergency response. ADCAP is implemented by a seven-member consortium led by HelpAge, and part of DFID's Disasters and Emergencies Preparedness Programme (DEPP) managed by the Start Network. It also receives separate funding from USAID.