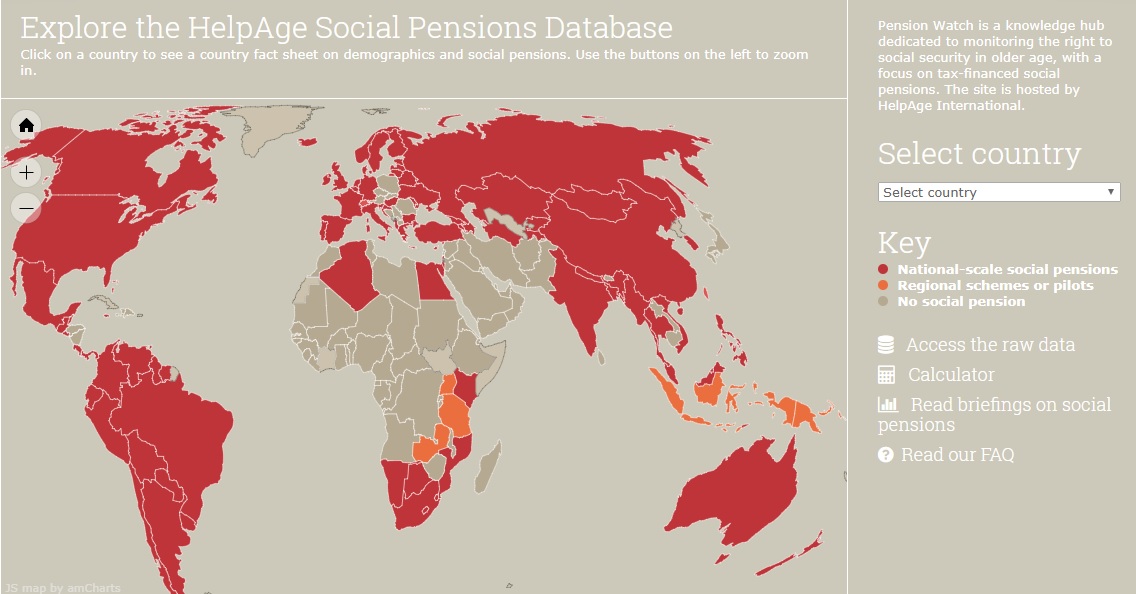 Today we are unveiling a refreshed version of our Pension Watch website. It was first launched in 2010 as a knowledge hub dedicated to monitoring the right to social security in older age, with a focus on tax-financed social pensions, and now we've updated it with a new look and new features.
The site is hosted by us at HelpAge International, and is orientated around our social pensions database, which holds information on schemes in over 110 countries. We and other organisations around the globe use the data in advocacy and policy analysis, and it contributes to monitoring social protection coverage targets in the Sustainable Development Goals.
We see social pensions as an important approach to expanding pension systems, particularly in low and middle-income countries with high levels of poverty and informal employment.
What's new on Pension Watch?
Citizen generated data
One of the new features we're most excited about is our section on voice and accountability, which hosts citizen data from older people who have been monitoring social protection schemes. This information provides a unique insight into older people's real experiences of accessing social protection, particularly in relation to registration, payment and accountability.
This data was collected to support social protection accountability in Kenya, Mozambique, Uganda and Zanzibar off the coast of Tanzania since 2015.
We have explored the impact of this voice and accountability work in the countries through digital stories and summarised the data in four Pension Watch briefs – Mozambique (PDF – 1.1mb) and Uganda (PDF – 907kb) are available now, while the Kenya and Zanzibar will be coming soon.
A revamped social pensions database
We began building our social pensions database over a decade ago. We found that, despite their growing popularity, information on social pensions around the world was limited. In recent years we've worked hard to populate the database with information on social pension eligibility, coverage and adequacy, and we have provided our sources for those who wish to dig deeper.
Our upgraded country profiles have allowed us to share the growing depth of this data. Where possible, we are also trying to better describe how the coverage of social pensions compares to other elements of national pension systems. Profiles for some countries, including Bolivia, Mauritius, the Philippines and Thailand, now have visualisations showing coverage of social pensions compared to contributory schemes.
We'd love to hear your comments and suggestions on the site, so please write to info@pension-watch.net if you have any thoughts. We're also eager to hear if you have any updates (or spot any errors) in the social pensions database.
The refresh of our Pension Watch site and the older citizen monitoring of social protection described above was funded by Federal Ministry of Economic Cooperation and Development (BMZ).