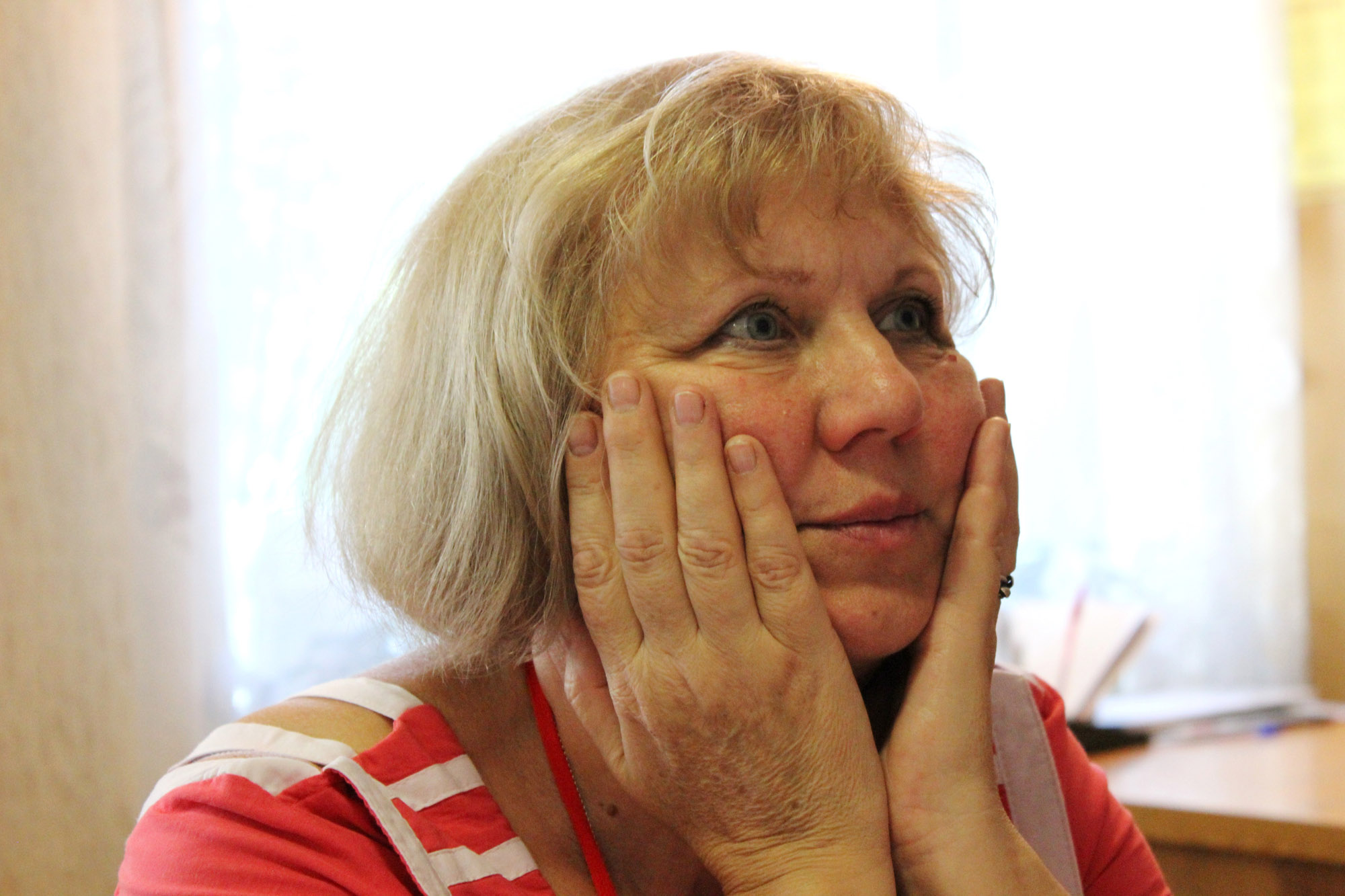 When disaster or conflict happens, people living locally are not only the most affected but often the first to respond and save lives by providing support to those most in need.
When it's happening in your community, you may know the people who need help personally, and this can drive you on to ensure their comfort and safety. It may be a way for you to stay busy as a humanitarian emergency can drag on for months and even years. Or you have even been a recipient of support yourself, and want to ensure other people get the same help you had.
There is no archetypal humanitarian – it can be anyone. And on World Humanitarian Day today, I want to share the unique stories of Victoriia Panchenko, who is making a difference to older people's lives close to the contact line in war-torn Ukraine, and one of her volunteers.
From volunteering in Sviatohirsk to setting up Red Poppy
When anti-government militants stormed Ukraine's eastern city of Sloviansk in 2014, Victoriia remained. She sent her daughter Alina off to the rural town of Sviatohirsk to stay safe while she remained to carry on working in her local school.
In late May, while at the school, a shell landed just 150m away. The children were taking their exams at the time. But still she remained. It was only after she was caught in a bombardment three days later, running in zig-zags through the streets to avoid the explosions that she decided to leave. She followed her daughter to Sviatohirsk.
Soon after arriving Victoriia decided she needed to do something to help, and has not looked back since. She joined a team of volunteers who registered internally-displaced people, ascertained their needs, ensured they had shelter, provided them with food and offered psychological support. At their busiest, they registered 500 individuals in a single day.
In just a month, Victoriia's dedicated efforts led to her becoming the volunteer manager overseeing a team of 60. She was setting tasks, training new volunteers and dealing with work schedules.
Sloviansk was retaken by government forces in July 2014, but people kept arriving in Sviatohirsk, fleeing cities such as Donetsk and Gorlovka. By the time she had to return to Sloviansk in September to go back to work, they had helped 30,000 people.
Victoriia didn't just want to stop when she got home – there were still many people in her city and the wider Donetsk region who needed help. So, together with volunteers she had been working with in Syiatohirsk, she started up her own organisation called Red Poppy. She left her job at the school and dedicated herself full-time to volunteering as Red Poppy's deputy head.
"Me and some of my colleagues were awarded certificates of honor by UNHCR. I am really proud of it and I am really happy that I could help vulnerable people," she said.
Joining HelpAge International
Her active volunteering led to her getting recommended for a position at HelpAge International on our emergency response programme in Ukraine. She interviewed and got the job, working first as a grants manager and then a protection and inclusion officer. A key part of her role is listening to older people to hear what their needs are, and then seeing what HelpAge can do to support them.
She
supervises the project to ensure older people receive needed
protection, as well as speaking regularly with volunteers and ensuring they have technical skills to do their job well, training them, and other
organisations, on age and disability inclusion.
The story of one older man she met during her work particularly affected her. He lives alone on the third floor of an apartment building in Svitlodarsk, a town close to the contact line that echoes with the sound of frequent shelling. His health is poor. He suffered stroke a decade ago, and was recently diagnosed with cancer. The impact of both illnesses has left him frail. His poor balance makes it difficult to walk or even stand up. He wouldn't want to go far anyway as two years of constant shelling has left him traumatised, afraid of leaving his apartment.
HelpAge volunteers visit him daily and do what they can to improve his quality of life, but he needs long-term care. He lacks the strength to get to the bathroom, so the volunteers provided him with a toilet chair. It was a struggle for him to accept that he needed it, but it maintains some dignity while he is at home.
They bring him food, help him eat and support him in any way they can. By building his independence, they hope to be able to better integrate him into the community. Victoriia gives help to these volunteers, motivating them and giving them the skills to overcome the challenges they face.
"I really love my work. Every time I meet with the older people in my community, it inspires me to find new ways how to improve their lives," she said.
"Even when the conflict finishes in Ukraine, I won't stop. I will go on helping vulnerable people in any way I can."
Supporting volunteers at Toretsk's community safe space
Liubov is another volunteer that works with HelpAge and receives support from Victoriia. She is 61 and lives in the town of Toretsk. When it was captured by pro-Russian forces and people began to flee, she stayed. She did not want to leave her home or her other friends who stayed, but it meant she was living alone and isolated.
When HelpAge opened a community safe space in 2016, she actively began visiting it, attending all the different events held there, whether making motanka dolls, showing off her singing talent or taking part in art therapy. She quickly made friends and it helped take her mind off the shelling that punctuated her day-to-day life.
Her enthusiastic involvement in the safe space caught the attention of the HelpAge project assistant working there, and Liubov was invited to become a volunteer helping to run it.
Two months later and it is a full-time hobby for her! She spends her days planning the events taking place, baking cakes for the three four-hour get-togethers each week, calling up the people who visit the safe space to check in on them and providing help to those who need it. There are 196 people under her watchful care. It keeps her busy, but she never complains.
The work of humanitarians like Victoriia and Liubov in Ukraine is inspiring. They are people who have endured night after night of shelling, electricity blackouts and live with the fear of what may lay ahead, but have the dedication and empathy to help others in greater need.
Find out more about our work in Ukraine.