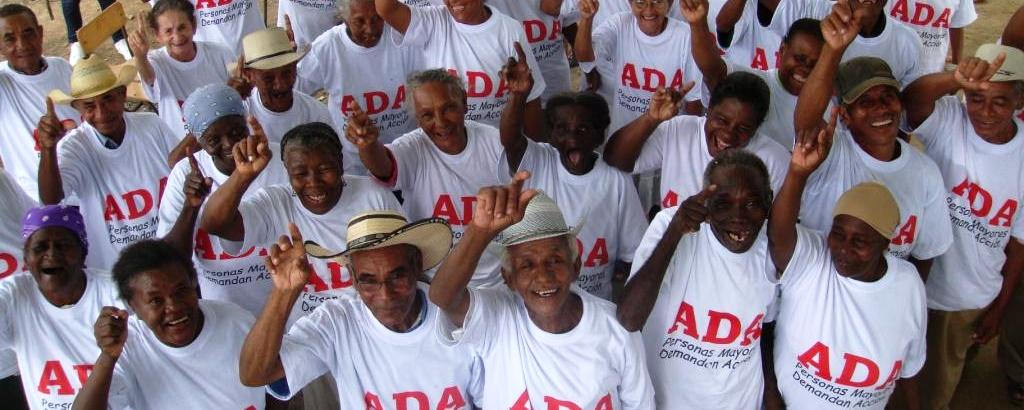 This year tens of thousands of older people around the world fought to protect their rights. From fighting for better mental health services, to putting an end to elder abuse – Age Demands Action campaigners made their voices heard.
To celebrate all we have achieved together in 2017, we asked our campaigners about their proudest moments this year and what ADA means to them.
ADA on Health: better services for older people in Uganda
On 7 April, over 40,000 campaigners fought against the inequalities in older people's health rights.
And in Uganda, our partner Health Nest Uganda made one great step forward.
"This year's ADA on Health was energising for Health Nest Uganda because of the high-level meeting that we had. It was attended by all leaders of health facilities in the community, all political leaders of the area and representatives of older people. They resolved to pass a by-law to enable older people easy access to health, economic and social services within the Entebbe sub-district. If attained, the sub-district will be a model in older people's care and will influence national policy," said Namara Arthur Araali, Health Nest Uganda.
ADA on Rights: older women tell their stories
World Elder Abuse Awareness Day on 15 June is essential for us in campaigning for a UN convention on the rights of older people. ADA campaigners held meetings with older people, their national governments and national human rights institutions to lobby politicians to attend the next Open-ended Working Group (OEWG) on Ageing in July.
To support their efforts, we released a report telling the stories of older women and their experiences of non-discrimination and equality, as well as the right to freedom from violence, abuse and neglect.
Two women who took part in the consultations – Mira and Ruth – went to the OEWG meeting in July to speak out about the age discrimination that they have faced.
Mira told us: "If someone had told me 20 years ago that I would visit New York to attend a United Nations meeting, I would not have believed them… I was proud to be representing older women from my country, and to be able to speak out about the discrimination older people face in Serbia."
And Ruth said: "Getting older as a woman has its own difficulties. We are disadvantaged for both our gender and our age… I'm passionate about older people's rights and will keep raising awareness and working to ensure our voices are heard. It felt like a dream being at the UN and it gives me strength to keep fighting for older people's rights!"
ADA Global: celebrating 10 years of Age Demands Action
On 1 October, ADA turned 10 years old! Some 64,000 people around the world helped us to celebrate this milestone. Take a look at our timeline to see what our campaigners have achieved over these 10 years.
And here's what campaigners say ADA has meant to them:
"For the past 10 years ADA has empowered us and strengthened our voice in the fight against age discrimination and rights violations. Never have we had such an opportunity to engage top government officials on a regular basis on crucial issues affecting us," said Samson Msemembo in Tanzania.
Teobaldo Cabadía in Colombia said: "Since 2008, ADA has allowed us to know our rights, know how to demand them and, above all, to be again subjects of rights in equal conditions and with the same opportunities as other people. Our greatest achievement has been the active participation of older people in the construction of the Public Policy of Cartagena."
Mwiche Siwale in Zambia said: "ADA has taught me to be forthright and courageous in presenting ageing issues to policy makers and persistent in ensuring we achieve what we want. ADA has made us aware that older people have a role in pursuing their own issues… ADA gives us a platform to air our concerns to policy makers."
What's next?
A big "thank you" to everyone who has been a part of Age Demands Action in 2017.
Right now, we are busy getting ready for ADA on Health 2018! Keep up to date with our plans through our campaigns enewsletter.