Sri Lanka has one of the fastest ageing populations in Asia. Over 13% of people are over 60 years old and by 2050 this is projected to increase to more than 28%.
Most of the older population lives in rural areas and is increasingly marginalised as younger generations move to cities and overseas searching for better opportunities. This has weakened family support systems, leaving older people alone in their homes and without the crucial care that their close family may have otherwise provided.
In light of this, the demand for home-based care services is growing to enable older people to access the support they need.
To help plug this gap, HelpAge Sri Lanka offers a multi-faceted training scheme that works with people of all ages to enhance their knowledge, skills and attitudes when providing care to older people in their homes.
Home care volunteer programme
The home care volunteer programme trains members of older people associations who are between 55 and 65 years old to provide free support to low-income families, a service that otherwise they would not be able to afford.
Volunteers participate in a 10-day residential homecare course at the HelpAge Sri Lanka facilities in Boralesgamuwa, near the capital Colombo. Every year around 500 volunteers sign up to study modules on:
homecare
community leadership
the ageing process
the needs of older citizens and their habits
basic nursing
common diseases
basic first aid training and physiotherapy
awareness on rights and entitlements
mental health and active ageing.
After completing the training, volunteers visit older people at their homes at least three times a week. Sumanawathi, a volunteer in the Weligama area explains: "I was so excited to participate and learn about caring for older people. The training programme covered many important aspects of older age. There were 26 volunteers in my group and when we finished we were advised to visit 10 older people in our village."
The lack of similar training programmes in the country means we are encouraging Sri Lanka Government, in particular the Ministry of Health, to train public family health workers to provide similar services across the country.
Elder care assistant training programme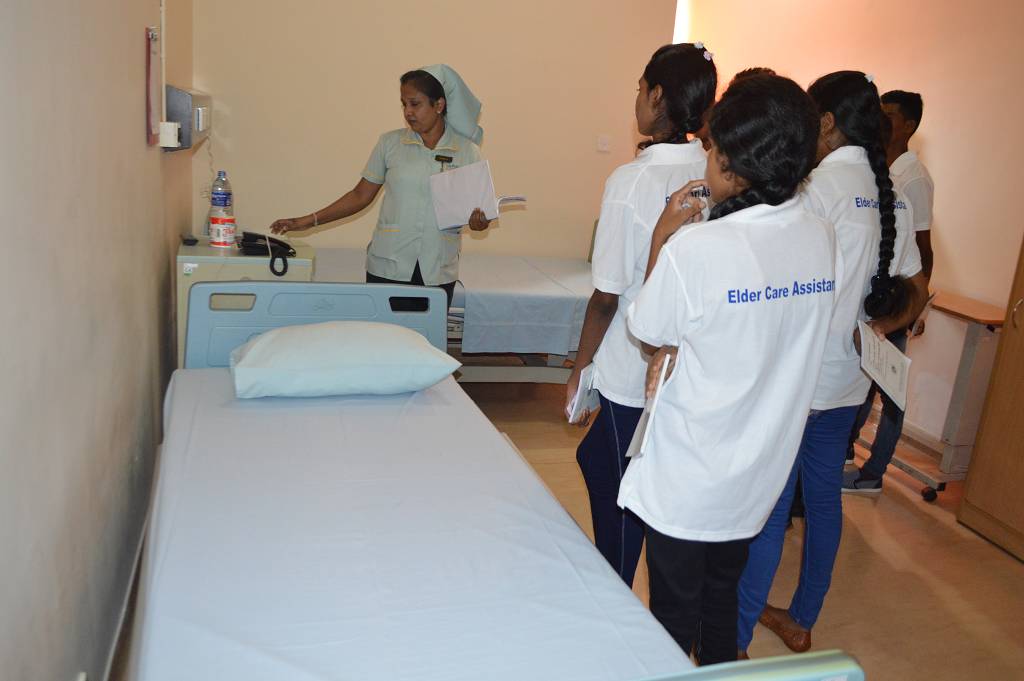 Through a partnership developed with the Ministry of Health, we have been able to contribute to vocational training and the creation of employment in the country, particularly focusing on training elder care assistants.
The programme provides a new avenue for young people to develop careers, while helping to fill the gap in service provision.
"I thought I didn't have a bright future when I realised I had failed my O/L [General Certificate of Education – Ordinary Level] but now I can see a career path and a way forward in my life," said KP Pubudu.
Participants are selected by the older people's associations and divisional secretariat offices, which are administrative sub-units in Sri Lanka. To be able to join, they must be between 18 and 40 years old and meet specific criteria, including a commitment to providing support for older people. Those with experience in social work receive preference but previous qualifications in the field are not necessary.
The training programme is conducted at vocational training centres in various parts of the country and it includes three months of practical preparation. Three pilot training programmes have already been completed in the southern, northern and western provinces of the country, and additional programmes will be implemented in the future to cover the remaining areas.
"The training programme is very competitive and it's not just about sitting in a classroom. Only people who have courage, commitment, a positive attitude and willingness can get through it. I am proud of it," said KP Pubudu.
HelpAge Sri Lanka's home care assistance service
Home care assistants work with older people who can afford to pay for care services, although at a reduced price compared to standard rates. The aim is to provide basic care for older people so they can live with dignity within the family environment.
The assistants receive free training on similar modules to those of the elder care assistance programme and practice in similar training facilities.So far, around 100 home care assistants have received training.
They are paid 30,000-45,000 Sri Lankan rupees (US$200-250) per month directly by the client, and they receive free accommodation and food. To support the continuity of the home care assistance project, the client makes a fixed monthly donation to HelpAge Sri Lanka. This provides an opportunity to expand the service, train more assistants and reach out to more older people.
Find out more about HelpAge Sri Lanka's work.