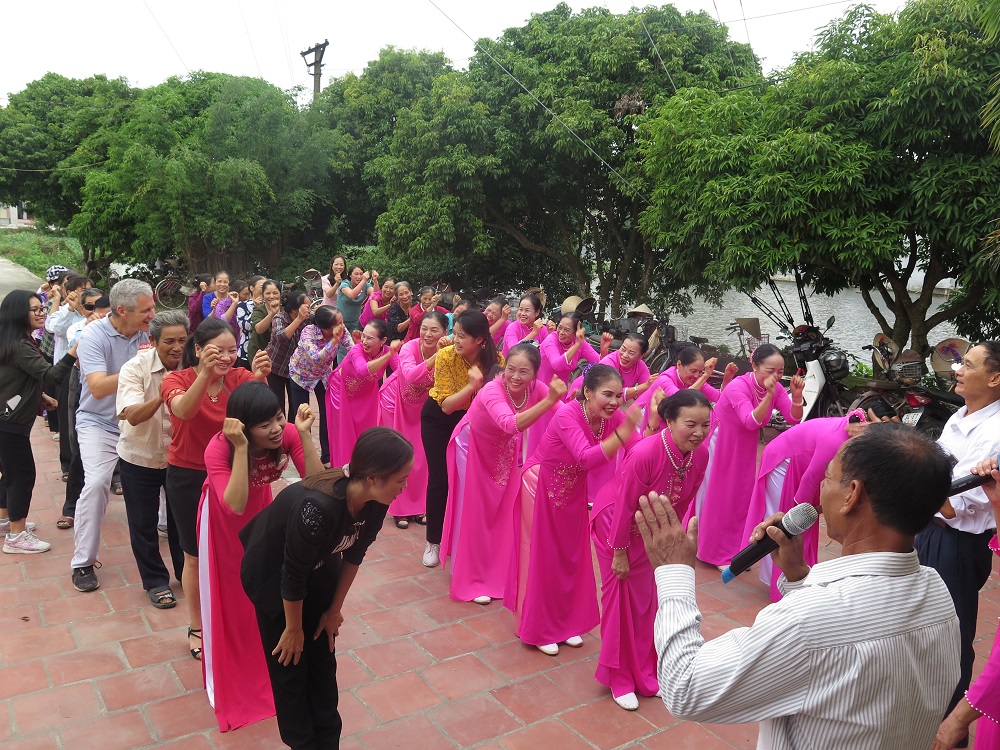 Two hours' drive east of Vietnam's capital Hanoi, the fertile Red River Delta is a peaceful and populous region of mixed farming, and a UNESCO-designated biosphere reserve. Arriving at Ngoc Hoa village hall down a narrow causeway between fishponds, we are welcomed by a group of women in bright lotus-pink dresses. This is the cultural performance team of the community's new intergenerational self-help club – ISHC for short.
Set up in May 2018, the club already has more than 60 members and a waiting list of applicants. Colleagues from HelpAge International's Vietnam country office and Hai Duong Provincial Association of the Elderly are here today to monitor progress and offer guidance. Over the past few years, HelpAge and network partner the Vietnam Association of the Elderly have helped set up and train more than 1,500 such ISHCs.
This turns out to be no ordinary committee meeting. First, we all line up outside for physical exercise, taking turns to massage each others' backs as 62-year-old Ha Van Tu, one of the five club management board members, sings out instructions.
The idea is to keep active, have fun and learn, and the lively one-hour agenda features dance, singing, team games and animal noises, alongside the more sober readings of minutes, reports, plans and recognition of donors in the "golden heart" book. As part of the regular learning slot, a green-fingered member teaches the group the technique of growing limes out of season, when prices for the fruit are higher.
Birthdays are also on the agenda, and a member who has just turned 60 tearfully announces this is the first time anyone has ever celebrated her birthday. The overwhelming feeling from the group is great joy. According to Ms Gai: "This club has changed our lives – we always helped our neighbours, but now that has become our mission. It is like being children all over again – learning so much and enjoying each others' company."
Alongside the enjoyment is the serious purpose to benefit each other and the wider community. Club activities include health and care, income generation, fundraising, social and cultural activities, rights and voice, community support and a homecare scheme (see the pie chart at the bottom of the blog). Ten club members have been trained as volunteer caregivers, and they spend much of their time visiting and caring for community members in need.
Homecare in the community
Nguyen Khac Soc is a former soldier and building site labourer who was paralysed by a stroke 10 years ago. His wife Ha Thi My has to spend most of the small income she makes as a farm worker on medication, and after working hard every day cooks and cares for him. He recently had a brain hemorrhage and they have been told he may not live much longer.
She told us: "I can't believe we have endured it for 10 years. Life for us is very hard and it breaks my heart to see my husband like this. However, I still have hope and the strength to keep going thanks to the support from the club."
In June, the ISHC undertook a needs assessment and Ms Gai, who is the club management board member responsible for health and cultural activities, immediately volunteered to support the family. She visits at least three times a week to help feed and clean Mr Soc, and provide psychosocial support to the couple.
Loans to help generate income
We also visited Nguyen Xuan Bat, a retired farmer who still raises a few pigs, chickens and fish on a reclaimed rice paddy. But last year, one of his sons was electrocuted, which affected his brain and needed expensive treatment. Mr Bat and his wife used all their savings to help him, and were left without any income, so needed to go back into farming to raise money. In June 2018, he borrowed five million Vietnamese dong (US$215) from the ISHC fund to buy 300 ducklings and bran to feed them.
The day before our visit, Mr Bat had sold most of the ducks to a buyer in the city for a good price, and he is preparing to raise another batch of ducklings. He has been able to repay the loan, expand his business and support his son's medical expenses. He said: "We are not only getting the benefit as club members to enhance our incomes and help each other, but also have a playground for our old age! I am very happy, very thankful!"
What next for the clubs?
The integrated services provided by the club are highly valued, and the intergenerational self-help club model is becoming widely established. A growing body of evidence attests to the many benefits to members and the wider communities, and more research is underway on health and economic benefits.
Across Vietnam, which is becoming the fastest-ageing country in Asia, the Government has begun to recognise the need for sustainable ways to support and care for the growing older population who face hardship in later life. The Government aims to have 2,000 ISHCs established by 2020, and the HelpAge team is racing to keep up with the demand for training and support, as well as juggling partnership and funding proposals.
There is also great interest internationally. The project has been funded by the Korea International Cooperation Agency, with technical support from HelpAge Korea, and ISHCs are now being developed in Bangladesh, Cambodia and Indonesia.
It took time to develop a sustainable model, but the growth of ISHCs over the past few years has been impressive. Their success depends on partnerships and networks at national, province and local levels, involving the Vietnam Association of the Elderly, the Vietnam Women's Union and local authorities, among others. Their vision is that one day there will be an ISHC in every village and neighbourhood.
Tran Bich Thuy, HelpAge's Vietnam country director said: "We know that it is a long way to go, but together we can make it. The resources are there in communities. We just need to provide some initial technical and financial support to activate them so people can help themselves and others.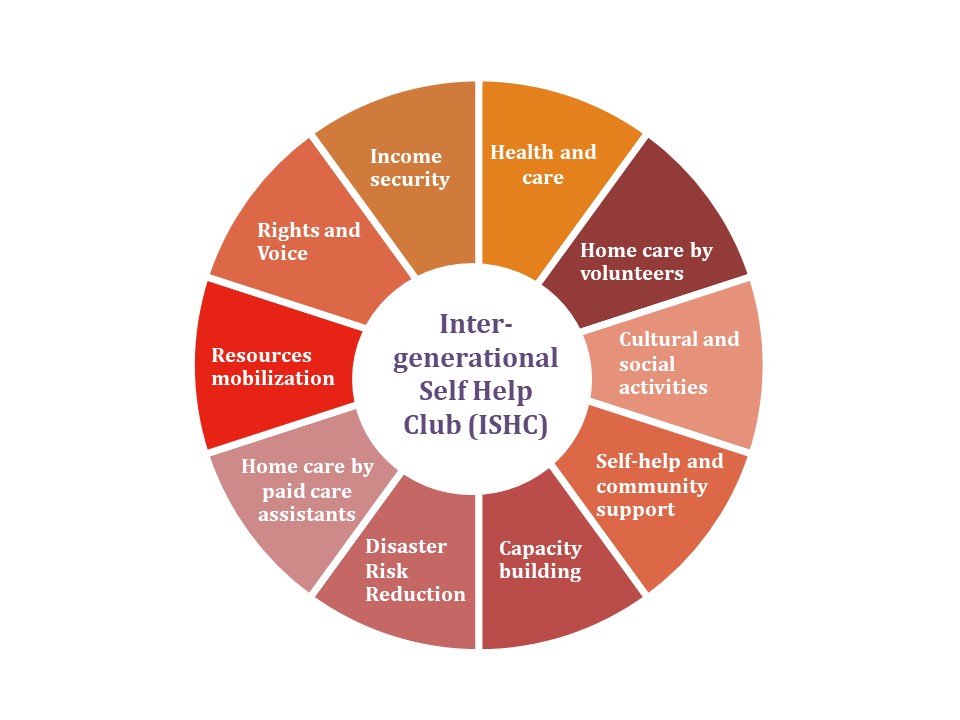 "The process of setting up ISHCs has given us a strong advocacy platform and voice to engage the Government, as we campaign for rights and address ageism, as well as supporting the national ageing strategy. And it is not only about older people – the clubs are for everyone, so we can enjoy the right to income security, health, care and mutual support at all ages!"
Find out more about our work in Vietnam.