Juvenar is one of thousands of Burundian refugees living in the Nduta refugee camp in Tanzania's western district of Kibondo. He is 65 and struggles to get around due to a disability. He lives alone.
Juvenar has a wife and 13 children, but lost touch with them all as they escaped from the political violence that erupted in Burundi in 2015. His hopes of reuniting with his family fade with every passing day.
Older refugees with disabilities are among the most vulnerable. Even those who survive the journey do not always find respite in the camps where it is hard to access humanitarian aid and vital services.
The loss of family members or caregivers during displacement leaves older refugees with disabilities more vulnerable and isolated than they were back home. They are often the most exposed to physical and sexual violence, exploitation, harassment and discrimination.
Last week, more than 1,000 older refugees with disabilities, like Juvenar, gathered in the Nduta and Mtendeli refugee camps to commemorate this year's International Day of Persons with Disabilities. Older refugees were given the rare opportunity to engage with senior officials from the Ministry of Home Affairs who oversee the camps' activities.
They took the opportunity to call on the officials to ensure older refugees with disabilities have access to disability-friendly toilets and health services that meet their needs, as well as given priority during aid distributions. Changes that would make a huge difference to their day-to-day lives.
The camp commander for Nduta responded by directing all humanitarian agencies operating in the camps to give priority to people with disabilities in service delivery, and further promised to ensure all amenities within the camp are accessible.
How HelpAge is supporting people in the refugee camps
HelpAge International is supporting more than 14,000 people of all ages who have specific needs, including weak and homebound older people, people with disabilities, the chronically ill and single parents.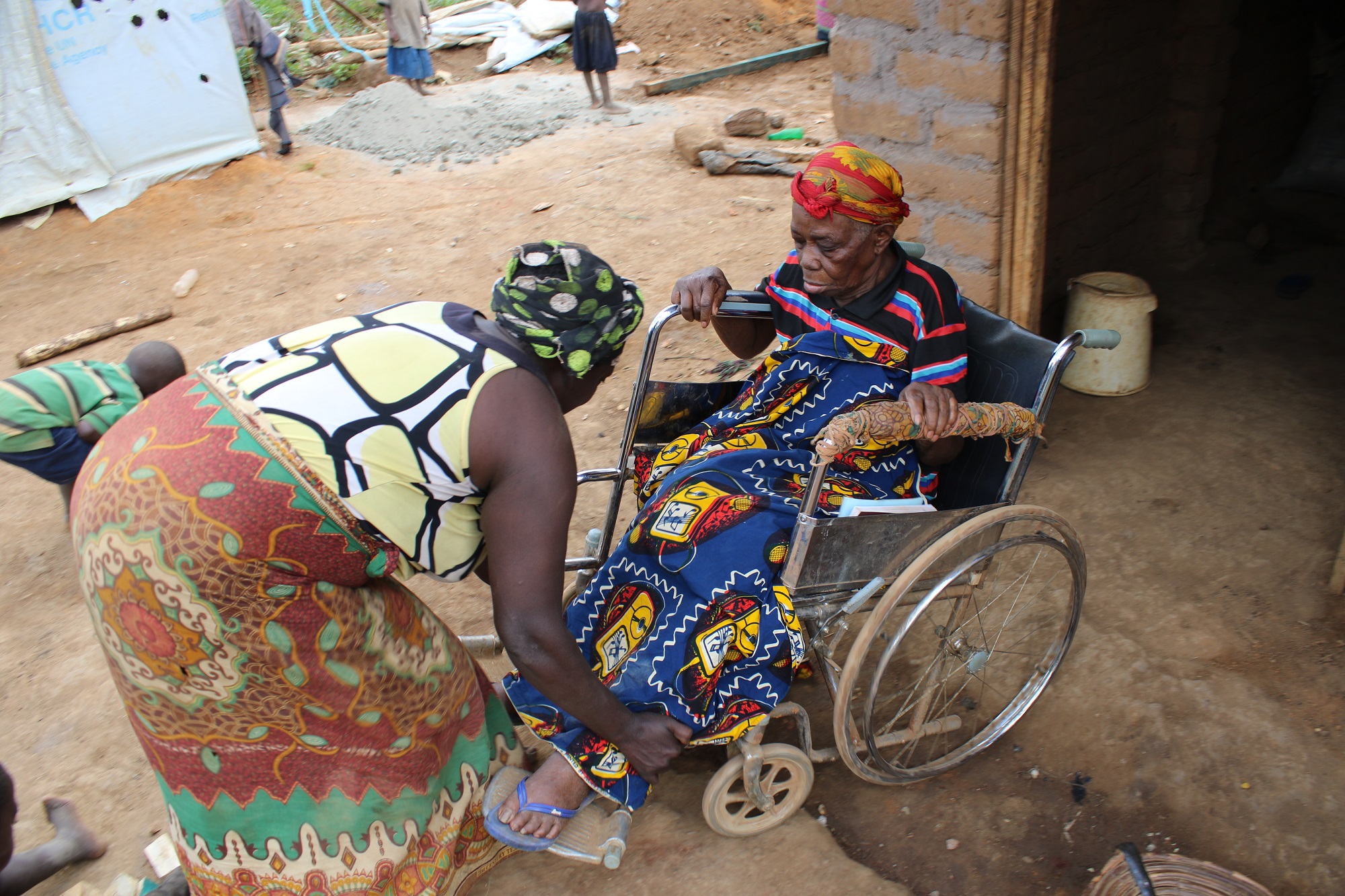 The HelpAge team, based in Kibondo and with trained volunteers throughout the two camps, are providing rehabilitation facilities and vital supplies such as blankets, clothes, mattresses, mosquito nets, soap, body oil and mobility devices such as wheelchairs and walking sticks.
HelpAge is helping people develop skills that can enable them to earn a living both in the refugee camps and when they leave.
We assess refugees to determine what support they need. In cases where HelpAge cannot provide these services, we make sure they get help from other agencies within the camps.
"When I first arrived in the camp, life was so unbearable. I used to sleep on a wet floor, without a mosquito net let alone a blanket to cover myself. As I could not walk on my own due do my disability, it wasn't easy to access food and other services available in the camp," said Juvenar.
The story is now different for Juvenar. HelpAge has provided him with a mattress, a mosquito net, a blanket, clothes, water storage containers and mobility devices. He has also attended psychosocial and other rehabilitation sessions.
Juvenar can now cook his own food, clean his home, wash his clothes and move around the camp to visit friends.
HelpAge has helped more than 1,000 weak and homebound people just like Juvenar regain their mobility in the past year alone. We have worked to ensure these people can become productive again, be less dependent on others and improve their quality of life in the camps.