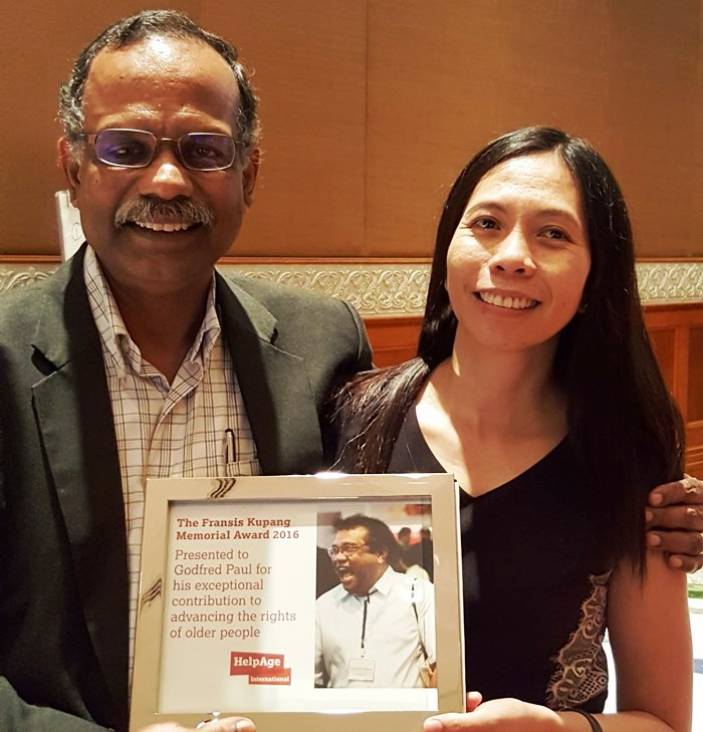 Last day as Chief Executive of HelpAge International
It has been the privilege of my working life to have served as Chief Executive of HelpAge International the past three years. Today is my last day in that role.
Just as I felt a tremendous honour in being asked three years ago to build upon the legacy of someone of the calibre of my predecessor Richard Blewitt, I feel an equal sense of happiness and confidence knowing that Justin Derbyshire, who I have worked with as our Director of Programmes for the past two years, will be the person taking our organisation and our network development strategy forward as your next chief executive.
I have so many happy memories of my time with HelpAge. What I have learned about ageing and older people will stay with me my whole life. I look forward to remaining in contact and following the organisation's achievements with a great many of you as friends. I would like to thank all of you for having made this such an enjoyable, interesting and fulfilling journey.
I want to end by reflecting on two remarkable advocates for our common cause, and who have between them done so much to advance the rights and lives for countless older women and men.
The story began on my first day with HelpAge and ends on my last. I joined HelpAge on 30 September 2013, the eve of the UN International Day for Older Persons. When I was given my first day's schedule just after lunch, I was asked to connect on Skype with Fransis Kupang. He was Executive Director of COSE (Coalition of Services for the Elderly), a highly active and accomplished member organisation of the HelpAge global network in the Philippines.
Meeting Fransis Kupang
My colleagues who organised my induction had rightly identified Fransis as representing the very best of our global network, and therefore a person I should speak to on my first day.
When we talked, Fransis was putting the finishing touches to an Age Demands Action event he was leading the next day. He was organising a march of older women and men in Manila at a major shopping mall, demanding better employment rights and safeguards for older workers. As we ended our call, I wished him a good night's sleep, and he gently corrected me, saying that he and his friends were too excited to sleep. I wrote my first blog that day, Sleepless in Manila.
I remember saying to Fransis at the end of the call that I hoped we would meet before too long. I had no idea of when that might be. But not even two months later, Fransis and his extraordinary body of staff and volunteers at COSE inspired all of the HelpAge family around the world, as they mounted an ambitious and impactful response to the terrible devastation wrought by Typhoon Yolanda/Haiyan. Fransis, Emily and the whole COSE team took over the emergency response, and worked day and night from that day forth.
Announcing the Fransis Kupang award
Unthinkably, and so very tragically, Fransis Kupang became ill with oesophageal cancer and died shortly after diagnosis on 23 June 2015. I announced that HelpAge would be setting up an annual prize in honour and in memory of Fransis to be awarded each year on the anniversary of his passing to a man or woman who has made an exceptional contribution to advancing the rights of older people.
In April and May, I started to research potential recipients of this first award – in Latin America, Africa, Europe and Asia, indeed all over the world. I got some fantastic suggestions, all highly deserving of recognition. There are so many wonderful people to choose from. Some were well-known, some almost invisible, but each of them united by their deep understanding and appreciation of ageing and empathy with older people, and a fantastic track record of making lives better for the women and men who they work with.
It is this diversity, this richness, that knits together our global network. But we all know that saying in life that sometimes you can search high and low for some object, some truth, before realising that all the time what you were looking for was right there in front of you, right under your eyes. So it proved.
It therefore gives me enormous pleasure to announce the award of the 2016 and first Fransis Kupang Memorial Award to his and our dear friend and colleague Godfred Paul.
Goddy (we think!) is actually the longest serving staff member in HelpAge anywhere in the world. Goddy joined HelpAge India 38 years ago in 1978 and served there till 1994 in different capacities. From HelpAge India, he joined HelpAge International Asia Training Centre on Ageing (ATCOA) in 1994 as Training Advisor. In 2002, he was made a Regional Programme Manager based in Chiang Mai, Thailand, taking on a wide portfolio of duties, including emergency response. He has just been appointed as Country Director at HelpAge International Myanmar.
Goddy Paul
Goddy worked closely with Fransis and with COSE for many years, and led HelpAge's support and partnership there after Haiyan/Yolanda. Their friendship, and the extraordinary maturing both of COSE as an organisation and Fransis as a leader blossomed together over a great many years.
Fransis and his family saw Goddy truly as one of their own, and Goddy represented all of us at his dear friend's funeral last year. Goddy truly epitomises the very best of HelpAge. In the 38 years he has been with us, so much has changed. His home country of India, his adopted region of Asia and the Pacific. His organisation and network. But what have never changed are Goddy's values and moral strength, his warm personality and his absolute commitment to making our changing world a better world for older women and men. Congratulations to Goddy on behalf of us all. There could truly be no more deserving recipient of this special award.
Goddy is pictured above receiving the award earlier today in Hanoi from Emily Beridico, who succeeded Fransis as Executive Director of COSE, on the last day of our regional conference. Well done Goddy, and every good wish to all of you in the HelpAge global network, and in HelpAge International, who do so much each and every day to build a better world for women and men as we age. It has been a privilege and a pleasure.