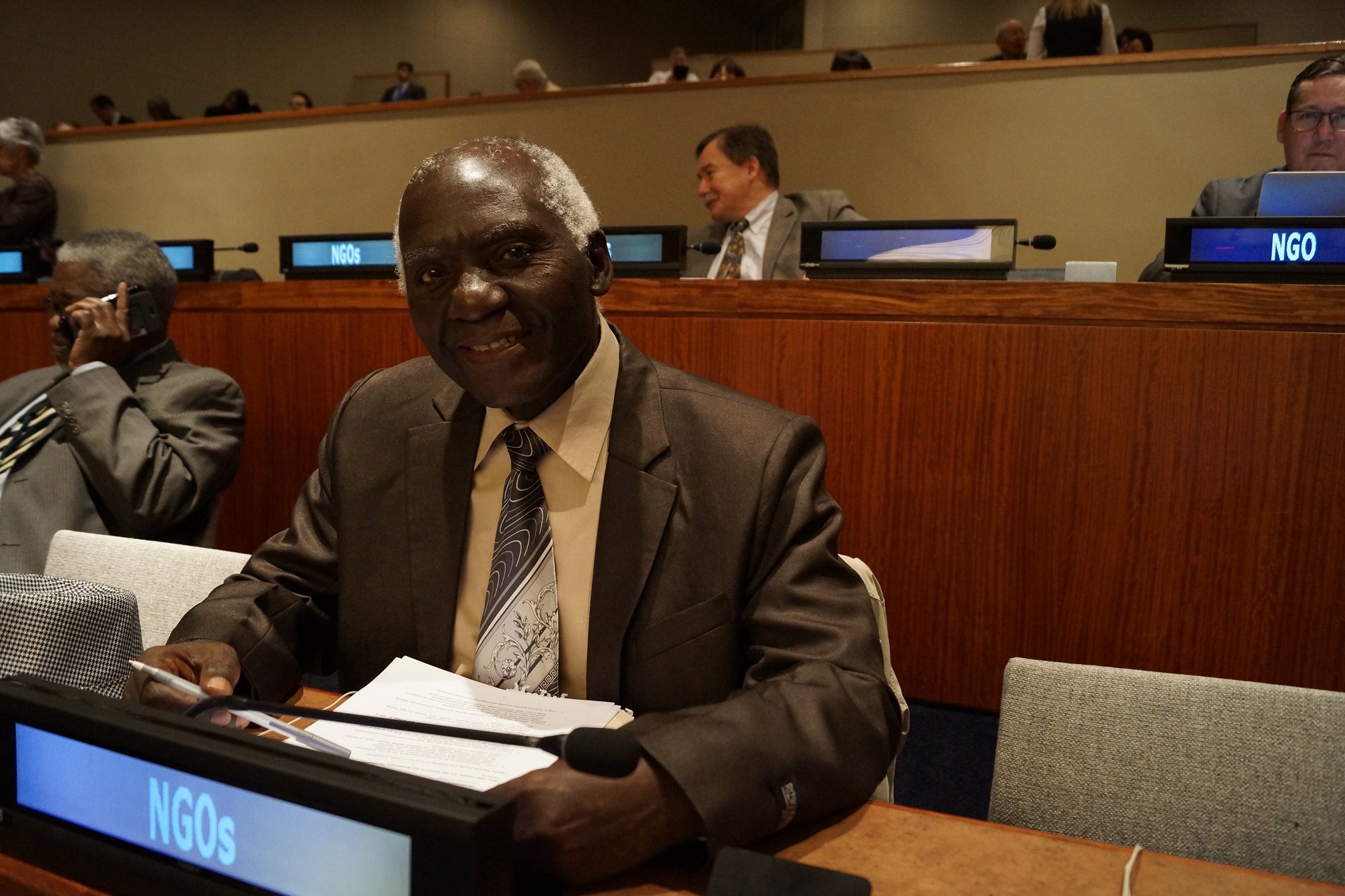 What is the Open-ended Working Group on Ageing (OEWG)? It is the only UN process that is solely dedicated to promoting the human rights of older people. Existing treaties do not adequately protect these rights, and the OEWG is the one UN meeting where governments are discussing how to change this.
The seventh OEWG took place last week and we have seen a significant political shift since the last meeting held in July 2015. There is now a strong desire among many member states to move the conversation on from why we need a convention to talking about what the contents of a new convention might actually be. Is this a turning point for the protection of older people's rights? We hope so!
As the seventh OEWG has come to an end, here are four key outcomes:
1. Older people's voices were heard at this year's OEWG
It is very important that older people attend the OEWG and have their voices heard. This year Amarsanaa from Mongolia and Elisha from Tanzania, who have been involved in advocacy work for a convention in their respective countries, participated and shared their experiences of how older people in their countries are often denied their rights in older age.
They took part in side events that focused on ageism and the implications ageism has on the contents of a new convention. Here is what Amarsanaa and Elisha had to say in their statements:
"During numerous meetings and consultations at the national level, Mongolian older people expressed strong support for a new convention. This need for a new international instrument arises from widespread ageism in our society, which occurs in spite of the existence of national laws that prohibit age discrimination" – Amarsanaa
"A convention on the rights of older people is most welcome, and it should be a binding instrument which will compel member states to uphold the rights of older people in every aspects of their lives" – Elisha
2. Ageism was a key theme
Ageism was a recurring theme throughout the week both in statements made by civil society and member states, as well as being the focus at a number of side events.
If we are talking about a new convention then we need to understand more about ageism and the impact it has on older people's rights. Older people need to be consulted to find out how they are treated differently as they age and we must look at what we can do to end discrimination in later life.
In our statement, we said: "Ageism is a key driver of discrimination and denial of rights in older age. Failure to reflect older people's lived reality of ageism in a new convention will result in an instrument which is not fit for purpose".
You can read Amarsanaa's blog about older people's experience of ageism in Mongolia.
3. National human rights institutions can now attend the OEWG
At this year's OEWG, a resolution was passed by member states allowing national human rights institutions to participate at the OEWG when in previous years they were not permitted. From 2017 they will be able to receive accreditation and make statements throughout the sessions.
National human rights institutions are independent organisations responsible for the protection, monitoring and promotion of human rights in their countries. By including them, the working group will gain a deeper understanding about rights in older age across different contexts globally.
4. Opening up of political space
There has been a stalemate between member states at the OEWG around whether there should be a new convention. The group's Chair Mateo Estrémé recognised that member states have different views, but called for a more open discussion around particular elements or rights that could be included in a new convention: "I think it's a good time to have an open discussion to help us with our mandate".
A number of member states were supportive of discussing what a UN convention on older people might actually look like in the eighth OEWG. In our statement, HelpAge proposed two areas for the group to explore: non-discrimination and equality, and autonomy.
What next?
There is work to be done at all levels – the local, national and global. Here's what we need to next:
Civil society must continue to work together and older people must be included in the process so they can advocate for the kind of convention they want to see. We at HelpAge will continue to support Age Demands Action campaigners and partners to engage in the process and get their voices heard.
Now national human rights institutions are permitted to attend the OEWG, we must encourage them to engage in the process and support older people's groups and organisations to connect with these institutions at the national level.
This year has seen a number of meetings in different regions between governments, civil society and national human rights institutions. This has opened up the political space to talk about the convention in the time between the annual OEWG sessions, and we hope this very important development continues into 2017.
We must continue to explore how ageism impacts the rights of older people and use their experiences to inform what older people need from a convention.
Tell us why you are promoting older people's rights and taking a stand against ageism.