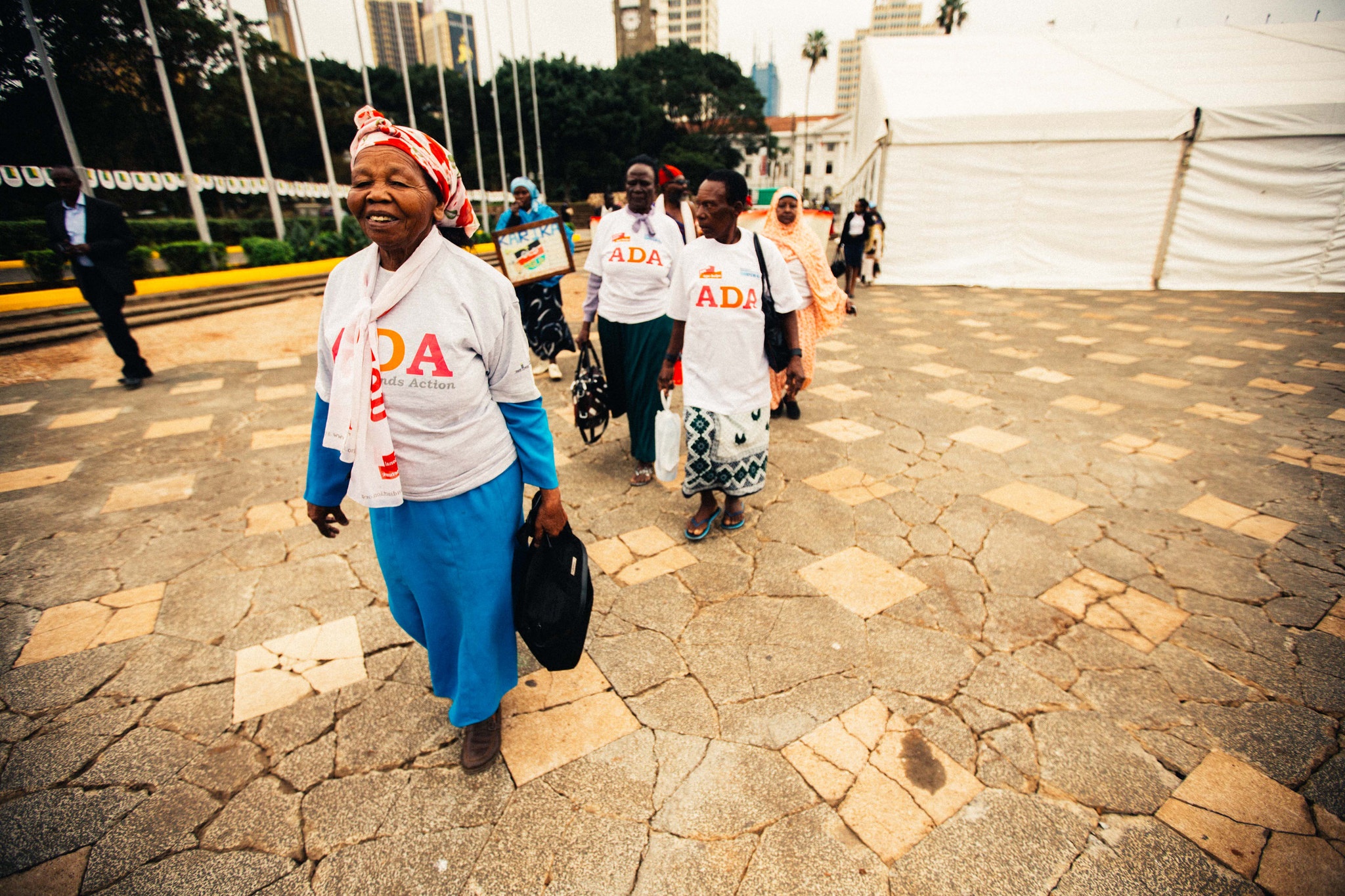 For 10 years, Age Demands Action has given a platform to older campaigners to raise their voices against age discrimination and fight for their rights. On this UN International Day of Older Persons, we're celebrating the achievements of our older campaigners over the past decade.
We asked long-time campaigners Rhoda Ngima Kariuki and Esther Wamera to share how ADA has helped to protect older people's rights in Kenya.
Rhoda: "ADA creates space for older people to meet decision-makers"
I was born in 1934 in Kenya. I've been a campaigner for over 20 years, and first joined up with Age Demands Action in 2009.
I grew up as a renowned dancer in my village, during the Mau Mau rebellion against colonialism. At that time, we used music to build cohesion and confidence in our people so that we could manage the affairs of our newly independent republic.
It comes very naturally to me to craft messages through songs. For a long time I've used songs to create awareness about issues vulnerable people face.
I only became involved with Age Demands Action in 2009. That year 27 older people were murdered after being accused of witchcraft.
I was moved to tears. We never knew this was happening to older people, so I joined a delegation who went to office of the Prime Minister to protest these killings.
Through this delegation, I came across HelpAge International whose staff trained me and others to advocate for older people's rights.
ADA empowers older people
In 2010, HelpAge International supported me to go to a conference in Belgium. Here, I had the chance to tell the world about ADA and the challenges older people face.
ADA has empowered me to engage face-to-face with ministers to demand the services older people require. We have achieved a lot. Our campaigning put pressure on the Government to increase cash transfers from 1,500 Kenyan shillings (US$15) to 4,000, as well as improve health services for older people.
The way forward
But older people still face challenges. Those who haven't been in formal work have had no pension. They have to pay rent, take their grandchildren to school and look after their own adult children who may not be working. The universal pension due to be introduced in 2018 is an important step forward, but there is much more still to be done.
Age Demands Action has older people at its heart. For many, this campaign is the only opportunity to meet decision-makers and discuss issues of importance to them and the older people they represent.
Esther Wamera: "Through ADA, Kenyans are now aware of the urgency of protecting older people's rights"
Last September, I turned 80.
I started out as an ADA campaigner in 2012. The pain of losing my husband while queuing at a government hospital was too much. It dawned on me that I needed to campaign to secure my own welfare as an older person.
As an ADA campaigner, I have been trained to advocate for older people's rights, which has given me the confidence to engage the government.
ADA as a way to participate in decision-making
We bring older people together to take action, engage ministers and call for the fulfilment of older people's rights. We've demanded improvements in healthcare for older people, which lead to new rules that mean we no longer have to queue at health facilities, and we now have a national health insurance scheme.
I've been able to take our demands to the United Nations to join the call for a convention on the rights of older people, and I attended the World Health Assembly in Geneva to call for access to better healthcare.
There's more to be done
It's a long held notion that adult children should look after their parents. But the reality is that many of our children are no longer staying in Kenya.
Many older people really struggle to move from place to place. The cities we live in are not age-friendly, let alone inclusive for those with disabilities, and accessible transport remains a bit issue.
And, as governance becomes more regionalised, we need to ensure the voices of those in rural areas are heard too. We must help them to join our campaign and give them the skills to fight for the causes that matter to them.
Through ADA, many Kenyans are now aware of the urgency of protecting older people's rights. Now we must ensure our Government is held accountable in implementing the policies they've committed to.
Celebrate with us! Take a look at our infographic of ADA achievements over the last decade, and share your ADA stories on social media with the hashtag #10YearsOfADA and in the comments box below.