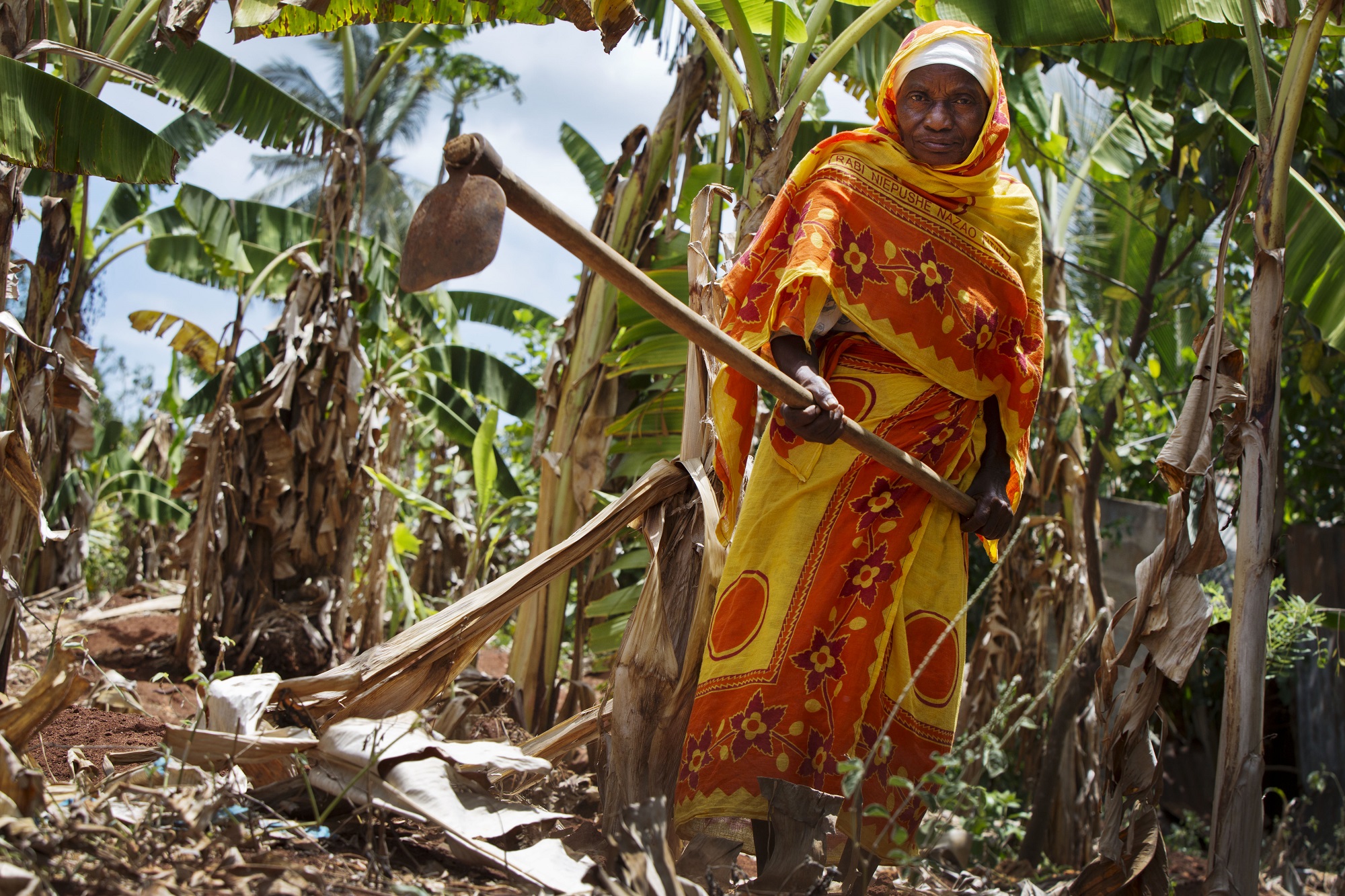 (c) Kate Holt/Age International
Why do we work in Tanzania?
Just 4% of older people in Tanzania receive a pension. This forces them to continue working into old age. Many must do the same difficult physical work such as farming, but as they age they are no longer able to work as much land and their income falls.
Older people in Tanzania also struggle to access adequate healthcare. Although public health facilities are supposed to provide free health services and medication to older people, they often struggle to get seen and drugs are often out of stock.
Tanzania is also the destination for hundreds of thousands of refugees escaping violence and political instability from Burundi and the Democratic Republic of Congo. Among these are many older people who need urgent support.
Securing reliable incomes
We work to secure older people's incomes across Tanzania through campaigning for and implementing sustainable social protection programmes. We lobbied the Zanzibar Government to introduce a universal pension for all people aged 70 and over, and continue to campaign for a similar scheme on the mainland. We have helped ensure more than 620,000 older people get a regular income from the Tanzania Social Action Fund, which targets the most vulnerable people.
Improving health and care services
We are support thousands of public health facilities to deliver age-friendly health services that ensure older people's wellbeing and dignity across Tanzania. We lobby the Government to integrate geriatric care into the nurse training curriculum and to include older people's health and care in the national strategic healthcare plan.
Improving refugees' lives
We are supporting vulnerable Burundian refugees in two camps in north-west Tanzania. We provide them with a safe space where they can congregate and socialise, as well as access health services and psychosocial support. We provide them with essential items to improve their wellbeing in the camps, including blankets, mattresses, wheelchairs and walking sticks. If people have mobility difficulties, we provide them with transportation around the camp to access services and food distributions.
Adriano's vision restored
(c) Henry Mazunda/HelpAge International
Adriano is a 76-year-old widow who lives in Gailo in eastern Tanzania. He farmed maize, as well as keeping cattle and goats, which provided him with a decent income. And as he grew older, Adriano took an interest in repairing clocks, and this hobby soon supplemented his income. He was the only one with these unique skills in the area, so it meant he could earn a decent income.
But three years ago, this security was disrupted when his vision worsened. He could no longer work his farm or repair clocks. He could hardly make out people and objects around him.
"Life became meaningless. I couldn't even do the most basic things," he said.
His daughter had to come home to take care of him. She cooked for him and worked the farm to ensure they had something to eat.
One day, Adriano's daughter offered to take him to an eye screening camp organised by HelpAge International and Sightsavers at the nearby health centre.
"I dismissed her. I didn't believe my condition could be treated. But she insisted so I accepted."
Adriano was diagnosed with a cataract, but the doctor assured him the condition was treatable. After simple surgery, Adriano's sight was restored, allowing him to go back to work.
(c) Henry Mazunda/HelpAge International
"I can't believe I'm able to see again after such simple surgery, performed just a stone's throw away from my house. I no longer feel a burden to my daughter because I can now work my farm and repair clocks again," Adriano said.
Our network members
Saidia Wazee Karagwe (SAWAKA)
Tanzania Mission to the Poor and Disabled (PADI)
Our donors
UK Department for International Development (DFID)
Bureau of Population, Refugees and Migration (BPRM) – US Department of State
United Nations High Commission for Refugees (UNHCR)
European Commission for Humanitarian Aid
German Federal Ministry of Economic Cooperation and Development (BMZ)
Pfizer
Irish Aid
German Federal Foreign Office (AA)